Young Entrepreneur Creates Baby Bottle to Boost Safety, Efficacy of Feeding Infants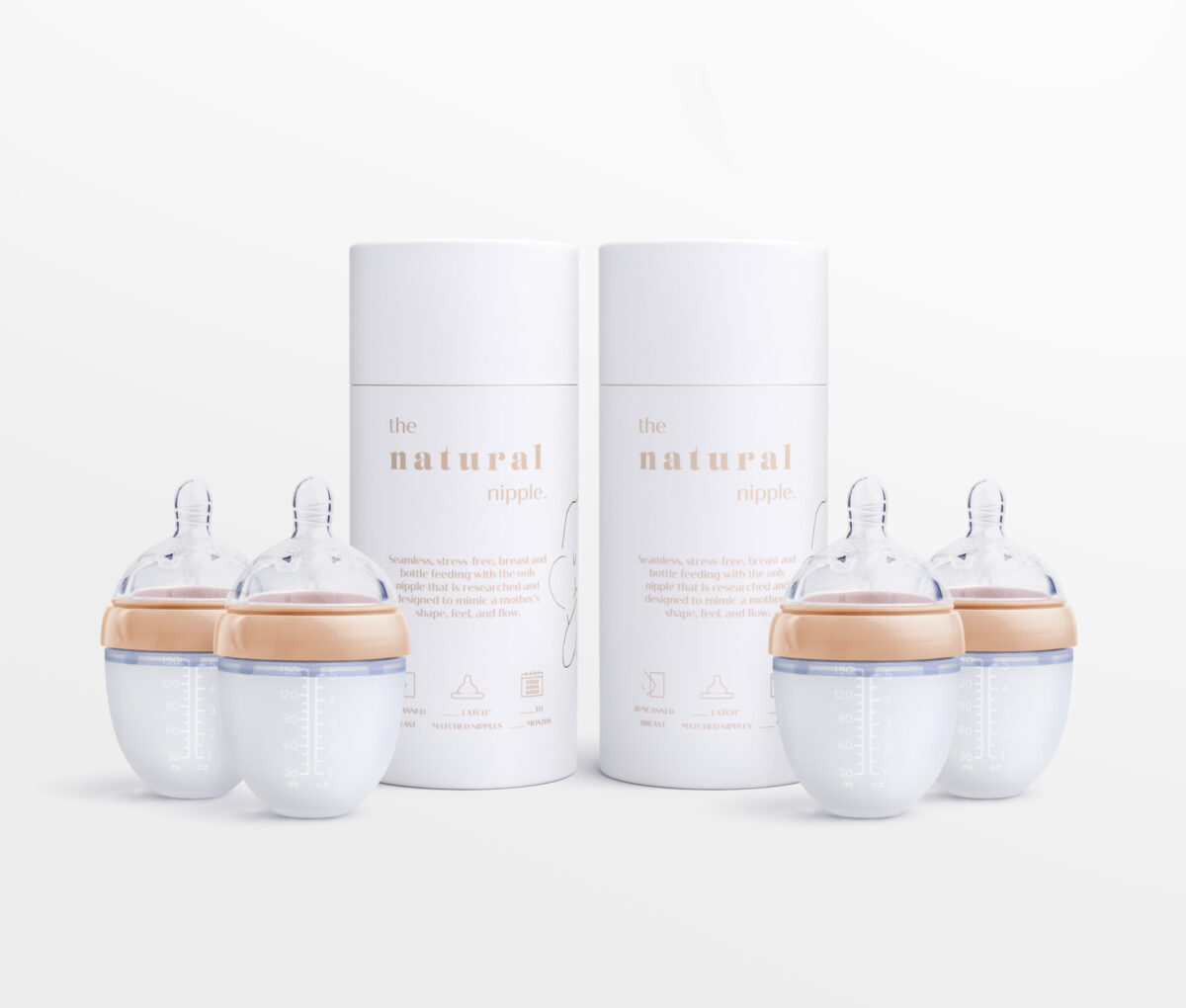 The Natural Nipple features highly engineered silicone nipples to mimic mothers' breasts
For several years now, Lauren Wright has been obsessed with creating the safest baby bottle with silicone nipples for babies born prematurely through the first year of life.
A nurse practitioner from Clearwater, Fla., the 32-year-old Wright learned early on in her research that 92 percent of parents struggle with breastfeeding after introducing a standard baby bottle. While studying the gut microbiome of preterm infants, she found that babies who weren't getting mother's milk were suffering fatal complications.
As she describes it, she became fascinated by breastmilk as "the most preventative, dynamic, biological substance to give babies the healthiest start in life." Wright, who lives in Portugal now, recounts some of her journey in this video clip of her speaking at the Aspen Ideas Health conference in Colorado in 2019.
After interviewing hundreds of mothers, she discovered that their primary barrier to breastfeeding was nipple confusion. She learned that milk flow from current baby bottles can vary widely, 5 to 85 milliliters per minute. This can cause pre-term infants or to choke when bottle feeding. As they age, it also can contribute to them getting "lazy" and not developing the necessary jaw strength and their suck/swallow reflex.
Speaking in a phone interview from London on Sept. 20, Wright said, "That was my a-ha! moment," noting that no one had disrupted this industry in 200 years, since silicone nipples were first invented in France for use by wet nurses.
3D scans and microfluidics
Supported with National Science Foundation funding, she engaged with numerous engineers, did materials research, studied biomimicry, became somewhat of an expert in microfluidics, and proceeded to develop what she calls The Natural Nipple (TNN). She did so by doing scores of 3D scans of mothers' lactating breasts and researching milk flows to create predictive nipple sizing technology. Her team settled on four initial nipple sizes and designs and sampled numerous durometers of food-grade silicone to find those that most closely mimicked human tissue.
On its website, TNN asks mothers four short questions — what Wright calls the LatchMatch Quiz. The answers enable her team to generate a data-driven report indicating the ideal milk flow rate based on the baby's age and feeding demand. Armed with this information, Wright says "our clinical and research-backed engine pairs you with your best LatchMatch result to match your specific breast geometry and baby's feeding needs — encouraging a deep bond with less latching frustrations." The company then sends two bottles and two nipples to the customer within 14 days. This starter kit costs $69 and is selling online now.
Research by an Australian scientist offered in-depth insights into ideal milk flow rates, which Wright says is, on average, 2.2 ml per minute for pre-term babies. As term babies and those up to 1 year old get larger and their jaws get stronger, their flow-rate needs tend to increase.
Ramping up production
While the University of South Florida graduate and Ph.D. student technically launched her product in 2019, TNN began mass production only this past August and has just opened its seed round of funding. Initially, she thought they could 3D print a custom nipple for each mother, but then realized that you can't 3D print food-grade silicone up to the necessary standards. Rather, they needed to invest in having a mold built and tweaking the manufacturing and post-production process.
So now, Extreme Molding, a liquid silicone rubber molding specialist in Watervliet, N.Y., produces the nipples, while a large bottle maker in Shenzhen, China, molds the BPA-free plastic baby bottles.
Continuing on her mission, Wright today describes The Natural Nipple as "the first infant feeding system to mimic the natural breast shape, feel and milk flow."
By designing a bottle that offers seamless continuity between breast and nourishing with pumped milk, she says she hopes "to empower parents with nature's first life vaccine (breastmilk), promote bonding, and improve the health of families around the world."