SABIC Unveils Sustainable In-mold Label Project, New Range of LNP Copolymer Resins With High PCR Content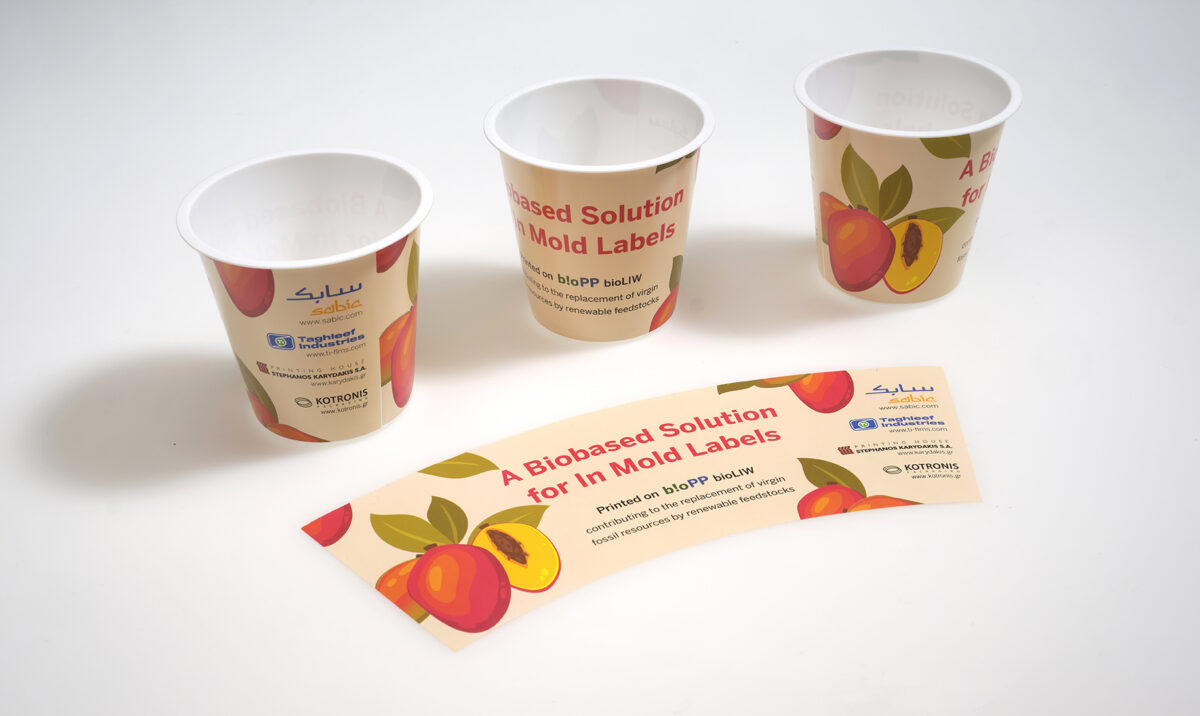 Certified renewable polypropylene used to make BOPP film for IML in thin-wall container packaging
Saudi chemicals giant SABIC is continuing its push into sustainable resins with two recent product introductions. One project involved developing an in-mold labeling (IML) process that uses SABIC's certified renewable polypropylene (PP) resins from its TruCircle portfolio in mono-PP, thin-wall container packaging. The other had the firm introducing 10 new LNP Elcrin-brand, polycarbonate-based copolymers that contain up to 75 percent certified post-consumer recycled (PCR) content.
For the labeling project, the firm partnered with Dubai-based film supplier Taghleef Industries Group and a pair of Greek firms –– printing specialist Stephanos Karydakis IML S.A. and injection molder Kotronis Packaging –– to create a single-step IML technology with a seamless part decoration right in the injection mold. The result is that the label becomes an integral component of the packaging itself.
The end product uses certified renewable PP resins for both the molded parts and the label film, and the resulting packaging also can be recycled in existing rigid PP recycling streams.
Abdullah Al-Otaibi, general manager of ETP & Market Solutions at SABIC, said: "The demand for in-mold labeled packaging is constantly growing across various different consumer market segments, as it provides major opportunities for cost effective and highly sustainable solutions. … This flexible decoration technology has enormous potential in fully recyclable mono-material packaging with no compromise on shelf visibility and consumer appeal in the retail space."
BOPP tailored for use as IML film label
Taghleef used a specially formulated, certified renewable SABIC resin to produce the biaxially oriented polypropylene (BOPP) film for use in the label. Taghleef offers transparent, white and metalized PP label films, which can all be produced using polymers with bio-based feedstock. It added that its films can easily be customized to meet specific needs of gravure or offset printing for desired haptic textures and visual appearance.
For this project, the final BOPP label film was supplied to Karydakis, a specialist in optimized printing techniques, ink formulations and conversion technologies tailored to PP-based in-mold labels. The company's general manager, Giorgos Karydakis, said this initiative demonstrates the feasibility of bio-based materials in the production of high-quality IML labels. "We offer our customers a wide range of attractive printing options for cups, tubs, jars, shakers and pails in sizes from 50 ml to 50 liters, including additional digital watermarking with material information in line with the European HolyGrail 2.0 initiative for smart automated mechanical recycling."
The IML labels are then cut to shape for stacking and finally supplied to Kotronis, a medium-sized family business specializing in injection molded containers for food products.
This, said General Manager Augustinos Kotronis, facilitates the efficient in-mold labeling of cups and tubs in a seamlessly integrated and fully automated, single-step process.
"In-mold labeling," Kotronis explained, "offers substantial productivity benefits, since it eliminates the need for separately applied adhesive labels on the finished packaging product by forming a permanent, tamper-proof bond with the container right in the mold. In addition, the renewable container material from SABIC complies with all relevant international standards for food-contact applications, while showing excellent processability on our machines, including high flowability for reduced wall thicknesses."
New LNP copolymers with high PCR content
Separately, SABIC last month launched a new portfolio of 10 LNP Elcrin copolymer resins that it said can reduce carbon footprint while delivering desirable performance properties and aesthetics. The company claims that, unlike competitive impact-modified polycarbonate resins containing PCR content, these new resins deliver high performance across the board. Depending on the grade, they may provide low-temperature ductility, chemical and weathering resistance, good flow for easy processing, transparency, a broad color space, UV stability and thin-wall flame retardance (FR) meeting the UL94 V-0 rating at 0.6mm.
"Specialty thermoplastics formulated with mechanically recycled content are an important part of SABIC's net-zero strategy," said Joshua Chiaw, the firm's director of business management for LNP & Noryl, Specialties. "Our new LNP copolymer resins offer customers across multiple industries fresh opportunities to significantly increase the amount of PCR content in their applications." These new resins also can significantly reduce carbon emissions vs. virgin PC materials while serving as drop-in replacements.
SABIC sees its upgraded LNP copolymer resins as candidates for applications such as housings of consumer electronic devices and chargers, enclosures for 5G base station infrastructure and industrial components such as circuit breakers. In automotive, they may find use in exterior grilles, pillars and trim.