Domo brings its sustainable nylon resins to power tools and safety knives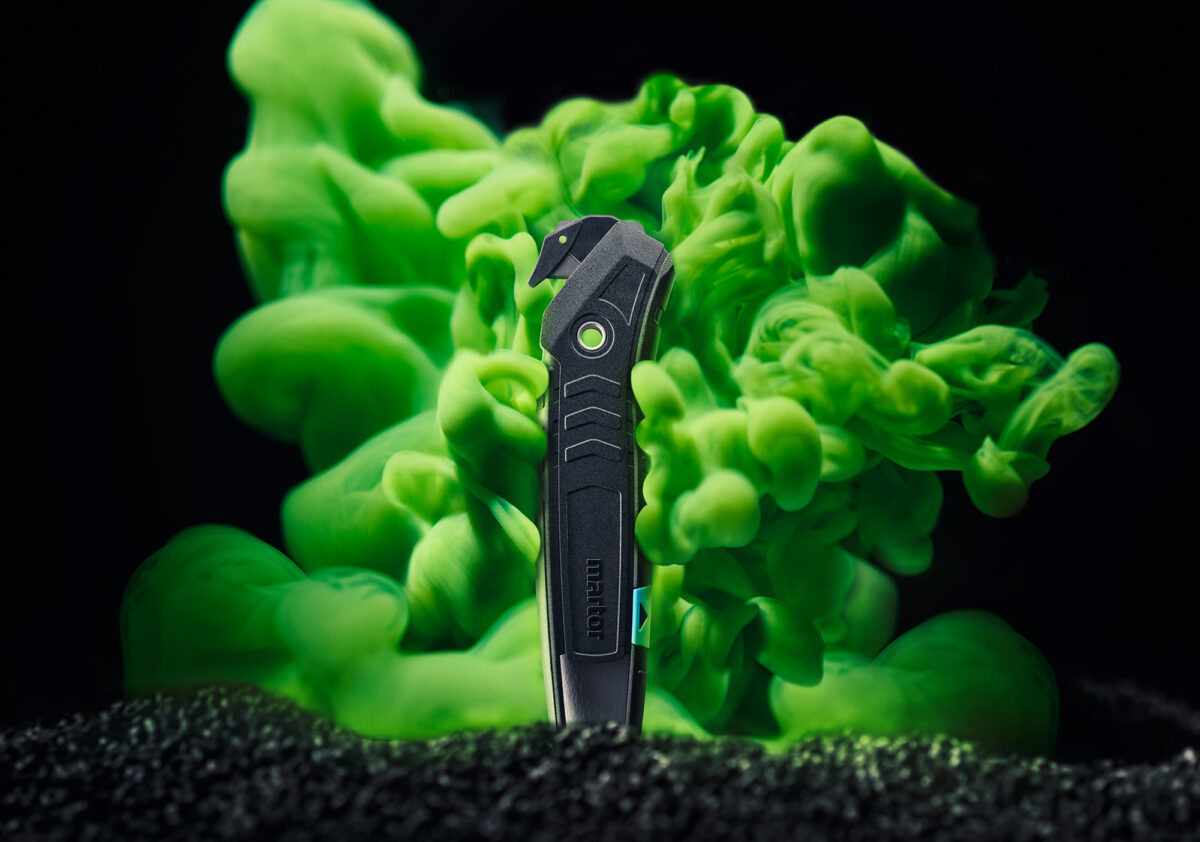 At Fakuma, Belgian materials maker showcases recent projects with MCG and Martor
Belgium-based polyamides producer Domo Chemicals celebrated earning an EcoVadis Gold sustainability rating last month by showcasing a pair of eco-minded partnerships at the recent Fakuma trade show in Germany.
One project featured its work with the Performance Polymers Division of Mitsubishi Chemical Group (MCG) on a power tools application. The two firms created what they call the first combination of nylon 6 and a thermoplastic elastomer "that combines excellent adhesion and haptics with sustainability through the use of recycled raw materials and unlimited color choices." The materials selected –– Domo's Technyl 4Earth (PA6) and MCG's Tefabloc (TPE-S) –– both have a 30 percent recycled content matrix.
"We were looking for a recycled polyamide grade able to meet the requirements of the most common power tool colors," explained Fabien Resweber, sales and marketing manager of MCG and Performance Polymers EMEA. "Customized color is an important part of product design features because it enhances brand recognition with the end consumer. With Domo we have found the right partner. With their broad portfolio of sustainable polyamides, we have been able to find the right solution that will synergize the value of our new circular TPE compound for two-component injection molding applications with polyamides."
Sharpening their knives
Separately, Domo has partnered with Martor KG to develop a new family of more sustainable safety knives. The Solingen, Germany-based Martor is using Domo's PA6-based Technyl 4Earth to mold the handles on its new ECO line of knives, the Secumax 148 and Secumax 350.
Domo said it formulated these latest compounds from 100 percent recycled polyamide with different percentages of glass fiber reinforcement to match the application's mechanical requirements. At the same time, they also are said to offer excellent aesthetics. These new products further expand the ECO by Martor approach to existing  safety knife models that previously used virgin-based resins derived from fossil oil.
Domo's Technyl 4Earth resins offer a significantly reduced carbon footprint compared to virgin-based alternatives. Environmental Product Declaration data (based on EPD certification S-P-01079) have confirmed that the level of CO2 emitted in the production of an unfilled solutions is 0.3 kg CO2 equivalent, and 13 kg CO2 eq. for 35 percent glass fiber-reinforced grades. If compared with the global warming potential (GWP) of virgin equivalent alternatives, using the same dataset, this reduces CO2 emissions by 60 to 90 percent," the company states.
Sylke Wendt, head of product management for the family-owned Martor, added: "Making use of recycled raw materials with certified environmental benefits is a first achievement. The next phase will be the reuse of end-of-life knives to become truly circular."
As regards its rating by the independent EcoVadis group, a leading corporate sustainability rating platform with more than 100,000 member companies, Domo noted that with a 13-point improvement over last year, the firm now ranks in the top 5 percent of all companies rated by EcoVadis.