DuPont Expands Metal Replacement Options With New Acetal Grade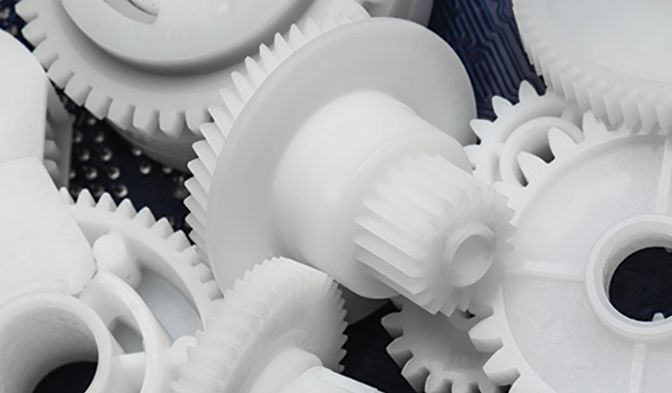 Delrin 51HSE yields 10 percent greater static gear strength than workhorse 100 version
DuPont announced on Sept. 13 that it has added a grade to its Delrin line of acetal homopolymers. Delrin 51HSE is a high-molecular-weight nucleated resin that is specially formulated for applications such as automation, actuation, healthcare, mobility and consumer products requiring high levels of creep resistance and fatigue durability, notably as a metal replacement.  
Metal replacement has long been a design strength of Delrin polymers in many industries, especially automotive. (Delrin resins have a density of 1.4 grams/cubic cm. compared with 7.8 grams/cubic cm for steel and 2.7 grams/cubic cm for aluminum.) The resin's design flexibility allows users to save cost and weight in parts and to reduce noise. The material also enables smart designs that can be used to lower carbon footprints during manufacturing and use. 
Delrin Is Ideal for Metal Replacement in Gears
While the grade has many applications, DuPont emphasized its use in the replacement of metal gears. "The new Delrin resin draws on a deep heritage of formulations that have set the standard for high-performance plastic gears," the company said in a statement. "The 51HSE grade furthers the traditional strengths that Delrin materials have provided in applications and offers a step-change in fatigue and creep performance." 
Tests show the improvement in static gear strength of Delrin 51HSE is about 10 percent when compared to grades in the widely used Delrin 100 series. An added benefit comes from a two-fold improvement in durability, which gives users a cost-effective alternative to switch from metal gears and other more expensive solutions. 
New Grade Outperforms Workhorse Delrin 100
Delrin 100 acetal homopolymers are distinguished by high molecular weight relative to other acetal grades. DuPont said this feature of these high-performance acetal homopolymers, along with their natural high crystallinity, yields materials that have:  
Toughness, high impact strength, high resistance to repeated impact and high elongation without the need for impact modifiers. 

 

High mechanical strength and rigidity without fillers and reinforcements or other modifications. 

 

Outstanding creep resistance and long-term fatigue endurance.

 
DuPont data state that Delrin resins have high mechanical strength and toughness as well as high tensile strength and strain at break when compared with standard acetal copolymers of similar viscosity (e.g., melt flow rate of 2.5 grams/10 minutes at 190°C/374°F). This performance is maintained at elevated temperatures as well. 
Delrin Deal Is Still a 'Go'
Meanwhile, in related news, DuPont's agreement to sell an 80.1 percent controlling interest in Delrin to private equity firm TJC LP, of New York, is expected to close around year's end, the Wilmington, Del.-based chemicals company says. DuPont and TJC announced the deal on Aug. 21. Additionally, TJC has agreed to buy the Delrin Netherlands business if DuPont exercises a put option under the definitive agreements after completing the required works council consultation process.