Comar Expands Injection Molding Capacity With 6 Wittmann Work Cells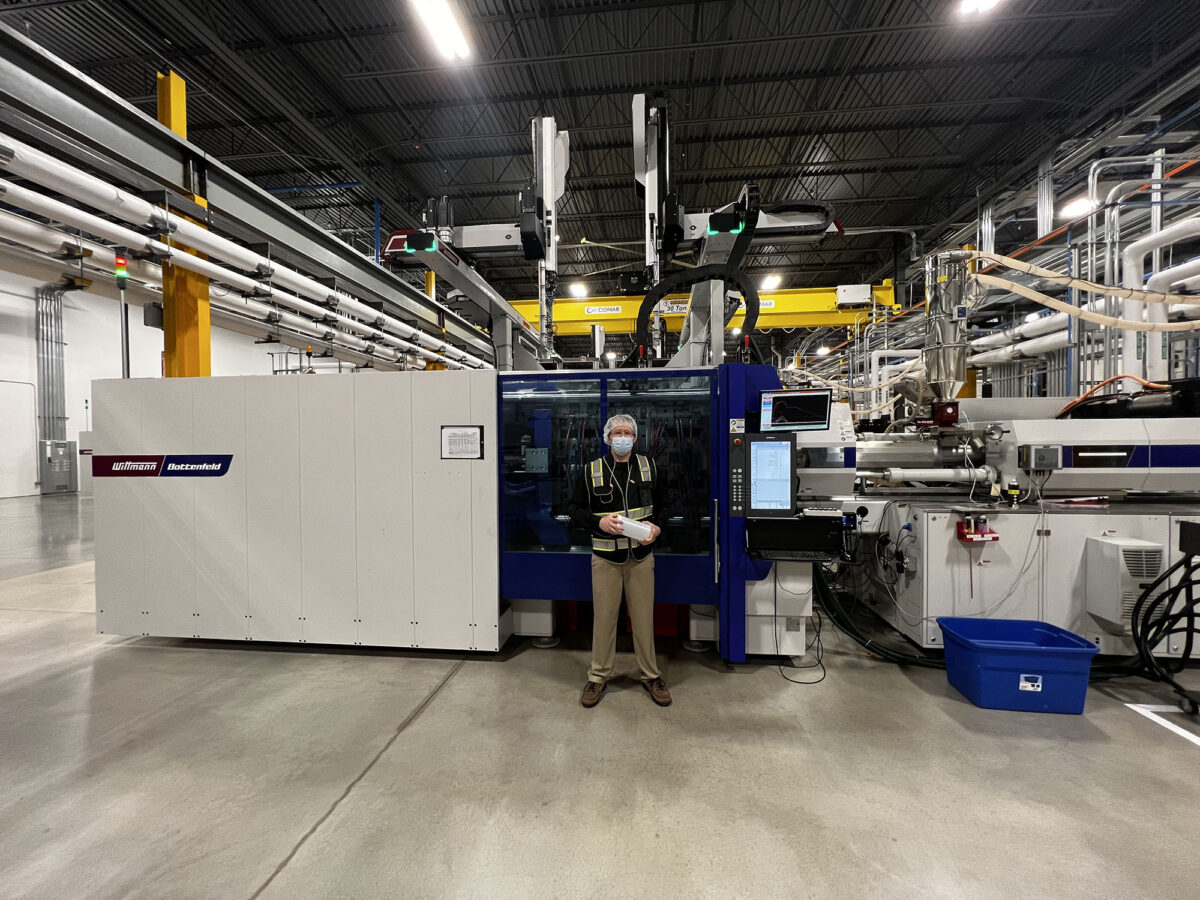 All-electric presses with high-cavity molds boost medical, packaging output
Comar LLC, a global contract manufacturer of medical and packaging products, has expanded its all-electric injection molding capacity with the recent purchase of six integrated Wittmann work cells.  
The Voorhees, N.J.-based Comar—which operates 180 injection presses (from 20 to 650 tons of clamp force) and 130 blow molding machines at 11 plants in the U.S., Ireland and Puerto Rico—installed four new work cells in its West Bend, Wis., plant, and one each in its Rancho Cucamonga, Calif., and Buena, N.J., factories. The Rancho Cucamonga plant now houses approximately 25 injection molding machines, and the Buena plant has about 50 injection machines.
The new Wittmann presses are all-electric, with clamping forces ranging from 250 to 550 tons. They are equipped to handle molds with up to 50 cavities, a Comar official said in an email interview. A typical Wittmann work cell comprises a molding machine, robot and sometimes an automation cell for post-molding operations, which may include tasks like decorating, assembly and packaging.  
Comar acquired an available building in West Bend during the pandemic, refitted it and opened it in December 2021. The 160,000-square-foot plant, which houses 20 Wittmann robots and seven work cells, blow molds HDPE wet wipe canisters and injection molds polypropylene lids.  
Packaging Production

D

riven by

P

andemic 

 
Comar's primary focus at its original 26,000-square-foot plant in West Bend was molding three sizes of container lids for multiple disinfectant wet wipe customers. The production of 80mm, 105mm and 120mm wet wipe lids rose more than 50 percent and "could have doubled that during the pandemic because demand was so high," according to plant manager Jim Spalding. Comar also began producing the canisters by adding an extrusion blow molding cell, which is complemented by additional blow molding cells in the company's Sheboygan, Wis., facility.  
As part of its diversification, Comar says the West Bend facility will produce closures for vitamin bottles and jars and lids for the nutraceutical industry. Molds for those items will come from Comar's LaMirada plant in California. That Wisconsin plant also features two cells for producing labels embedded in wipes canisters. West Bend is currently the only Comar facility that does in-mold labeling. which is a growing part of the company's business.  
M

edical

M

olding

Is Fully Automated
The new work cells in Rancho Cucamonga and Buena will boost production capacity for a proprietary product that Spalding would describe only as "a highly visible medical project." Comar says it is a stack mold application integrated with other equipment in a fully automated line in an ISO-8 cleanroom environment to manufacture devices for a plasma apheresis process. For this, it integrates the Wittmann injection press with other component molding processes and secondary welding, assembly, labeling and packaging processes as a fully automated manufacturing line.  
"All Comar plants have the autonomy to buy the machines and equipment they need," said Spalding, who joined the company in April 2009 when it was West Bend Plastics, which Comar purchased in 2018. "We had discussed trying to standardize companywide but found that was sub-optimal in some cases." Instead, Comar created guidelines that all new machinery and equipment must meet and focused on standardizing machine platforms within plants where technically feasible. 
Comar has been purchasing presses and robots from Vienna, Austria-based Wittmann since 2011 across various plants in its network. It likes the integrated work cell systems because they serve "to streamline production processes and enhance quality, productivity and precision," Spalding said.