Recycled Plastic Pavers Deflect Rainwater From Urban Surfaces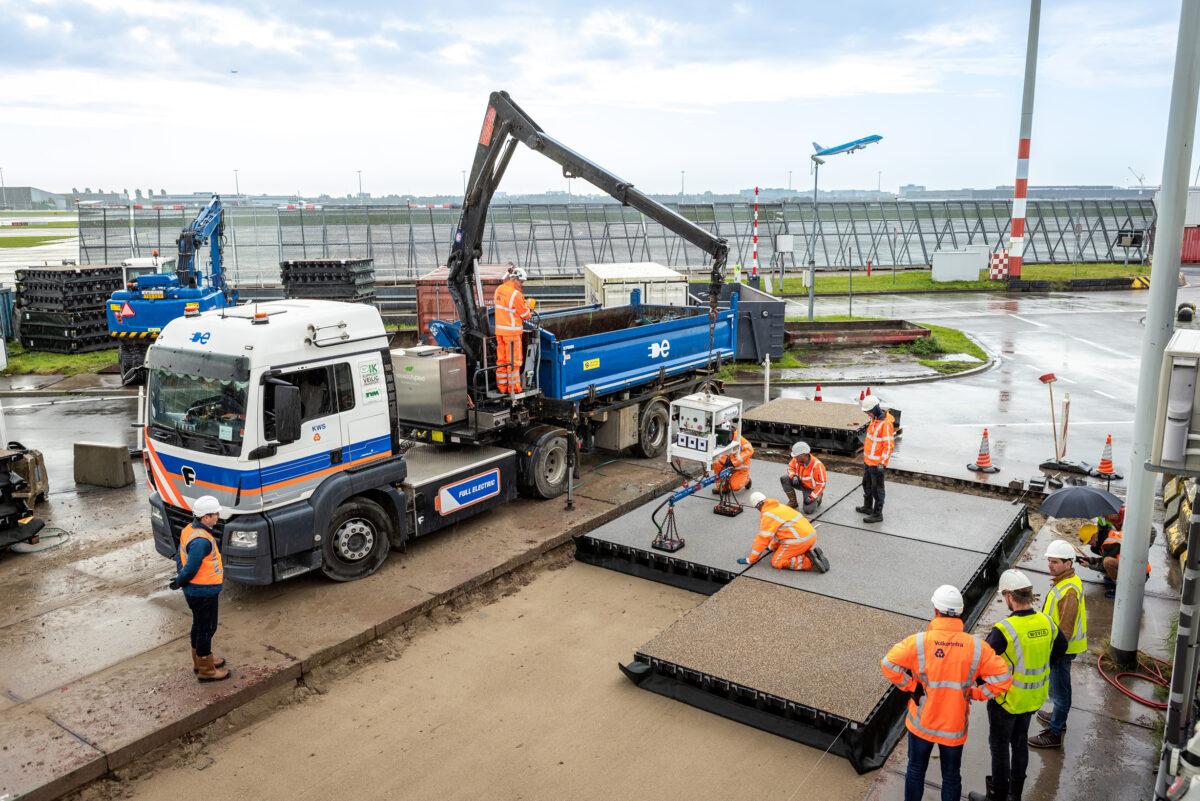 An innovative paving system from recycled plastic solves flooding problems in urban areas
A major challenge that urban planners and municipal authorities face is handling stormwater runoff in urban and suburban areas. That's because modern cityscapes are full of impervious surfaces—sidewalks, pavement, and commercial and residential buildings—that are designed to shed, and not capture or infiltrate, water into local soils to recharge aquifers.
A new technology for the urban rainwater toolbox is an alternative, climate-adaptive paving system, which is produced with post-consumer and post-industrial recycled (PCR/PIR) plastic that is designed to collect and temporarily hold stormwater runoff and either release it into subsoils or send it to storm drains after an initial storm surge. Not only does the modular and easily repairable/replaceable technology solve a major problem by temporarily storing rainwater while providing a low-cost, low-maintenance paving system, it provides a new use for recycled plastics, a valuable waste material that otherwise would be destined for landfills or, if improperly disposed, end up in waterways.
As regional climate conditions change, many urban areas receive either too much or too little rain or swing between the extremes from one season to the next. Excess rainwater leads to flooding, infrastructure damage, soil erosion, sewage release and other problems. Too little rain causes drought, loss of valuable plantings and soil subsidence, and puts excessive loads on municipal water supplies, necessitating major and sometimes painful changes to the way cities, businesses and people use water. It is better and less costly to capture and infiltrate rainwater into the soil close to where it falls, as the longer it flows, the more volume and speed it gains, which can cause serious or even catastrophic damage.
Similar technologies are in use on a limited basis to help cities better capture and reuse rainwater. These include installation of pervious pavement (concrete with small holes that directly infiltrate water into subsoils); "living roofs" (commercial or residential roofs planted with succulents that absorb and store water in leaves and stems); roof-mounted cisterns (which filter and hold water for reuse); and rain gardens (with engineered soils planted with trees, shrubs and grasses that handle inundation for several days as the garden fills and rainwater slowly infiltrates into soil and is taken up by the plants).
Early concepts for the climate-adaptive PlasticRoad paving system were developed in 2013 at KWS Infra B.V., of Vianen, the Netherlands, that country's largest road builder and a member of Koninklijke VolkerWessels B.V., of Amersfoort, Netherlands, a major European construction services company. Other development partners that joined the team and helped move the technology from concept to production included Wavin B.V., of Zwolle, Netherlands, a plastic pipe manufacturer whose products are used for drainage and water supply. Koninklijke VolkerWessels and Wavin subsequently formed a joint venture called PlasticRoad B.V.—and recently renamed CirculinQ B.V.— to commercialize the technology. The company calls its units CCL (for Circular, Climate-adaptive, Lightweight) and has developed three models, which are discussed below.
From the start, the system was envisioned as being modular, produced from recycled plastic and designed to temporarily store rainwater in hollow sections inside box-shaped units, whose open structure permits utilities like water pipes to be fed through. After almost a decade of design, prototyping, engineering and testing, the system features a box structure with open sides and two major layers.
The top/public-facing surface of the CCL module is the deck, which features a thin aggregate wear surface on the A-side to provide grip for feet and tires even in wet weather while boosting the deck's weatherability. Four aggregate types in three colors (red, light grey or dark grey) are available, with or without white lane markers. The B-side of the deck features molded snapfit geometry that connects to tall bosses on the substructure, creating a stiff box-beam with open sides. There is a slight 1- to 2-degree slope from the crown of the deck and its sides, which causes rainwater to roll into gutters that direct it into the substructure.
The complex substructure sits directly on roadbeds. As rain feeds in from gutters above, it is mechanically filtered as it passes through coarse and medium-size holes molded into geometry that includes numerous tall bosses that connect to the underside of the deck. As water passes through the perforations and is cleaned, it is directed into the bottom of the unit where it is stored until it can infiltrate into subsoils or be shunted to storm drains.
Structural components are injection molded from 100 percent recycled glass-fiber-reinforced polypropylene (PP) and have a 30-year life expectancy. All components snapfit to each other to form a single module, and multiple modules can be connected via snapfits available on all four sides. Rubber splines (gaskets) seal the gap between one module and another. Individual pieces or entire modules can be removed and replaced should they become damaged. To increase circularity, the CirculinQ team intends to upcycle/recycle components and modules at the end of initial service life and repurpose them for use in future projects.
Three Market Versions
The CCL-300 system provides stormwater filtering and drainage into subsoils without the need for connections to storm drains. Annually cleanable units feature coarse and intermediate filtering of rainwater via two sizes of holes molded into internal geometry that remove sand, dirt, garbage and plant material. A final fine filter of flexible PP tubing wrapped with recycled nonwoven PP gives rainwater an additional cleaning. A battery-operated filter sensor alerts when the fine filter needs replacing—estimated to be roughly every 10 years. Additional sensors can be added to collect other types of information about the modules.
The non-cleanable CCL-200 model offers coarse and medium filtering of water through small holes in the substructure but is not equipped with a fine filter or sensor. This model is intended to be directly connected to local storm sewers via conventional pipes. Should the system's storage capacity be exceeded before water infiltrates into subsoils, it will be shunted to storm drains with enough of a delay to help avoid overloading those systems.
Offering paving alone with no rainwater storage capacity, the CCL-100 model is a lightweight option that essentially features only the deck with non-skid surface. Unlike the other models, it comes in curved rather than rectangular shapes.
The CCL-300 and -200 models are 2,455mm (97 inches) long by 405mm (16 inches) tall and come in five widths: 1,210, 1,810, 2,410, 3,010 and 3,610mm (48, 71, 95, 119 and 142 inches).
Multiple Benefits
CirculinQ says that at an area density of ~40 kilograms/square meter (8.2 pounds/square foot), the system is the lightest paving system in the world, yet it can hold static axle loads of 5 metric tons. Lightweight modular construction means contractors can transport units to construction sites using 80 percent less energy, reducing total supply runs and reducing the need for heavy equipment during installation. Since units connect easily, installation is said to be 70 percent faster than with conventional paving systems, which gets areas back into service quickly. With an ability to buffer rainwater volumes of 300 liters/square meter (7.0 gallons/square foot) even during extreme storms dropping 100mm (4 inches) of rain per hour, the system effectively manages stormwater runoff while reducing flooding, erosion and soil subsidence. It also offers longer service life, lower cost of ownership and has a lower carbon footprint than concrete or asphalt, while giving plastic waste a new life.