Covestro Partners with Chinese Firms to Advance Low-carbon Mobility Solutions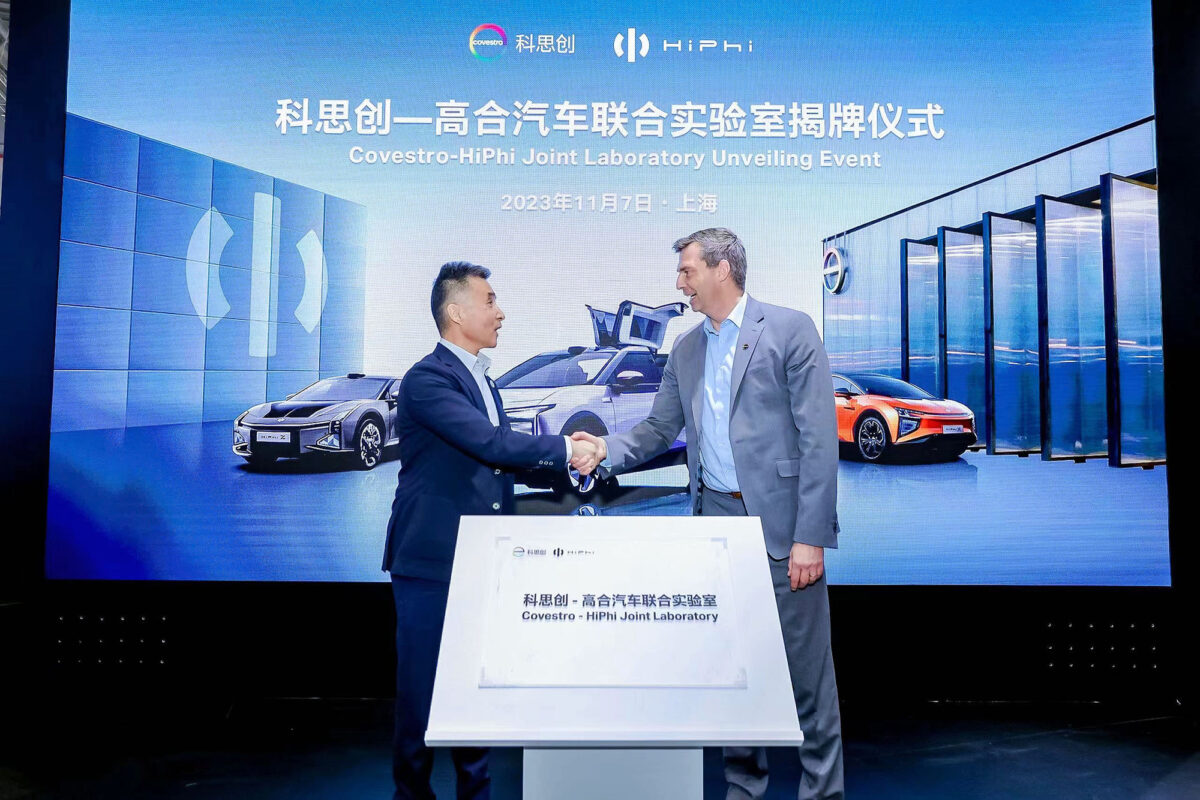 Partnerships with EV brand HiPhi and automotive trim maker Xinquan aim to enable sustainable applications
German materials manufacturer Covestro AG continues to strengthen its ties with China's vehicle industry to develop more low-carbon mobility solutions. It agreed recently to form a joint laboratory with premium electric vehicle brand HiPhi. It also struck a global strategic cooperation partnership with Jiangsu Xinquan Automotive Trim Co. Ltd. Covestro announced both agreements at the China International Import Expo (CIIE) in Shanghai, where the Leverkusen-based firm it was exhibiting for the third straight year.
Covestro has been working since 2018 with Human Horizons, the Shanghai-based parent company of HiPhi, in the automaker's R&D process during the model design stage. It says this approach represents a new way of collaborating along this value chain.
The firms say the joint lab will mainly focus on commercializing low-carbon material solutions in future EV models, establishing relevant standards, and developing next-generation smart surface technologies and battery solutions. This initiative builds upon a cooperation agreement signed between the two companies at the CIIE last year.
Developing a diverse range of applications
HiPhi has been focusing on employing an array of Covestro products, including CO2-reduced polycarbonates, bio-based clearcoat hardeners, and mass-balanced, bio-attributed adhesives.
The carmaker, for example, is using Makrolon polycarbonate (PC) to enable a "smart" B-pillar equipped with complex functions. These posts connect the vehicle's roof to its body at the rear of the front door. In the all-electric SUV HiPhi X, the B-pillar offers facial recognition and an embedded display. Covestro's material enables a high-gloss appearance, dimensional stability, high-impact structure and infrared transparency.
HiPhi Z, a smart sports sedan, employs PC grades for the touchpad switch on its steering wheel –– enabling an interactive design –– as well as high-performance, waterborne polyurethane (PU) adhesives for auto interiors.
"We're delighted to deepen our collaboration with HiPhi," said Dr. Markus Steilemann, CEO of Covestro, during a ceremony at Covestro's booth at the CIIE. "We set out to address the key challenges of future mobility with the launch of the joint lab."
HiPhi founder and CEO David Ding says his firm is "accelerating the adoption of intelligent and low-carbon technology in smart EVs …. Covestro's advanced material expertise is key to helping us achieve this vision."
PC enables multifunctional lenses
At CIIE this month, Covestro displayed on its booth the HiPhi Y. The luxury SUV incorporates Covestro polycarbonates, most notably in the headlamp and LiDAR lenses. On the HiPhi Y, the headlamp lenses also serve as a projector. It can display signs and patterns in front of the vehicle, creating an interactive interface with pedestrians and other vehicles. Covestro's high-optical-performance Makrolon AL resins offer the dimensional stability, UV resistance and high transparency required for this application.
In the LiDAR lenses, its Makrolon AX materials demonstrate superior performance compared to glass. This includes excellent infrared transmittance, shaping curved surfaces and impact resistance against stone chips. They can also endure the working environment of LiDAR at temperatures from 110 to 115 degrees Celsius for extended periods.
Lily Wang, president of Covestro's Engineering Plastics segment, said: "We hope to collaborate with more like-minded companies, like HiPhi, to accelerate the decarbonization trend and pioneer smart technology development at the same time."
Helping Xinquan to expand globally
As for its partnership with Xinquan Automotive, Covestro says this alliance seeks to strengthen the China business and support Xinquan's expansion into North America, Europe, and ASEAN countries.
Established in April 2001, the Changzhou-based, publicly listed Xinquan Automotive produces interior and exterior automotive parts, including dashboards, door inner panel assemblies, and safety bumpers.
Xinquan says it "will harness Covestro's global R&D capabilities to develop low-carbon polyurethane solutions for vehicle interiors by using partially bio-based raw materials." The cooperation also extends to the development of PU applications for electric vehicle battery packs.
Xinquan Chairman Zhihua Tang said: "During Xinquan's global expansion, we have worked with Covestro closely to share resources and complementary advantages. By improving production efficiency and quality, and reducing costs and risks, Xinquan has strengthened its core competitiveness." This new, global partnership, he added, "will jointly promote technological innovation and low-carbon applications of polyurethane materials to advance the sustainable development in the automobile industry."