U.S. Soccer Club Marks its Stadium's Zero-landfill Status With a Soccer Ball Statue Made From Recycled Materials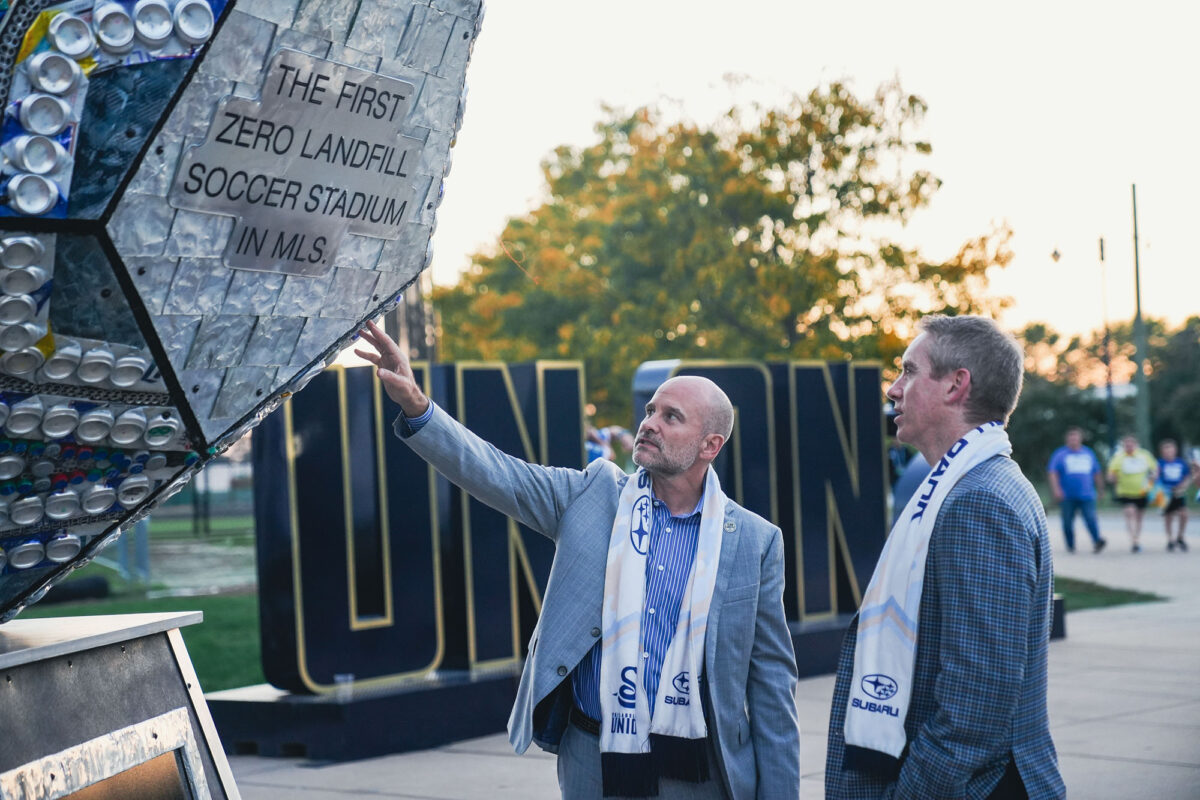 Subaru of America and Philadelphia Union worked with TerraCycle to create the statue made from 12,000 pieces of upcycled trash

Working with TerraCycle, an automaker and a U.S. soccer club last week celebrated their "zero-landfill" stadium by unveiling a larger than life soccer ball sculpture made entirely from recycled materials.
The sculpture –– situated prominently in front of the venue –– was made from 12,000 upcycled pieces of recyclable materials collected at the stadium and diverted from landfills, including plastic soda bottles and caps, aluminum cans and tabs, and one large billboard.
Subaru of America Inc. and the club, called Philadelphia Union, say that Subaru Park in Chester, Pa., is the first zero-landfill stadium in Major League Soccer, and it builds on the carmaker's continuing efforts to help other businesses achieve that status. Since first achieving zero-landfill status at one of its U.S. plants, in Indiana, in 2004, Subaru says it has "freely shared knowledge with more than 900 companies worldwide to help make the world a better place."
Since the stadium, located on the banks of the Delaware River, achieved the milestone in 2021, Subaru and the Union say they have diverted more than 1 million pounds of stadium waste from landfills.
Subaru commissioned the sculpture, which was created by TerraCycle's in-house design team. Trenton, N.J.-based TerraCycle specializes in producing custom upcycled works, including pieces of art, sculptures, consumer products, fashion and furnishings from difficult-to-recycle materials.
"We're proud of our sustainable legacy and all we've accomplished since becoming the first automaker with a zero landfill factory in the United States," said Alan Bethke, senior vice president of marketing at Subaru of America. "We're also proud of the recycling milestones we've achieved throughout our partnership with the Philadelphia Union, and we hope this incredible new sculpture will show visitors to Subaru Park just how beautiful recycling can be."
Philadelphia Union President Tim McDermott added: "Our Philadelphia Union community has been instrumental in helping us achieve and maintain zero-landfill status. Whenever fans come to Subaru Park, they'll be greeted by a beautiful reminder of the work they put in to make this stadium zero landfill and know that they may have contributed a piece to the sculpture."
The new sculpture is part of the Subaru Loves the Earth initiative to help reduce waste, preserve wildlife, and safeguard resources for generations to come.
Subaru of America is an indirect wholly owned subsidiary of Subaru Corp. of Japan. Headquartered at a zero-landfill office in Camden, N.J., the company manufactures all its products in zero-landfill plants.