SABIC Polymers Help Boost Performance of New Electric Racecar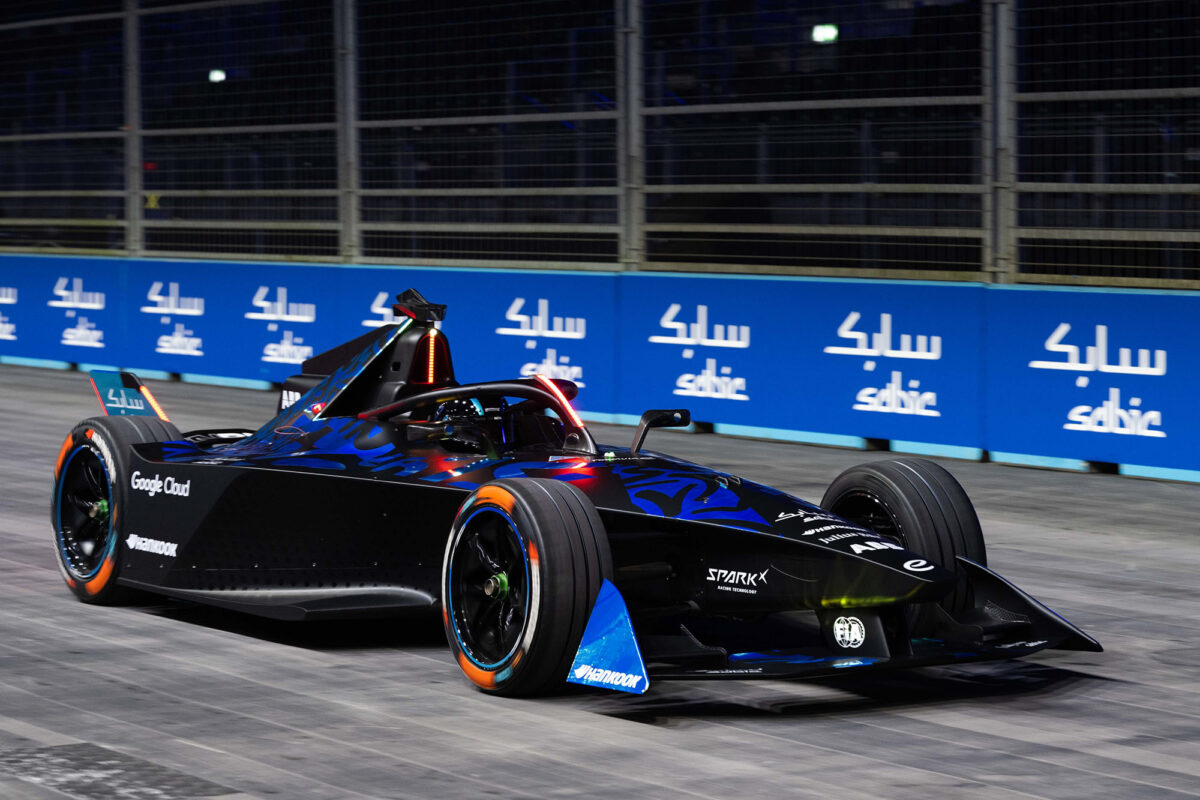 Formula E GenBeta Sets Indoor Speed Record in First Competition
It might be difficult for Formula 1 purists to accept electric vehicles as legitimate race cars, but developers of Formula E racers are promoting their efforts in dedicated races, and by working with Innovation Partners that include resin producer SABIC to fine-tune vehicle design, materials use and performance.
SABIC is part of a team that notched a Guinness World Record for speed last summer with GenBeta, an electric racecar developed for the Formula E racing circuit, which is similar in concept to Formula 1 events. The GenBeta car debuted at the 2023 Hankook London E-Prix races, July 29 and 30, at the Royal Docklands Exhibition Center. The car set a record for the fastest speed achieved by a vehicle indoors—218.71 kph (135.9 mph). The record was set on a 0.176-mile straightaway, part of which was inside the ExCel London Arena. The time beat the previous record of 165.2 kph (102.7 mph). (See development video at https://youtu.be/wykEMuXvtlU?si=4PYbuBMrh9TPtY3f)
Due to the emissions-free operation of Formula E vehicles, part of the course ran through the ExCel Arena, as well as outside around the grounds of the exhibition center. The GenBeta car was operated by ABB FIA Formula E World Championship driver Jake Hughes during a duels format elimination series.
GenBeta Development Drives Materials Use
The vehicle is part of the GenBeta live development and innovation project, which is exploring new materials and technologies that will boost the performance of future EV racecars as well as road cars.
SABIC, an Innovation Partner since 2022, says it seeks to enable development of the fastest, lightest, and most powerful and efficient electric car on the Formula E racing circuit and in the process reinforce its effort in helping to accelerate the global shift to EVs and carbon neutrality.
The SABIC materials used in the GenBeta car are engineered thermoplastics that enable design freedom through their inherent processability and were specified from the producer's Trucircle line of mechanically recycled, circular polymers.
The applications include:
Front wing endplates fabricated by an additive manufacturing (3D printing) process known as fused deposition modeling. They mount on the outboard extremities of the front wing and are integral to redirecting airflow around the front wheels to help reduce drag while contributing to the car's downforce and stability.
Wheel fins, injection molded parts that mount on wheel rims in a radial, spoke-like pattern, and help optimize airflow and reduce aerodynamic drag for higher acceleration and speed. As an additional benefit, the fins increase the car's overall efficiency and aid in cooling the brakes to improve stopping power.
Wind deflector, extruded from a transparent, coated thermoplastic sheet using a bio-renewable, low-carbon material from the Trucircle portfolio. The component attaches to the front of the cockpit, ahead of the driver and optimizes airflow to decrease drag.
The GenBeta car has a maximum speed of around 320 kph (200 mph), somewhat slower than a F1 racecar, which can usually reach 370 kph (230 mph). It weighs 760 kilograms (1,672 pounds) compared with 903 kilograms (1,986.6 pounds) in previous-generation electric racecars.
Meanwhile, for spectators who might miss the "emotional roar," as one observer calls it, of conventional F1 engines, the GenBeta's electric propulsion system generates 80 decibels of sound, considerably less than the 134- to 140-decibel level of a F1 racer, but still impressive.