Positive Plastics to Launch a Pair of New Sample Kits at Fakuma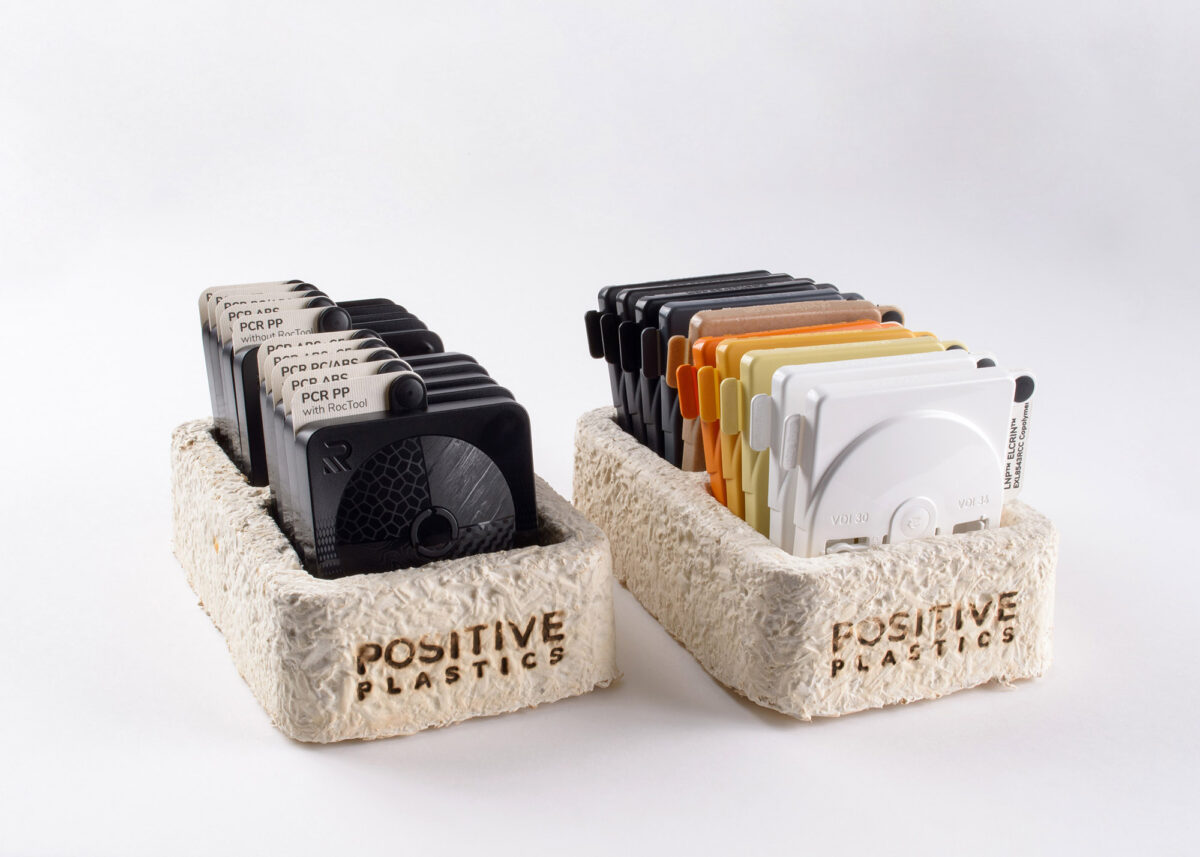 One of the new sample kits showcases various surface qualities and textures
Two years after launching at Fakuma 2021, the initiative known as Positive Plastics is preparing to announce a new chapter at this year's edition of the trade fair, which takes place Oct. 17-21 in Friedrichshafen, Germany.
The project is the brainchild of Munich-based materials consultant and strategist Efrat Friedland and her two colleagues, Finnish product developer Markus Paloheimo and Danish design engineer Erik Moth-Müller. Finland-based Positive Plastics Oy curates unique kits of various plastic resins and compounds that advance sustainability and circularity. Its mission is to provide brands, designers, engineers, and product managers a more accepting outlook on plastics.
All of these chosen plastics are suitable for injection molding to produce high-quality products, such as consumer electronics, home appliances, sporting goods, automotive interiors and accessories.
Applying Roctool's Heat & Cool technology
This third edition of the kit involves a partnership with France's Roctool, which focuses on how induction molding technology can improve the quality and processing of plastic injection and composite molding, including recycled plastics. Roctool's "heat & cool" molding technologies aim to optimize efficiency, reduce cycle times and enhance part quality.
After launching a second kit at the K2022 fair last year, Positive Plastics' new joint effort is called Positive Surfaces, according to Friedland.
Paloheimo, together with the Roctool team, designed a new sample set to best display various surface qualities and textures alongside some mechanical properties. Group Pernoud performed the mold modifications while Oerlikon Balzers provided the hot runners. The Positive Surfaces kit materials are all 100 percent post-consumer, mechanically recycled grades of plastics, including polypropylene, PET, ABS, PC/ABS and ABS with glass fibers.
Roctool CEO Mathieu Boulanger said: " I simply love the idea behind Positive Plastics. The kit is an excellent tool for any designer who wants to create more sustainable products. But, I firmly believe that the material is not the only parameter to consider. What about the process? How far can we increase the perceived quality of those materials? How can we improve the look and feel of recycled materials without having to coat them? I was missing this perspective, so I offered Positive Plastics to collaborate and investigate this direction."
Friedland, a business matchmaker and strategist who heads a consultancy called materialscout, added: "We are thrilled to equip designers with additional know-how and tools to create beautiful and circular products. Roctool is a proven molding technology that has existed for years, enabling the creation of advanced surfaces, from ultra-gloss finishes to very low matte levels. Aside from aesthetic advantages, brands also have a chance to eliminate secondary processes and, as a result, reduce production costs. The induction process," she noted, "improves the overall process, with defects elimination, flow improvement and, depending on the resin grade, cycle time reduction. This is a real chance to bring recyclates to light and boost consumer adoption."
How the system works
Positive Plastics requests from each polymer partner 25 kilograms of pellets of their chosen material. The kit's trays––each of which can hold up to 10 molded material samples––are made of mycelium, a 100 percent natural, biodegradable and compostable material.
The team tags each sample with a label describing what the material is and what it can do. Each label also includes a QR code that links to a card on the Positive Plastics website that provides more information about the material, including its technical properties, its look and feel, and its environmental benefits, among other features. The online card also shows how it has been applied in some products and highlights case studies on where it has found use in the market, while also providing background on the manufacturer.
In addition to supplying a bag of resin, each polymer partner pays a modest, one-time fee to participate. Each supplier receives 150 of the resulting kits, 250 are sold online, and another 100 are sent, free of charge, to 100 brand owners and design agencies. The aim is to "encourage an informed selection of materials and surfaces," Friedland says. The latest kits will be available soon for purchase online.
The following exhibitors at Fakuma will be showing the Positive Surfaces and Positive Plastics kits on their stands next week –– Sabic Deutschland GmbH (Stand A4,-4116), Mocom Compounds GmbH & Co. KG (Stand B4-4206), poraComp GmbH (Stand A5-5104) and Georges Pernoud SAS (Stand A7-7005).
Plastics Engineering continues to monitor the progress of Positive Plastics, beginning with its launch in early 2021, followed by the introduction of a second kit in fall 2022.