Nordson Filters Helping Blown Film Makers Incorporate More Recycled Content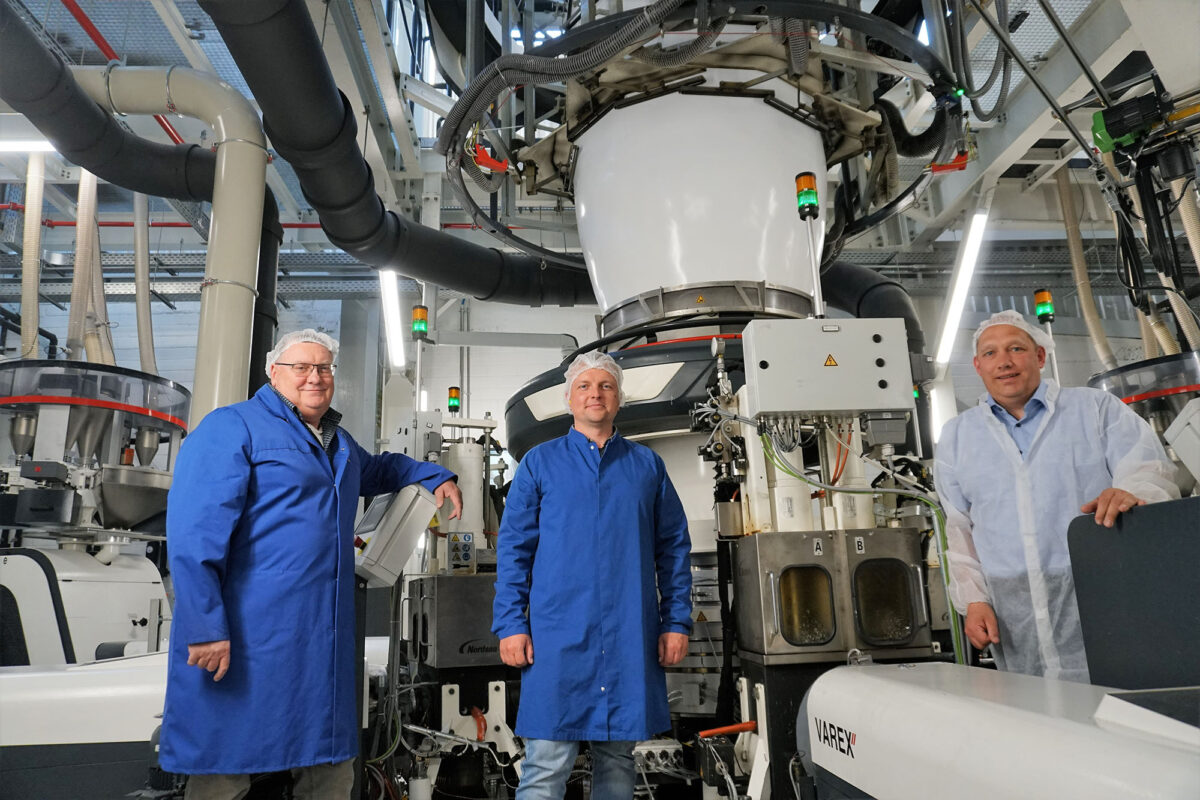 Nordson worked with W&H to develop its new backflush recycling filter
With regulatory and commercial pressures driving the increased use of recycled resin, blown film manufacturers face the challenge of producing high-quality films from more variable batches of material while also maintaining a high degree of manufacturing efficiency.
Efficient filtration is crucial when using recyclates to maintain the quality of the end product. Processors have been using melt filters in blown film lines for many years, but initially most of these filters were discontinuous, requiring the line to shut down for a screen change.
"With clean virgin material, this is not a problem," says Stefan Wöstmann, process engineer at Nordson BKG GmbH, "the filters here take on a purely protective function and ensure that no loose screws from the material feed or other transport contaminants get into the process. But the degree of contamination is so low that screen changes are rarely necessary."
The next advance involved use of continuous screen changers. These filters allow operators to change screens without interrupting production and adjust screen fineness for different production batches based on quality requirements. This led to less machine downtime, and improved plant productivity, according to Sven Pastrik, manager of extrusion at the Echte, Germany, plant of blown film extruder RKW Group. "We can compensate quality differences in the material very well and process high proportions of recyclate, for example, in our FFS [form/fill/seal] bag production."
"We have been using recyclables in our films for many years," added Thomas Steffen, an application engineer at Mannheim, Germany-based RKW Group. "These films are subsequently used in products where quality standards can be met through recycled material." His firm, for example, increasingly is using recyclate in the production of RKW ProVent plastic bags, commonly used in the construction and chemical industry for packaging powdery goods.
The goal was a system in which high-quality films could be produced in a continuous, automated process –– a plant concept with fast setup and changeover times, said Steffen. This led RKW to work again Westlake, Ohio-based Nordson Corp. RKW's new, five-layer film plant is equipped with continuous Nordson BKG screen changers and has been running successfully since 2021.
Nordson now has introduced a screen changer with a backflush function. "We are already seeing that the backflush technology enables the use of recyclate from the PCR area," said RKW's Pastrik."
"Melt filters without a backflush function reach their limits when processing recycled material. The degree of contamination is high, and the screens become clogged quickly," explains Nordson BKG's Wöstmann. "Screens are expensive and changing them is time-consuming. Backflushing repeatedly clears the screens of contaminants and deposits, so manufacturers need fewer filter elements, and operators have to change screens less often."
It's vital to adjust to the conditions to achieve optimal results in blown film lines. The film bubble is sensitive to changes in temperature, viscosity, and pressure –– even minor deviations –– can negatively impact the final product. Managing the process becomes even more challenging when adding recyclates to the mix. Pressure fluctuations during screen changes, backflushing and deaeration can significantly reduce film quality or cause downtime.
To address this issue, Nordson collaborated with equipment manufacturer Windmöller & Hölscher to develop the Nordson BKG HiCon K-SWE-HD/RS backflush recycling filter. This new filter is specially designed for blown film lines and has a compact design that Nordson says is suitable for tight spaces.
RKW than installed the new BKG HiCon K-SWE-HD/RS filter as part of a user test in a three-layer film plant. "The start-up was a complete success," said Pastrik. "We installed the screen changer and produced film successfully immediately. Our machine operators were thrilled."
"Our goal," he noted, "is to increase the proportion of recycled material used, depending on the specification, and also incorporate PCR material. We are fortunate to have filtration experts on our team to help achieve this goal."