Kia Using Innovative, Sustainable Materials in its Latest Vehicle Interiors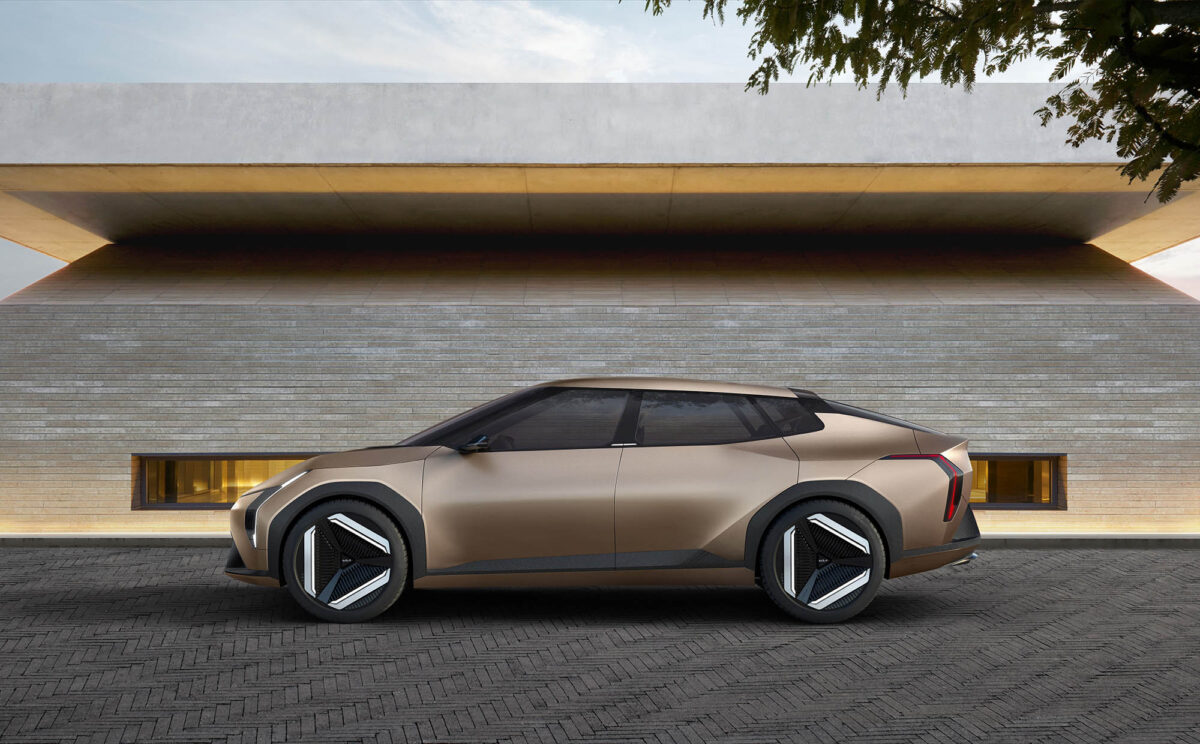 The Korean automaker developing a broad range of natural material alternatives
Kia Corp. wants to go green in its future car interiors. Its current vision –– as showcased in its latest concept cars, the EV3 crossover and EV4 sedan –– involves using a range of natural and recycled materials, from mushrooms to recycled fishing nets. The company revealed more details at a mid-October media event in Seoul.
The South Korean automaker has the stated goal of becoming a "sustainable mobility solutions provider." Already, Kia says it has successfully implemented more than 30 sustainable solutions in various product areas, including fabrics and carpets using recycled PET, bio-based alternative leather, and paint that is free of benzene, toluene and xylene (BTX). Additionally, the firm says that 20 percent of all of its vehicles' plastic parts will be made from recycled plastics by 2030.
Beginning with its new, seven-seat, all-electric flagship SUV –– the EV9 model –– Kia says it is using upcycled waste, including fishing nets retrieved from the ocean, to create the vehicle's floor carpets. It also is using recycled plastic bottles and wool fibers for the seat fabric.  The components used in the construction of the EV9 made from recycled plastic and bio-based, eco-friendly materials weigh approximately 75 pounds.
The company also has committed to completely phasing out the use of animal leather materials in all future products. Instead, it intends to replace both leather and PVC with bio-polyurethane (bio PU) derived from natural components such as corn and eucalyptus. It calls the material an optimal leather replacement, since it incorporates plant-based components and provides "exemplary support, cushioning, and durability." Kia says this move will reduce CO₂ emissions and the use of toxic chemicals, while not sacrificing on durable design aesthetics.
As part of its sustainable design strategy, Kia has listed "10 must have items" that will be applied to all future Kia models. These include: bioplastics; post-consumer material (PCM) plastic; bio polyurethane; bio PU foam; recycled PET fabric; recycled PET or fishing net carpet; bio paint; BTX-free paint; recycled PET yarn; and recycled PET felt.
Kia is using bioplastic produced from biomass sources such as vegetable oils, corn extract, sawdust and sugarcane in vehicle components such as dashboards, consoles, pillars, and trim.
Repurposing reclaimed ocean plastic
In April 2022 the company formed a seven-year global partnership with The Ocean Cleanup, which develops technology to reduce ocean plastic. Founded by Boyan Slat, the 10-year-old Dutch nonprofit uses a dual strategy of cutting off the cause by intercepting plastics in rivers, in addition to cleaning up plastic from the ocean.
In late August Kia said it will use recycled plastic from a record, 55-ton haul recently reclaimed from the Pacific Ocean in its new EV models. In the EV6, the firm's first dedicated electric vehicle, Kia features cloth and matting produced using recycled plastics –– equivalent to 111 plastic water bottles. The Kia Concept EV9, meanwhile, will apply recycled fishing nets for the flooring of the car and recycled plastic bottles and wool fibers for the seat fabric.
Kia also plans to focus on what it calls "bio fabrication" based on natural components. As a step  in this direction it has partnered with South Korean start-up Mycel, which produces fungi-inspired biomaterials. Fungi are well known as "nature's recyclers" for decomposing organic matter. The branching threads of fungal mycelia, called "hyphae," can break down long chains of hydrocarbons, including some plastics and unrefined oil.
Seoul-based Mycel has focused on the role of fungi as a link between industrial systems and natural ecosystems. As a partner in this journey, Kia believes in Mycel's fungi technology, which it says could "liberate billions of livestock and reduce greenhouse gas emissions."
The material Kia chose for the inside of the Concept EV3's console table was not manufactured –– it was grown, as Marília Biill, head of CMF Design at Kia, explains. "Mycelium, which comes from mushroom roots, combines excellent strength with an extremely soft surface. Developing grown materials, a process referred to as bio fabrication, is a major goal for Kia.
"Using Mycelium enables us to mimic the processes we see in nature and leverage it to design more sustainable solutions –– the material can be grown in any shape you want using a mold," Biill said. "The use of Mycelium is still at a very early stage, and, as part of Kia's sustainability strategy, we are working with partners to accelerate development of the material. One day, by growing our own materials, we'll be able to simplify processes, adapt forms and most importantly, be closer to nature in its essence."