SPE Joins Forces with ImplementAM and 3Dnatives to Revolutionize Additive Manufacturing Education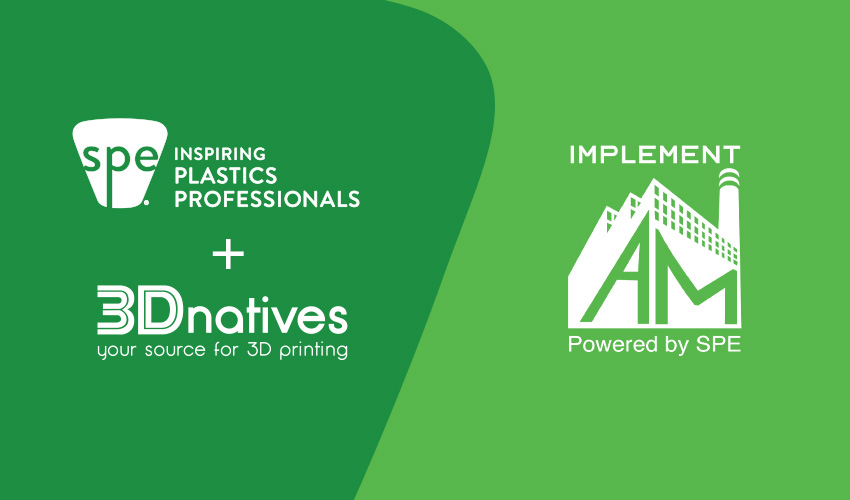 In a strategic move geared toward advancing the world of additive manufacturing education, ImplementAM, known for its educational one-day workshops focused on 3D printing and additive manufacturing, has become part of the Society of Plastics Engineers (SPE).
This acquisition marks SPE's second foray into the additive manufacturing sector, following its acquisition of 3Dnatives earlier this year. Together, these three entities are united by a common goal: bridging the gap between traditional manufacturing and the transformative realm of additive manufacturing and 3D printing, providing innovative solutions to enhance manufacturing processes.
Empowering the Industry Through Education
ImplementAM specializes in educating manufacturing professionals about the potential of 3D printing technologies to revolutionize and expedite their processes using digital tools. Their unique approach is centered on a problem-solving methodology that involves the adoption of cutting-edge technologies, complemented by a rich array of collaborative case studies and exercises.
According to Patrick Farrey, CEO of SPE, "ImplementAM, SPE, and 3Dnatives are perfectly aligned in their mission to inform, educate, and advance the additive manufacturing industry. Our stakeholders recognize the growing importance of additive manufacturing and 3D printing in processing and production operations. ImplementAM provides invaluable educational opportunities to explore this industry and its impact."
A Vision of Innovation
The ImplementAM workshop series, conceived by industry veterans David Tucker and Kristin Mulherin, who met during their tenures at HP 3D Printing, is founded on the belief that for additive manufacturing to truly flourish, companies must possess the technical foundation and a profound understanding of the design and business aspects that ensure successful integration.
As Mulherin emphasizes, "The integration of additive manufacturing and 3D printing does not replace traditional manufacturing; instead, it enhances it through innovation and streamlined processes."
Empowering Traditional Manufacturers
ImplementAM plays a pivotal role in connecting traditional manufacturers through interactive programs that emphasize the development of products grounded in hybrid design approaches, which encompass both traditional manufacturing principles and digital components. These workshops empower individuals and companies to create products that offer an improved user experience, reduced waste in production, faster development cycles, and a closer connection to end-users.
David Tucker adds, "Our goal with ImplementAM is to bring in-person workshops to the regions where people work and live. Our day-long workshops are often hosted at local breweries to facilitate networking and an overall sense of fun. They include facility tours and hands-on exercises, as well as expert presenters who share their experiences, challenges, and successes. We strive to offer a dynamic learning experience."
Taking it Global
In addition to their upcoming workshops in Charlotte, NC (Oct. 19), Milwaukee, WI (Nov. 2), Phoenix, AZ (Dec. 7), and Austin, TX (Jan. 17), ImplementAM, in collaboration with the global reach of 3Dnatives, has plans to expand its presence beyond the United States. Workshops for European audiences are already being planned for 2024.
Alexandre Martel, Director and Founder of 3Dnatives, states, "ImplementAM is the perfect addition to SPE and 3Dnatives' portfolio of services for the manufacturing world. With our extended network, we are more determined than ever to empower industry professionals with the knowledge and skills needed to unlock the full potential of 3D printing technologies."
For more information about ImplementAM and their educational initiatives, please visit implement-am.com.