Hellweg Designs Shredder for Energy Savings and High Volume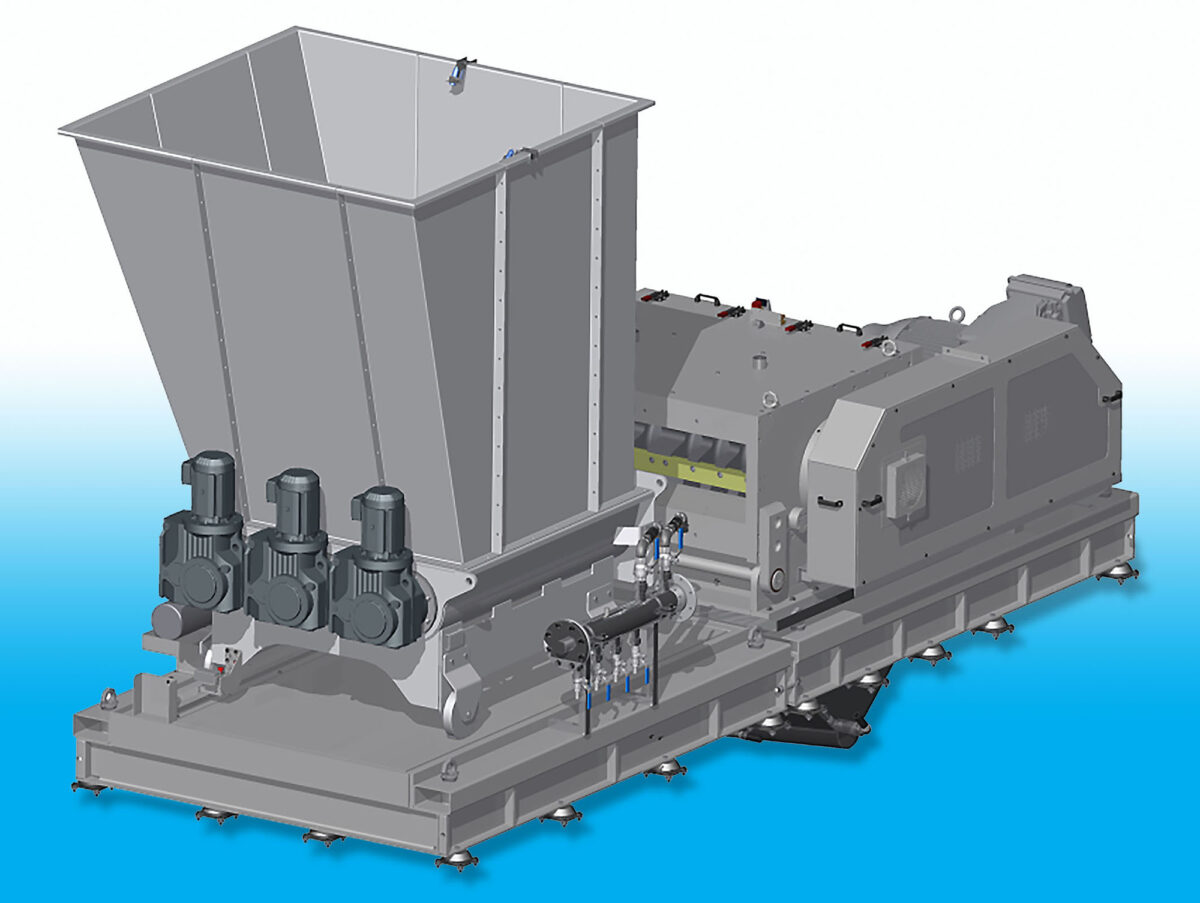 MDSG W series grinder recycles up to 5,000 kg of material per hour
Hellweg Maschinenbau, a manufacturer of digitally controlled shredders and granulators for recycling and other downsizing operations, has introduced an energy efficient wet grinder with a force-feed system for film recycling.
The MDSG 1500/600 W model, the first in a series, features an innovative drive that uses low-power motors rated from 45 to 110 kW. The company says these motors achieve low-power consumption of 70 to 90 kWh, thereby ensuring low operating costs which are reduced further by high throughput rates of up to 5,000 kg (11,000 pounds) of film per hour.
Force-feed Design Works Through Contamination
The force-feed system uses a tamping screw that is designed for long-term, trouble-free operation even when downsizing contaminated materials. The heavy-duty, durable design of the MDSG 1500/600 W means the grinder—and future models in the series—can handle demanding recycling applications where a high level of contamination is present.
The model MDSG 1500/600 W has a working width of 600 to 1,500mm; 600mm rotor diameter; motor output of 75 to 110 kW; 7 rotor knives and either 2 or 3 stationary knives; rotor speed of 280 to 490 rpm; and throughput of 800 to 5,000 kg (1,760 to 11,000 pounds) per hour. The nominal weight range of the model is 5,000 to 25,000 kg (11,000 to 55,000 pounds), depending on configuration.
Hellweg, of Roetgen, Germany, is represented in the U.S. by C.W. Brabender Instruments Inc., Hackensack, N.J.
Scissor-cut Technology Yields High-Value Flakes
A range of films including polyolefins, PET, polystyrene, PVC, polycarbonate and PLA (polylactic acid) are force-fed to the cutting chamber of the shredder by tamping screws, which are engineered for smooth operation despite material contamination. While the new model has 7 rotor knives and 2 or 3 stationary blades, cutting configurations of future models will be determined by machine size, cutting chamber requirements and throughput range.
The wear-resistant cutting and stationary blades provide also enhance cost savings. As usual with Hellweg shredders, the blades use double scissor-cut technology which significantly improves cut quality and dust-free operation, ensures a constant cutting gap and requires no adjustment of rotary blades.
The shredding process produces optimum quality flakes with a consistent particle-size distribution and geometry. The flakes' sharp-edged and flat shape without twists or folds suits them for further operations such as transport, washing and, if necessary, delamination. The cutting technology also minimizes fines, which are almost always scrap. Depending on the screen size in the cutting chamber, fines content is typically a low 3 percent or less.
Future shredder versions will include MDSG 600/600 W and MDSG 600/300 W. The first number denotes a working width of 600 or 1500mm, while the second denotes the diameter of the rigid, perfectly balanced rotors (300 or 600mm) made from a metal blank with double, water-protected external bearings for smooth running.
Smart Control Optimizes Operations
All shredder models will be equipped with Hellweg's in house-developed digital Smart Control system, which is installed on many of its products. Together with an internal logic processor, the control system ensures maximum operating efficiency regardless of fluctuating conditions, while minimizing input by operators. The force-feed system can be tailored to specific shredding tasks by adjusting parameters to ensure the optimum combination of feed rate, motor load and throughput.
Parameters captured by the control system include power consumption, motor speed and bearing temperatures, as well as blade, screen and V-belt status. The Smart Control is available on all Hellweg grinders, from the 150 series machine-side units for small parts and sprues to the heavy-duty 600 series.