Evonik Claims First Carbon Fiber PEEK for Printing Implants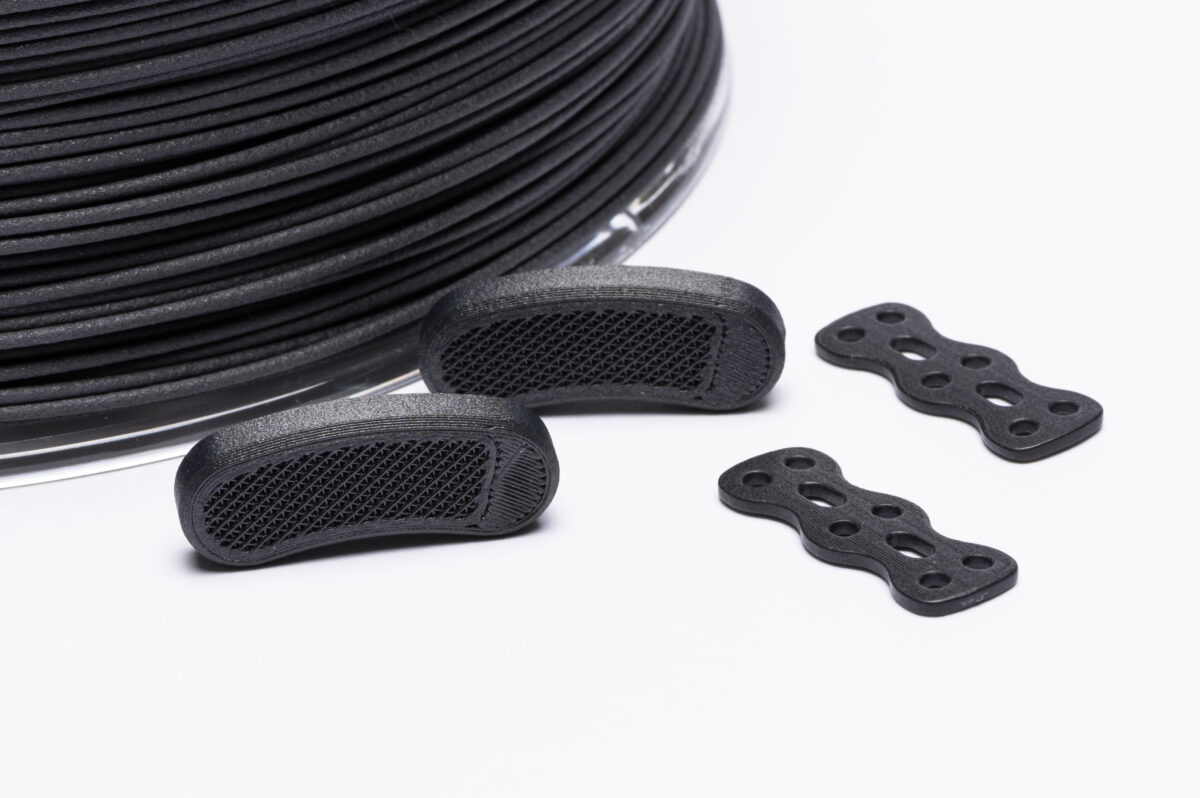 Two New Vestakeep grades combine high strength and ductility.
It's only a few years since a handful of suppliers began formulating ultra-high-performance resins for 3D printing (additive manufacturing). Developments in this area continue with Evonik Industries AG being the latest to report new thermoplastic performance polymers for 3D printing. The company on Oct. 10 introduced two Vestakeep grades of carbon fiber-reinforced polyetheretherketone (PEEK) filaments for printed medical implants—reportedly a world first for long-term implants. This brings to six the number of PEEK medical grades the company supplies.
Evonik, of Marl, Germany (North American regional office is in Piscataway, N.J.), describes the grades as biomaterials that are processable in common extrusion-based 3D printing technologies such as fused filament fabrication (FFF) and fused deposition modeling (FDM).
The grades are iC4612 3DF and iC4620 3DF, which, respectively, contain 12 percent and 20 percent loadings of carbon fiber. Both offer formulation tweaks based on the strength and flexural properties of printed implants like reconstructive prostheses.
Carbon Fiber Loadings Boost Part Strength
Evonik says the grades provide significant strength with their high carbon fiber content and ductility of the resin. Additional benefits include the ability to define the alignment of the carbon fibers during printing, biocompatibility for patients with metal allergies and no x-ray artifacts during imaging.
With a diameter of 1.75mm (0.06 inches), the two Vestakeep grades are supplied on 500- and 1,000-gram (17.6- and 35.2-ounce) spools for direct use in standard FFF and FDM 3D printers for PEEK materials. The filaments meet the high quality standards set for medical materials.
"In trauma applications, for instance, 3D printed solutions offer an enormous time advantage over traditionally manufactured medical devices," says Marc Knebel, head of medical systems at Evonik. "It is conceivable that patient-specific solutions can be manufactured within two or three days, significantly improving recovery."
Grades for Long- and Short-Term Body Contact
Evonik has been developing PEEK-based filaments for medical 3D printing for the five years, and in the process has helped set material quality standards in medical technology with 3D printing. Its portfolio includes grades for long- and short-term body contact.
Long-term body contact Vestakeep materials include: implant grade i4 3DF; i4 3DF-T test and development grade; iC4800 3DF osteoconductive implant grade; and of course the two new grades.
There is also a grade for short-term contact: Vestakeep Care M40 3DF care grade.
Evonik will exhibit the new products at upcoming medical technology and 3D printing-related shows.