Mitsubishi Chemical Group and Partners Launch Lightweight, Composite Battery Enclosure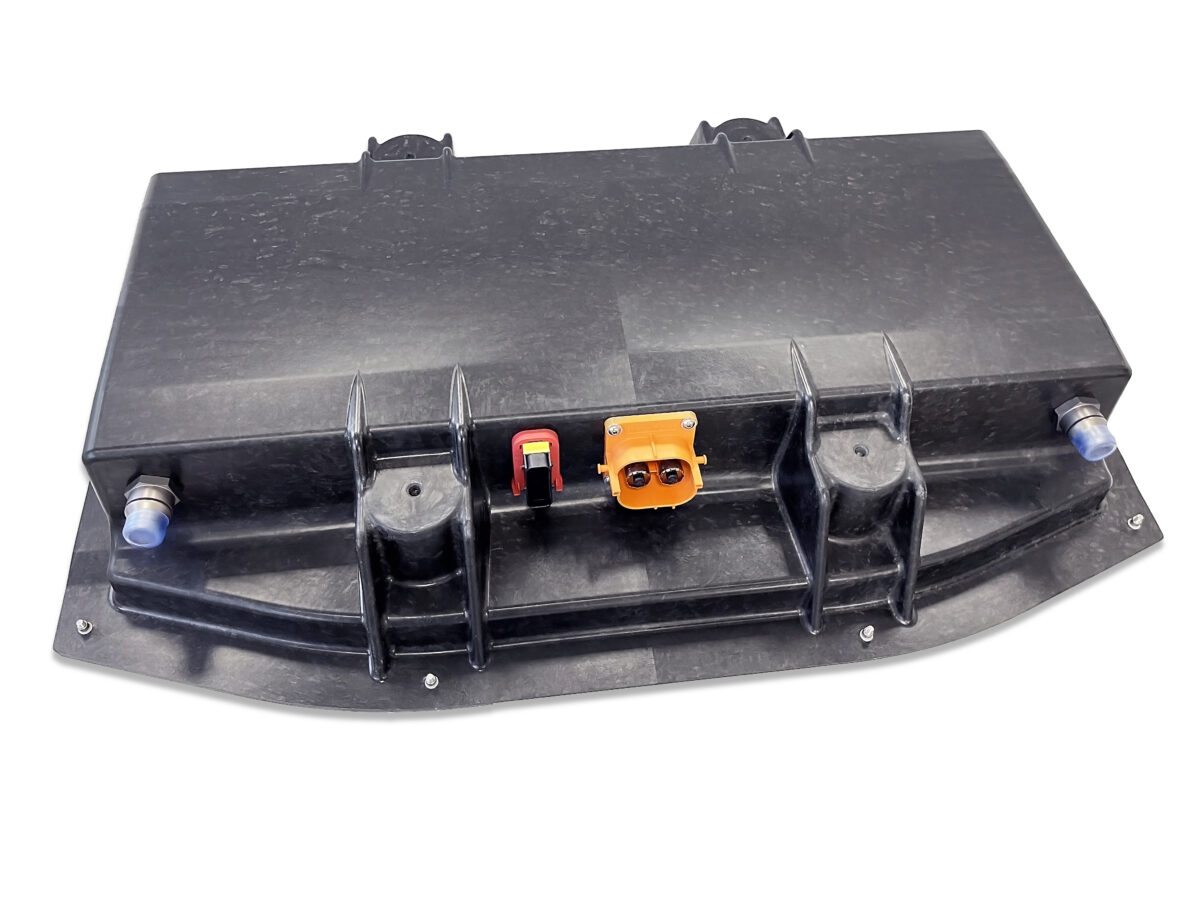 Tokyo-based Mitsubishi Chemical Group (MCG) has partnered with two European firms to develop a lightweight polymer composite battery enclosure for electric vehicles (EVs) that features consolidated part design. It showcased the product at the recent Battery Show trade fair in Novi, Mich.
MCG worked on the project with Switzerland-based EDAG Engineering Group AG, which designed the enclosure, and Austria's Kreisel Electric, which applied its patented immersion cooling technology.
By tapping into its broad portfolio of fiber-reinforced composite materials, MCG says this latest design overcomes many of the concerns surrounding traditional EV battery enclosures. Typically made heavy metallic profiles, such enclosures tend to be heavy and can negatively impact vehicle performance.
MCG used various composite materials in the enclosure, including a flame-retardant, fiber-reinforced thermoplastic for the top cover that can withstand high-intensity thermal runaway events. The polymer composite battery enclosure also incorporates an additional layer of MAFTEC-brand polycrystalline insulative material that is produced from alumina fibers to further protect the battery cover. The partners created the bottom tray using two different materials –– a prepreg sandwich and Carbon Fiber Forged Molding Compound (CF FMC), produced using a single process step to meet thermal, geometric, and structural requirements.
MCG touts vertically integrated value chain
In addition, MCG manufactured its own tooling and produced the assembly in-house, demonstrating what it describes as an agile, vertically integrated value chain that can be adjusted to meet OEM requirements to create custom solutions.
John Conn, engineering project manager at Mitsubishi Chemical Group, said: "This is an exciting breakthrough that can make a real difference to the electric vehicle market, which is growing quickly as more people move to EVs. In addition to being extremely lightweight, the functional composite structure offers robust performance, high safety levels, and strong durability."
MCG also highlighted the fact that this new two-part polymer composite battery enclosure design is simpler, compared to EDAG's initial five-part system with a metal housing. "This," MCG says, "demonstrates the ability of composites to consolidate parts resulting in simplified downstream processes and cost savings." In addition, some components are recyclable and can include the use of recycled content, making for a product with high circular economy credentials.
Marcel Remp, MCG's mobility marketing manager, added: "One of the greatest concerns with electric vehicles in their current makeup is weight. By being able to reduce weight with a lighter battery enclosure, we are helping to make the transition to EVs, and thus a more sustainable planet, more viable."
Deere-owned Kreisel plans N.C. battery plant
U.S. agricultural equipment giant Deere & Company in early 2022 acquired majority ownership of Kreisel and announced just last month that it has selected a location in Kernersville, N.C., as the site for a new, 115,000-square-foot Kreisel manufacturing facility. John Deere said it plans to break ground on the new facility this fall with production estimated to begin in 2025.
The new facility will be equipped to produce Kreisel battery pack designs and CHIMERO chargers as the company says it "reinforces its commitment to helping John Deere and original equipment manufacturers navigate the rapidly changing electrification landscape."