Injection Molded Kids Bike Focuses on Safety, Sustainability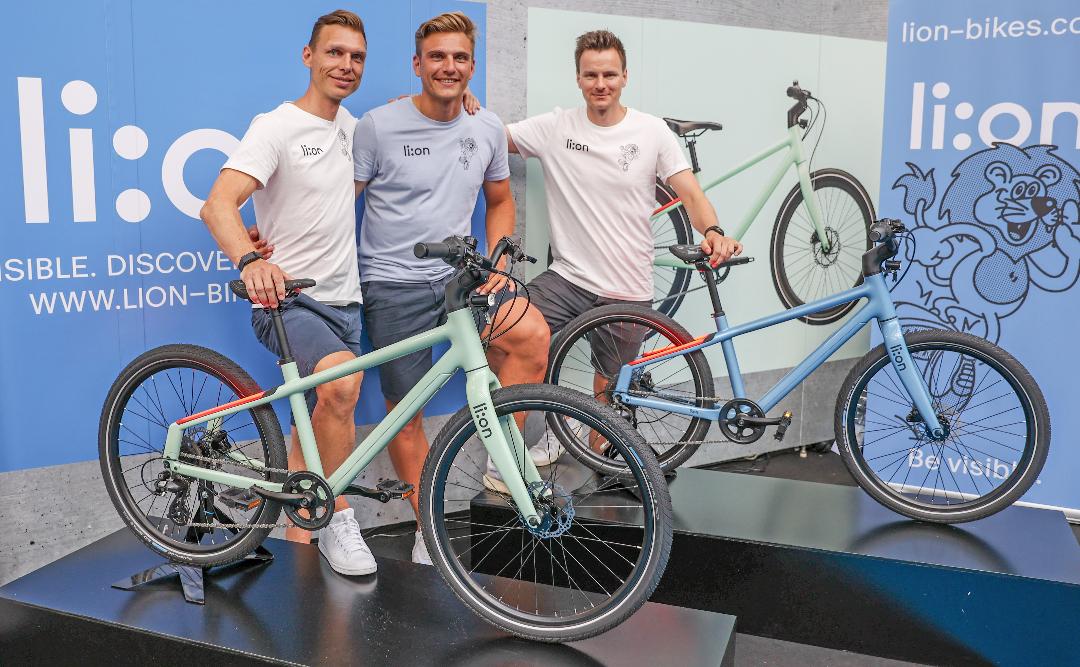 Water-assisted injection molding used to make Lion Bike out of carbon fiber-reinforced nylon 6
Weber Fibertech, a specialist in long fiber-reinforced thermoplastic parts, has partnered with KraussMaffei and a pair of former professional cyclists to produce a safe, sustainable children's bicycle via the injection molding of nylon 6 reinforced with 40 percent recycled carbon fibers. They call it "a groundbreaking new and resource-saving material mix in the bicycle industry." 
Munich-based plastics and rubber machinery giant KraussMaffei will display the Lion Bike on its booth at the Fakuma trade show in Friedrichshafen, Germany, Oct. 17 to 21.  
Marcel Kittel and Tony Martin, former professional cyclists, designed the bicycle. On their website they state that "After a million kilometers in the saddle, [Kittel and Martin] have put their passion into developing a bike that redefines safety, innovation and design for young cyclists." 
With a focus on enhancing safety, Lion states: "We make you stand out in all directions on the way to school or friends with our light system with daytime running lights and with a particularly visible paint. 
Water-Assisted Molding Process 
"For our frames and forks, we use a state-of-the-art injection molding process from the automotive sector, which allows us to produce our frames and forks in Germany. This allows us to build slim, chic bikes with lightweight materials. For a clean look, we have integrated our self-developed light system and cable guides into the frame," the company states.  
In February 2020 Weber Fibertech of Markdorf, Germany, acquired Ettenheim, Germany-based PME fluidtec GmbH, whose fluid-assisted water injection technology (WIT) it is using to produce the Lion Bike frames.  
To ensure that the bike's frame and fork are stable while also requiring less material, Weber Fibertech uses the KraussMaffei MX 1600 injection press in combination with the WIT process. Water injection molding is ideal for producing functionally complex, highly integrated plastic components with hollow body construction at reduced cycle times. 
PME is using the mass back-pressure method in the WIT process for bicycle frames for the first time. The melt displaced by the water is pressed back into the plasticizing unit and reused in the next shot for the frame or fork. This means that there is no waste during production, which saves material and is beneficial for the carbon footprint. 
Reduced Carbon Footprint 
"The focus on sustainability is an important part of our mission," says Lion. "We want to keep our ecological footprint as small as possible. Our bike frames and forks are made with recyclable materials and an injection molding process that reduces emissions by around 67 percent [compared to aluminum extruded frames] for every bike produced.  
"In addition, final assembly and quality control of the bikes take place in a modern production facility in Belgium. To keep transport distances as short as possible, we concentrate as many production steps as possible in Europe." 
While Weber Fibertech is best known for work in the automotive industry, it is expanding its activities in the bike sector. The company has set up a new division called Fi.Bi.Tec (Fibretech Bike Technology) "to focus on the growing interest from the bicycle industry for close-to-market frames and other components." It says the division is able to support OEMs from a feasibility study to large-scale production in Germany. 
Commenting on the KraussMaffei injection press being used in the process, Weber Fibertech CEO Friedbert Schmitt says: "The technical performance of the MX series has won us over, and there's no turning back. In particular, we were impressed by how, with a screw diameter of 120mm, injection was carried out at 300mm/second, thus achieving a large volume with rapid mold filling." 
KraussMaffei plans to deliver the press to Weber Fibertech in November, with the first finished Lion Bikes available on the market from spring 2024.