Coalition of Firms Develop Recyclable, All-PET Bottle and Shrink Sleeve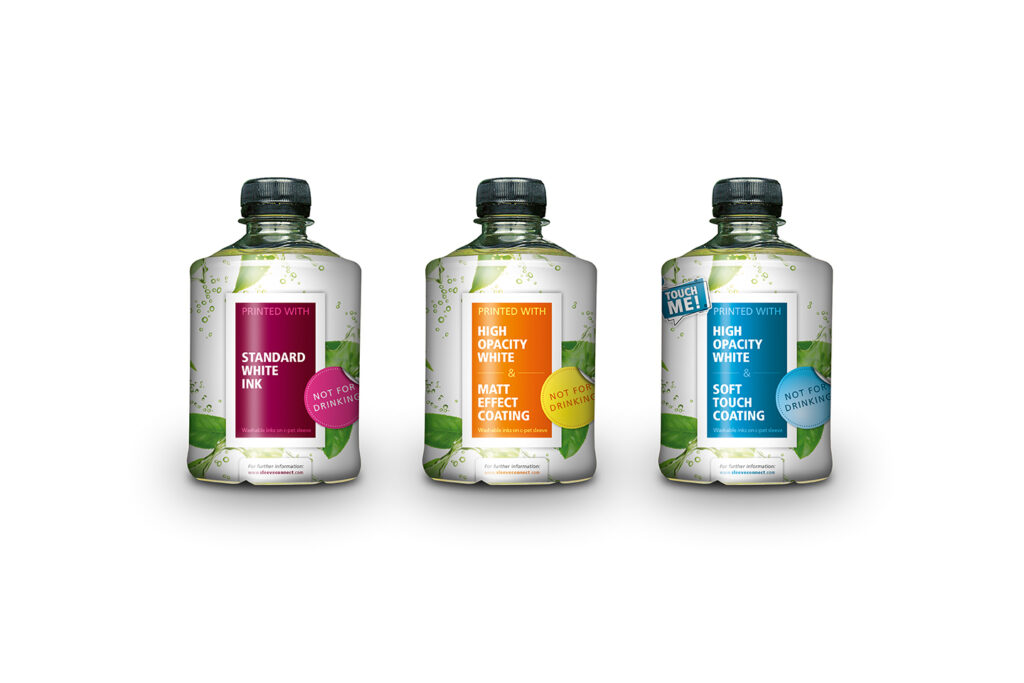 Innovation uses CPET sleeve on colorless, recycled PET bottles that can snap together
A global collaborative effort has led to the creation of a crystallized PET (CPET) shrink sleeve label for colorless recycled PET (rPET) bottles that offer a monomaterial packaging solution designed to enhance sustainability. The initiative –– called #SleeveConnect –– uses washable inks on the bottle's sleeve to make it an easily recyclable monomaterial package that can also incorporate innovations in the recycling process, such as a digital watermark that allows for accurate detection during sorting.
The parties involved include: Emsur, the Madrid, Spain-based flexible packaging business unit of Grupo Lantero; Miami-based Karlville Development LLC, a manufacturer of packaging and converting machinery; Siegburg, Germany-based Siegwerk Druckfarben AG & Co. KGaA, a maker of customized inks and coatings; and SK microworks America, a Covington, Ga.-based producer of polyester films. The blow molded bottle is being produced by a startup called BTC Concept, a French packaging company and member of the LSDH Group. BTC is the inventor of a patented BottleClips system that allows PET bottles to snap together vertically.
BTC Concept's bottle is said to have "a high-quality shelf impact" due to the high opacity white sleeve that gives more visual 'body' to the design. The uncolored bottle is also more "recycling friendly" under the correct reprocessing conditions. Emsur says that different finishes, such as Soft Touch or Matt Effect, make the product even more attractive and demonstrate the various options available when printing the sleeve.
Monomaterial bottles enhance recyclability
The parties claim that uncolored bottles will be a good future source of high-quality recyclate and that the CPET sleeve is "the ideal complement for any type of transparent bottle." The production process is carried out on Karlville machines after the sleeve has been processed by Emsur, using washable inks and coatings from Siegwerk and CPET shrink film from SK microworks.
Karlville highlighted the #SleeveConnect development on its booth at the recent Labelexpo Europe trade fair in Brussels, where it also showcased the production process for these bottles.
Emsur last year developed a range of PET-based shrink sleeve options, called ECOEM-Sleeves, that are fully recyclable along with the PET bottles. Also using washable inks, these sleeves are meant to prevent the contamination of waste streams and improve recyclability. The company said at the time that these products are for use on bottled carbonated drinks, water, juice, or drinkable yogurts.
French blow molding machinery maker 1Blow Services, meanwhile, is promoting its work with BTC Concept on producing the BottleClips snap-on bottle, calling it "much more than a bottle" (see video). It says that 1Blow and BTC Concept "have pooled their know-how to propose BottleClips as a turnkey industrial solution that can be easily integrated into 1BLOW's 2L and 2XL blow molding machines," which can produce containers of up to 2.5 liters and 12 liters, respectively.
The patented clipping system is integrated to the bottle by injection blow molding and can be used produce bottles from PET, polyethylene and polypropylene.