SABIC Adds Biobased Versions of Noryl Resins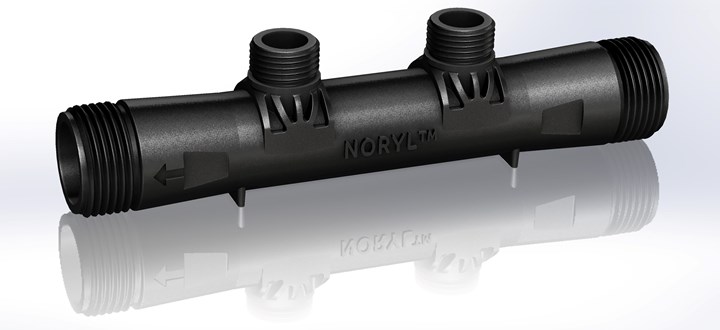 Supplier says bioplastic grades will help end users meet sustainability goals
Sustainability in one form or another dominates business decisions in C-suites everywhere. Case in point: SABIC is now supplying biobased versions of all its Noryl, Flexible Noryl, Noryl GTX and Noryl PPX resin grades to aid end users in meeting their sustainability goals.
Noryl is a family of modified polyphenylene ether (PPE) or polyphenylene oxide (PPO) resins and polystyrene, or in the case of GTX, a nonreinforced alloy of PPE and polyaramid. Grades are formulated to combine the inherent benefits of PPO resin (affordable high heat resistance, good electrical properties, high hydrolytic stability and the ability to use non-halogen flame-retardant (FR) packages) with dimensional stability, processibility and low specific gravity.
Biobased Grades Receive ISCC Plus Certification
The biobased versions are formulated with PPE resin feedstocks and certified under International Sustainability & Carbon Certification (ISCC) Plus standards. They are engineered to provide properties similar to those of fossil fuel-based grades. SABIC says customers can select multiple levels of biobased content for Noryl grades.
To demonstrate the feasibility of this approach, SABIC has commercialized three Noryl grades, a small percentage of the full offering. The availability of biobased versions broadens the choice of environmentally friendly resins beyond the company's recently introduced post-consumer recycled (PCR)-based materials containing more than 25 percent PCR content.
The biobased grades now available are:
Noryl NH5120BIO4 resin for housings and enclosures, HVAC components and photovoltaic/solar junction boxes. It is a non-brominated/non-chlorinated FR resin with a UL flame rating of V1 at 1.5mm, with no intentionally added per- and polyfluorinated substances, or PFAS. The grade delivers a balance of heat resistance, flow, hydrolytic and dimensional stability, and creep performance, and retains good mechanical properties in harsh outdoor environments.
Noryl GFN2BIO3 resin has high strength, hydrolytic and dimensional stability, low warpage and low specific gravity. The material carries a UL746C outdoor suitability rating of F1 and is a candidate for indoor and outdoor applications in building and construction and lawn and garden industries.
Noryl GTX902BIO3 resin is a PPE alloy with high chemical resistance and paintability for applications such as automotive wheel covers, automotive electrical components and automotive trim.
Information on the three biobased Noryl and GTX grades is available on the SABIC Material Finder website.