Retinal Camera and Digital Crop Sensor Win Key IDEA Honors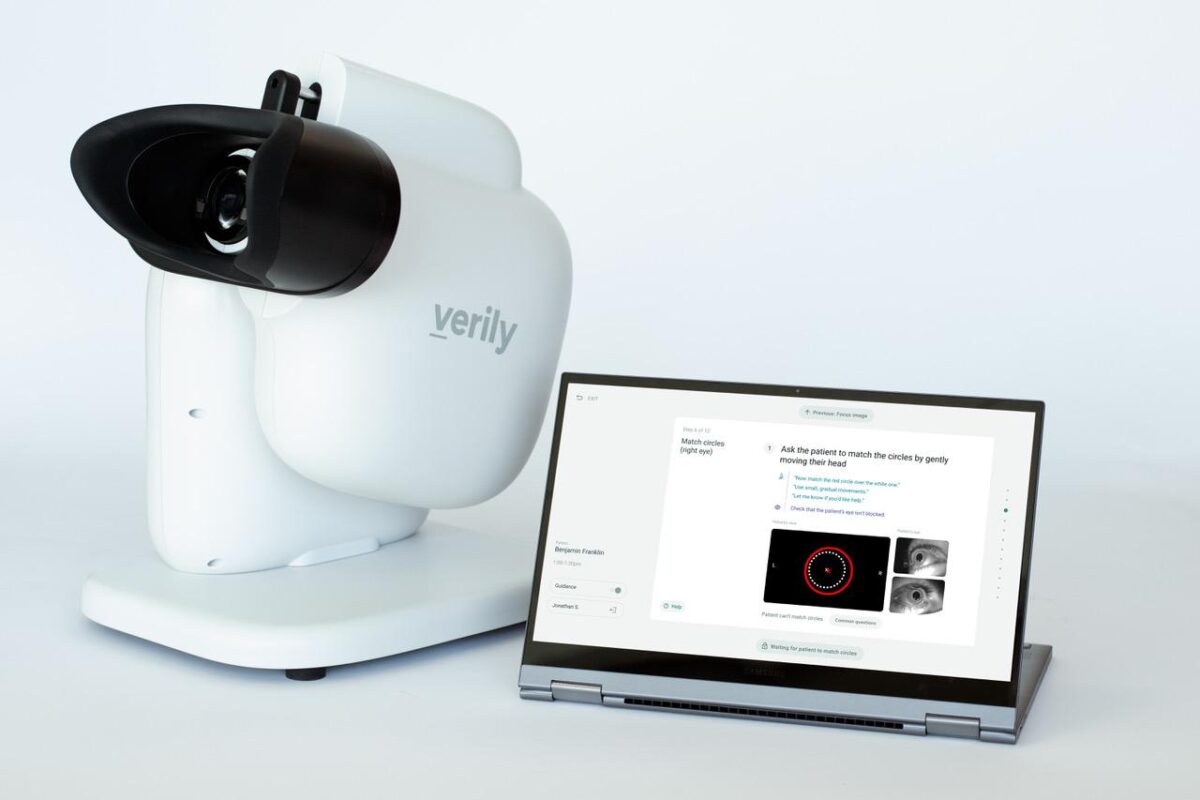 Diverse products earn IDSA's Curator's Choice and People's Choice awards
IDEA 2023: Part two of a series


The Arable Mark 3 multifunctional crop sensor aims to help farmers leverage the full potential of digital agriculture. It collects plant, weather and soil information and uploads it to the cloud via a cellular link where sophisticated data analytics enable intelligent crop management decision-making.
Its capabilities impressed Mark Greuther, curator of the Henry Ford Museum of American Innovation in Dearborn, Mich., enough for him to honor it with his Curator's Choice Award at the 2023 International Design Excellence Awards, announced Aug. 23 in New York. It also won a Silver IDEA from the jury.
The People's Choice Honor, meanwhile, went to the Verily Retinal Camera, an ophthalmic camera used to take digital photos of the human eye, including the retina. Verily, an Alphabet Inc. company, designed the product in-house as part of its broader mission to "combine data and human-centered design to help people live healthier lives." The jury awarded the product a Bronze Award in its category.
The Verily Retinal Camera (VRC) is meant to be used with the Verily Retinal Service (VRS), which launched in 2022. These tools together are said to enable greater access to precision retinal imaging for patients by conducting them in convenient locations, like primary care settings.
Making Retinal Screenings More Accessible
The South San Francisco-based company notes that early detection and treatment can prevent 90 percent of vision loss and that roughly half the people with diabetes don't know why they need to get screened and are skipping screenings. Such screenings normally are done by ophthalmologists and are inaccessible to many patients.
"The VRC makes complex retinal screenings easy enough to deploy in a primary care physician's office, where most people get their care," notes Verily, adding that a range of people can be trained to use the device.
Verily designed the camera around the idea of expanded access—a soft, flexible, silicone headrest design that fits a variety of face shapes, a camera form compact enough to be carried to different locations and a user interface that helps to train and guide a set of operators through screenings.
A Verily spokeswoman told Plastics Engineering: "We started with an understanding of diverse facial anthropometry, specifically anthropometric data sets and developed representative parametric solid head models from these data sets. We then iterated designs using a data-driven approach and computer software to predict the fit and user preference testing of rapid prototypes."
The device's camera is part of an innovative end-to-end service, covering operator and patient training, patient scheduling and teleretinal image grading (through a third party). The camera is specially designed to allow operators to take fast, accurate retinal captures with minimal training.
Verily used a polycarbonate/ABS blend for the white outer shells of the product.
Farm Monitoring Goes High-Tech
The Mark 3, designed by San Francisco's Bould Design for use in harsh farm conditions, incorporates a 5-MB camera and offers extensive plant monitoring including chlorophyll density, evaporation, wetness, canopy temperature and heat stress. It also monitors temperature, pressure, humidity and rainfall among its weather data functions.
The device uses polycarbonate (PC), acrylic, PC/ABS and silicone along with aluminum, stainless steel and germanium, though Bould did not respond to requests for more information about the specific material applications.
IDEA 2023 jury chair Shujan Bertrand, founder and CEO of sustainable soft goods maker Aplat, and director of the Industrial Design Department at the California College of the Arts, said she respected the selection of this entry as Curator's Choice, given the role that technology has to play in combatting climate change. The Arable Mark 3 "checked all the boxes," she said, with great design and smart technology, while offering a strong benefit for the planet.
"Before Arable," Bould said, "farmers had a limited tool set for acquiring data and making decisions. Most farmers relied on people collecting data in the fields, a method that is expensive, prone to error and not continuous. More sophisticated operations had connected sensors with rudimentary software implementations. But they were unreliable, low-functioning systems."
With the Arable Mark 3—a third-generation product—Bould said, "Farmers get access to a full suite of accurate, real-time data without having to climb into their pickup trucks and drive out to the field to take measurements."
Improvements Made to Arable's Latest Version
In the product's latest iteration, Bould said it added key technology and doubled down on Arable's design for reliability and durability, noting that the most important sensor addition was the 5-MB camera. "Image data combined with artificial intelligence (AI) recognition algorithms hold vast potential for diagnosing and remediating crop problems before they become disasters."
As for reliability, Bould more than doubled the solar collector size and increased battery capacity correspondingly. Larger antennas extended range and connection reliability. The designers vetted and tested the form factor and construction for durability under worst-case conditions, including 60-mph winds.
Designed for easy installation and minimal maintenance, Arable Mark 3 collects a vast amount of actionable data and uploads it to the cloud where it can be analyzed and acted upon. "Farmers are a global community," noted Bould, "and the Mark 3 enables the collecting, analyzing and sharing of data anywhere in the world."
---
View other IDEA 2023 stories in this series: