LSR Molding Process Targets Automotive Light-Guide Lenses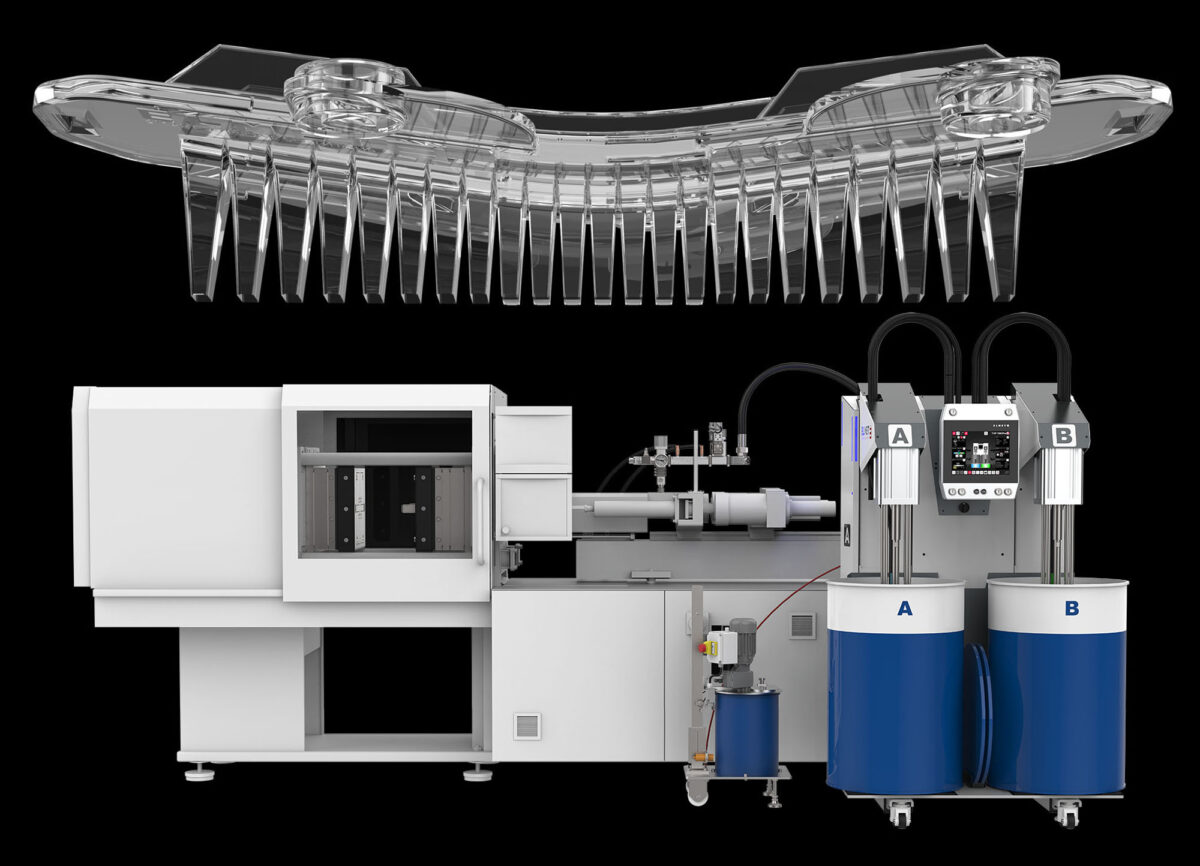 Use of optical-grade silicone in smart headlights advances with technique from Elmet and Dow
Elmet, an Austrian company specializing in silicone processing and hardware, and Dow have worked together to fine-tune manufacturing of the main optics of LED headlights equipped with Adaptive Driving Beam (ADB) functionality. The companies developed a technique that allows the use of Dow's Silastic MS-5002 liquid silicone rubber (LSR) in a turnkey injection molding system for making multiple light-guide lenses. Elmet's work included designing a mold for the complex parts.
Headlights equipped with smart ADB technology have electronic sensors that detect a driver's steering angle so the headlights can swivel in the direction a car is going. Coupled with the ability to selectively dim or shut down individual LEDs, this allows drivers to operate vehicles at night with high beams on without blinding oncoming drivers.
ADB has been available for a decade or so on vehicles in Europe and Asia, but not the U.S. The infrastructure law passed in 2022, however, allows the technology to be installed on new cars and trucks beginning this year, so it's possible that the technique developed by Elmet and Dow will be available in the U.S. Elmet has a U.S. office in Lansing, Mich.
Hardware Makes Molding Outcome Possible
The technique developed by the companies makes use of Elmet's SMARTmix TOP 7000P dosing system and its SMARTshot E cold runner system, which uses a servo-electric mechanism to position needles when nozzles open and close.
Elmet says the SMARTmix TOP 7000P is FDA-compliant, which suits it for use with high-purity optical LSR grades. The volumetric meter's measuring accuracy of 0.0156 milliliters per count pulse ensures high mixing quality and thus process consistency. A virtually abrasion-free delivery system prevents contamination of LSR by any abraded metal from the pump.
The SMARTshot E valve gate cold runner system, meanwhile, has a compact servomotor which positions the nozzle needle for precise control of sprue-less cavity filling. As a result, needle openings can be set in the micron range and the injection process is better balanced than with stepper motor drives. Since mold gaps of less than 10 microns are possible, no flash forms on the optical components despite the LSR grade's low viscosity.
Collaboration Demonstrates Innovation Potential
Elmet designed the sophisticated tool for molding the LSR parts. Part volume is around 35 cubic centimeters, corresponding to a weight of approximately 37.5 grams based on the LSR's specific density of 1.07 grams/cubic centimeter. Together with the variable cross-sections of parts this results in challenging cycle times for mass production.
Elmet also tailored the cold runners to the grade's viscosity and flow behavior, which ensured maximum process stability and uniform cooling. Mold inserts made from a special steel alloy were heat-treated and polished, so the mold surface transfers exactly onto the surface of the LSR part, making it possible to meet stringent optical requirements for the light guides and the outcoupling sections of the lens.