Altair Honors Marelli and Solvay for Vehicle Lightweighting Advances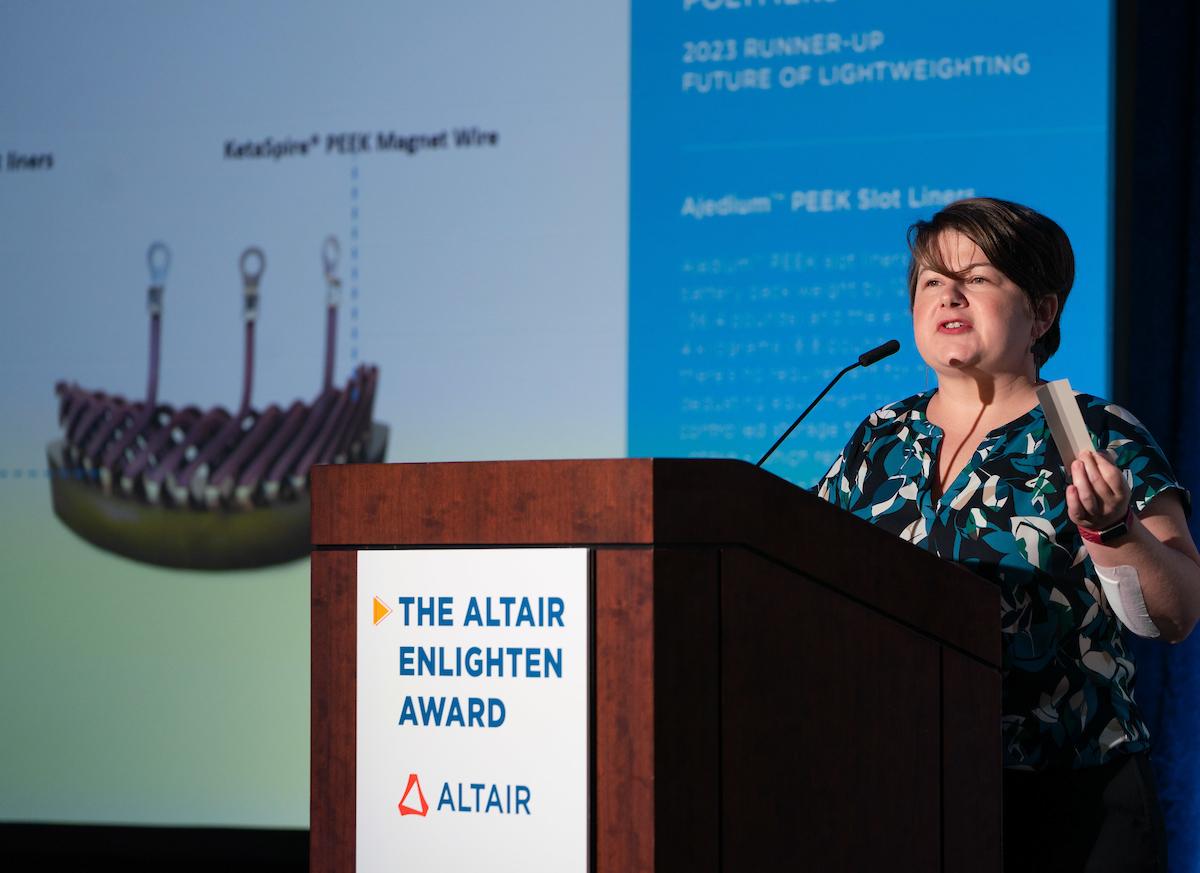 A new polyurethane foam and a PEEK film win 2023 Altair Enlighten Awards
A new polyurethane (PUR) foam and a high-end PEEK film each earned recognition for their lightweighting attributes in this year's Altair Enlighten Awards, announced Aug. 1 by Altair as part of the Center for Automotive Research's CAR Management Briefing Seminars.  
Tokyo-based Marelli Group won the "Future of Lightweighting" category for its PUR foam that can be applied to all foam-in-place (FIP) applications, particularly the main dashboard panel. Marelli stated: "It reduces part mass by 40 percent with new tooling (by 8 percent from current tooling) and decreases foam thickness by 50 percent [to support styling aesthetics]." Compared to the current PUR foam in use, it also is said to reduce raw material costs by 20 percent and slash volatile organic compound emissions by 80 percent—all while retaining a high-quality feel and appearance. 
Brussels, Belgium-based Solvay Specialty Polymers, meanwhile, earned runner-up honors in the same category for slot liners using its Ajedium PEEK Film in the battery pack and e-motor design of electric vehicles. These slot liners can reduce EV battery pack weight by 12 kg (26.4 pounds) and e-motor size by 4 kg (8.8 pounds). Additionally, Solvay says, there's no requirement for high-power dedusting equipment or climate-controlled storage to prevent moisture uptake—which reduces energy consumption—since PEEK slot liners can be inserted via existing equipment. The reduction in aluminum casting motors uses less energy and material than before. 
Marelli and Covestro Co-develop FIP foam
Marelli said its FIP technology, developed with materials supplier Covestro AG, "efficiently achieves a much-desired soft feel in primary touch surface parts, such as the main dash panel, door panels and the center console armrest." The company, which operates Marelli North America Inc. in Shelbyville, Tenn., said it will deploy this foam with a focus on the main dash panel, which carries the instrument cluster, infotainment system and glove box. The application of this foam, as for any FIP product, will not require changes to the shop floor and will immediately provide a lighter-weight product.  
Brian Baleno, head of automotive marketing for Solvay's E-Mobility Solutions in Alpharetta, Ga., said: "As EV manufacturers move from 400-volt systems to 800 volts or higher, conventional paper laminate slot liners can no longer live up to the challenges arising from this trend. In comprehensive simulation testing, Ajedium PEEK Film demonstrated its outstanding property profile for improving the thermal, electrical and mechanical performance of slot liners, while enabling thinner secondary insulation and providing a more sustainable mono-material solution."  
Additionally, the film's high electric insulation and thermal heat dissipation is said to enhance thermal management efficiency, allowing designers to downsize the aluminum casting and create more sustainable e-motors with less energy and material consumption.  
Altair, a Troy, Mich.-based global leader in computational science and artificial intelligence, created the Enlighten Awards program in 2013 to highlight advances in vehicle sustainability and lightweighting that have significant potential to reduce carbon footprint, mitigate water and energy consumption, and leverage material reuse and recycling efforts.