Q2 Plastics Economy Is Holding Its Own in Difficult Times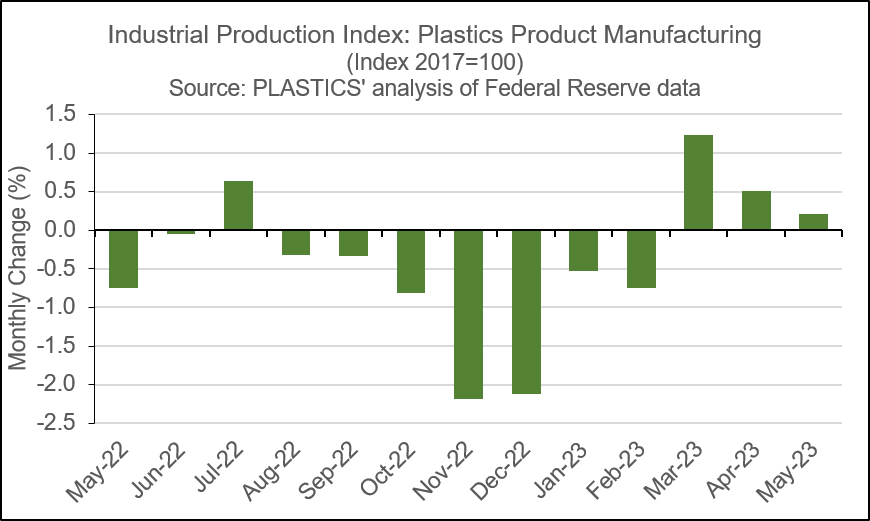 S

econd

–

quarter

results

show mixed signs for the

U.S.

industry

'

s key sector

, expert say

s
The U.S. plastics economy is "doing better but not great," says Perc Pineda, chief economist of the Plastics Industry Association. Still, he noted in a July 13 interview: "I'm less pessimistic now than I was six months ago, but I remain concerned considering that we had anticipated hitting the belly of the curve in first quarter of 2023 … and we didn't." 
In its recently released economic second-quarter outlook report, the Washington, D.C.-based trade association (which refers to itself as PLASTICS) said it has revised its previous forecast for plastic materials, resin production and plastics machinery production. It now expects a lesser decrease in resin production for all of 2023 compared to 2022, and it has downgraded U.S. plastics machinery production for 2023. 
On the other hand, PLASTICS sees plastic product manufacturing output slipping at a lower rate this year, which represents a slight improvement over its previous forecast. And, it has upgraded its projection of mold production for plastics manufacturing to an increase compared with a previously forecasted decline.  
Lower Inflation Helps the Cause 
The overall economy got some welcome news recently when the government reported that U.S. inflation fell to 3 percent in June, its lowest annual rate in more than two years. "It's good news that inflation is coming down," Pineda said, "but is it fast enough for the [Federal Reserve Board]" to fend off further interest rate hikes?"  
Much of the country's post-COVID growth was debt-fueled, he pointed out, so the Fed "finds itself stepping on the brakes on the economy, while fiscal policy appears to be simultaneously pressing on the gas pedal."  
Plastic product manufacturing is also showing some signs of improvement, Pineda said, noting that May showed increases of 0.2 percent over the previous month (June figures are not yet published). A year ago, the sector showed a 4.5 percent decline from the previous year.  
The uptick reflects "a lower consumption pullback in durable and nondurable goods during the first half of 2023 than initially expected," he wrote in the latest report. "As a result, the rate of inventory buildup is expected to be lower, necessitating production adjustments." (Pineda said he has a new blog coming out soon on the www.plasticsindustry.org website that will assess capacity utilization rates for plastics production.) 
"There's a lot of slack in plastic product manufacturing now," he noted. That said, while both the automotive and housing sectors have improved a bit in recent months, he questions whether those gains will hold. If the pace of retail sales slow, inventory will turn over more slowly, which could negatively impact production.
Slowing Resin and Machinery Output
An ample supply of resin exists in the market, so there is no need to produce as much, hence the downward revision of output for the rest of this year.  
As for the plastics equipment sector, high interest rates impact capital expenditures such as these, Pineda noted. Data indicate that machinery production decreased by 1.2 percent in Q2 2023, following a 7 percent increase in Q1, he wrote in the recent report. The Q1 increase may have been due to production backlogs, however, rather than new orders.  
Finally, as for U.S. plastics and rubber manufacturing employment trends, Pineda declared: "The labor market cannot stay this strong for long." The sector's unemployment rate in April was just 0.8 percent, rising slightly to 1.8 percent in June. Historically, he said, the rate is typically 4-5 percent, even in good years.  
"It is anticipated," he wrote in the report, "that the unemployment rate in plastics and rubber products manufacturing in 2023 will be higher than the 3.3 percent recorded in 2022." (Pineda also publishes a blog on industry employment.)  
Full economic data and industry analyses are available to PLASTICS members. Learn more at www.plasticsindustry.org.