Lightning Fast rPET Process Molds Thinwall Food Containers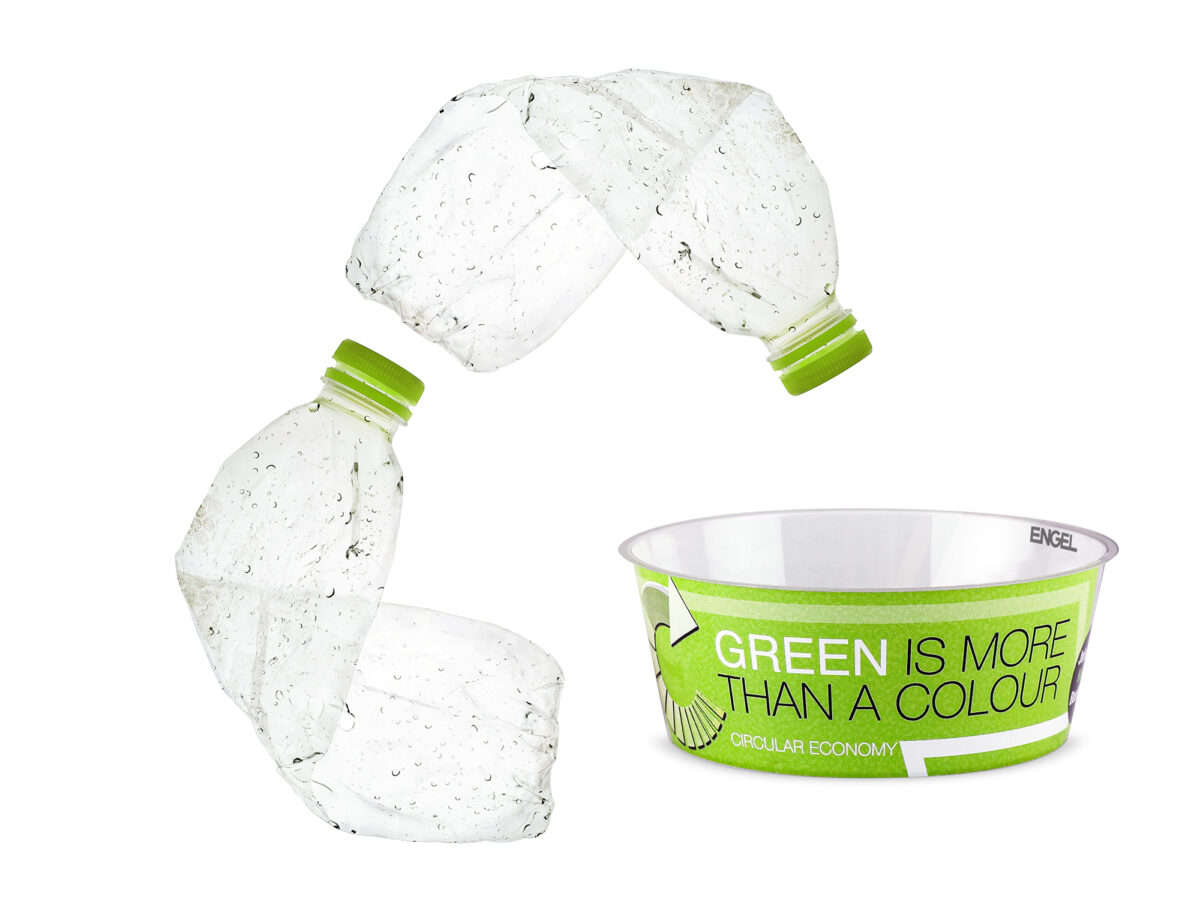 Engel technology rapidly converts up to 100 percent recycled PET into 'green' food packaging
Injection machine maker Engel will exhibit a recently developed process capability at shows in Italy and Germany this year that allows the ultra-fast molding of recycled polyethylene terephthalate (rPET), whether flake or pellets, into transparent 125-mL food cups with wall thicknesses of 0.3mm.  
The shows are Plast in Milan, Sept. 5-8, and Fakuma in Friedrichshafen, Germany, Oct. 17-21. (The process system can also be seen at Engel locations worldwide.)  
The system is notable because it permits the one-step molding of thinwall PET containers, a capability that PET or rPET typically do not allow. Thinwall containers can be molded from both, of course, but usually by blow molding preforms that have been injection molded.  
It is also a way for packaging producers to add levels of recycled material to their products that meet current and emerging standards in Europe and elsewhere. Engel says the processing system can mold 100 percent levels of rPET.  
The system is installed on the e-speed 280/50 hybrid injection molding machine, which uses electric power for clamping and hydraulic accumulators to maximize injection speed.  
"Injection fill time is 0.05 seconds—almost instantly," says Joachim Kragl, director of advanced molding systems and processing at Engel Machinery, of York, Pa. The technology molds rPET containers in 2.8-second cycles. The hybrid machine design also improves process efficiency and energy savings, adds Kragl.  
The work cell at both shows will run a 4-cavity mold and be equipped with Engel's advanced iQ series process software for melt control, part weight control and other functions. The iQ weight control software, for example, adjusts the injection unit to compensate for rPET viscosity changes during the 0.05-second fill time, Kragl notes. The shot weight for each mold is 24 grams.  
rPET flake can create mechanical issues in the process. Engel has thus adapted parts of the feeding and plasticizing systems to overcome this. It has also "cut the screw a little differently" than usual, Kragl says, primarily to assure that it plasticizes gently, since rPET remains sensitive to heat and stress. Screw diameters range from 40-100mm depending on application volume. The molding machine range in the U.S. is 550-720 tons.  
The mold, meanwhile, is designed to process different types of in-mold labels so customers can adapt to regional trends and comply with different packaging standards. (For video of the process see https://youtu.be/LYy_WW0HxpU)