Intumescent PP Compounds for Electric Vehicles Resist High Heat, Offer Process Economy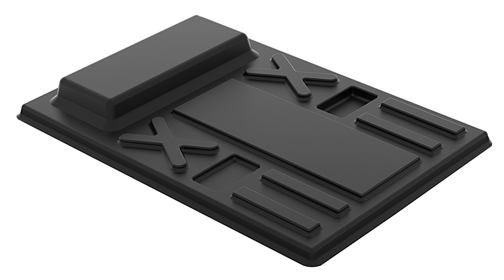 SABIC grades are designed for extrusion and thermoforming of battery platforms and components
As the design of electric vehicles (EVs) accelerates, work is ongoing to make sure battery platforms and related components resist the heat batteries generate.  
There are, as well, efforts to find process technologies that make these parts cost-efficiently and as lightweight as possible. 
SABIC has developed a pair of intumescent, flame-retardant (FR), 30 percent glass-fiber-reinforced polypropylene (PP)-based materials that resist EV battery heat and can thermoform or extrude battery platforms and components such as top covers, enclosures and module separators. The supplier says the extrusion and thermoforming capabilities of both grades reduce manufacturing costs compared with sheet metal stamping, thermoplastic injection molding and thermoset compression molding.  
The grades are SABIC H1090, a short-glass-fiber compound, and Stamax 30YH611, a low-flow, halogen-free PP with long glass fiber. Stamax glass fibers are chemically coupled to the PP matrix, which increases the resin's stiffness and strength. The material is formulated for high performance and good processing. Both resins can be used to develop large, complex structural parts.  
The development and validation of the materials was done with Bluehero, a company initiative introduced last year to support the auto industry in developing reliable, safe and efficient EVs, with emphasis on optimizing structural battery components.  
SABIC validated the mechanical and fire safety performance and manufacturability of H1090 and 30YH611 grades in battery applications with complex shapes. The materials provide options for the replacement of sheet metal or thermosets in applications and can be used to create prototypes to determine the feasibility of investing in injection molding tools. 
Combining Properties
The intumescence of both H1090 and 30YH611 resins improve fire safety and provide balanced stiffness and ductility. Exposing the materials to vertical and horizontal flames at 1,200°C (2,192°F) for 10 minutes demonstrates outstanding FR behavior. Charring and intumescence keep the temperature of the reverse side of parts lower than 210°C (410°F) and help prevent burn-through. Intumescence is enhanced by a non-brominated/non-chlorinated FR that meets the UL94 V0 standard at 1.5 mm. (Click here to watch a short video demonstrating a thermal runaway test with one of the Stamax resins.)
In addition to high stiffness, strength and impact resistance over a wide temperature range, key properties of H1090 and 30YH611 include dimensional stability, low coefficient of thermal expansion and creep resistance. As the polymer matrix for both products, PP has good electrical insulating properties, low density, global availability and good processability.