Huge, Little-Known U.S. Injection Molder Adding Several Plants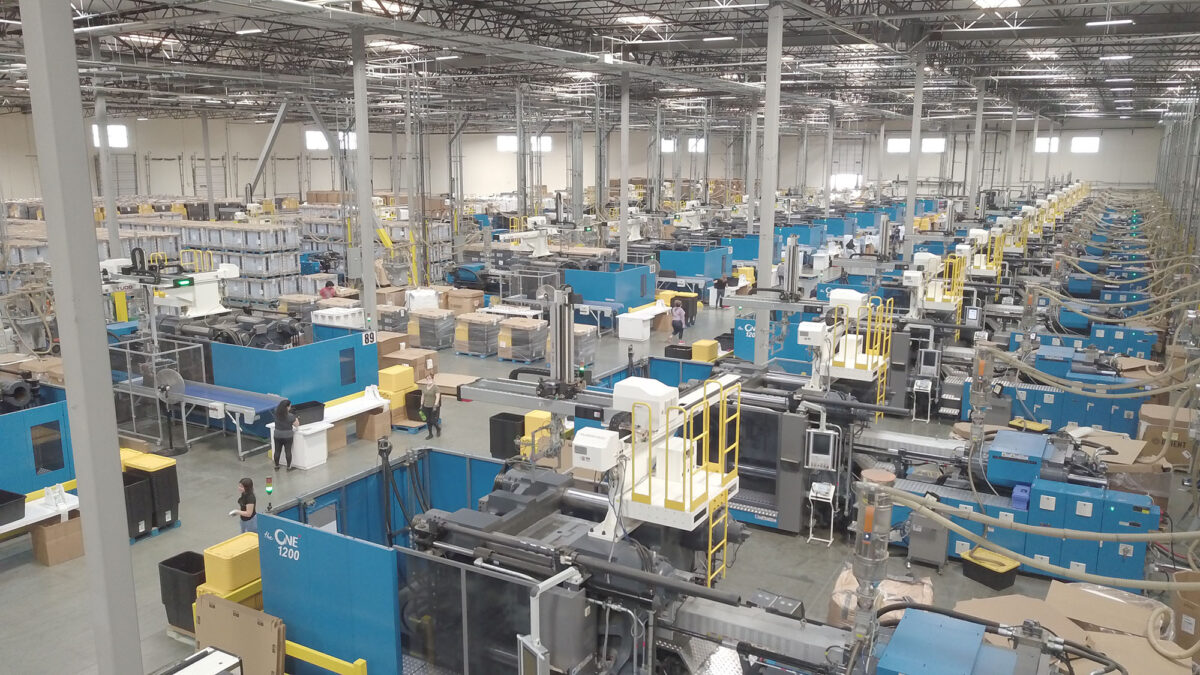 US Merchants

leveraging

its relationship with

machine maker

LS

Mtron

to spur growth
One of the largest plastics molders that few have ever heard of is expanding again, this time with a plant in Phoenix. US Merchants Financial Group Inc., based in Beverly Hills, Calif., has equipped the plant with 69 LS Mtron presses and says it plans to open molding plants soon in Houston and Montreal, while eyeing its first overseas expansion with a plant in the U.K.  
Founded in the 1980s by Jeff Green, US Merchants has carved out a huge niche as a vertically integrated producer and distributor of packaging products, including molded totes, bins and storage crates, for large warehouse clubs, big box retailers and other customers. US Merchants today molds "several million" 27-gallon storage totes every week, said Larry Khemlani, vice president of operations.  
Its hundreds of injection molding machines—the company won't say exactly how many—is part of an empire that includes extensive thermoforming operations making a broad range of plastics packaging and merchandising display products. US Merchants also offers labeling and repackaging services, a proprietary pallet program, and logistics and distribution businesses that include large fleets of their Greenline Transportation trucks.  
Green, still president and CEO of the family-owned firm, is in his mid-70s but works every day overseeing the business while generally shunning the spotlight. In addition to the Phoenix facility, the 4,000-employee company has three plants in Ontario, Calif., and one each in Houston, Montreal and Prince George, Va. 
From Molding Novice to Behemoth 
The company began as a small sporting goods shop in Beverly Hills and did no molding until 2014 when it accepted a challenge from a customer to make a better-quality tote than it currently had. It was then that Green and Khemlani met Shingo Hirate, president of equipment distributor and molding consultant Hirate America Inc., at a trade show.  
Hirate suggested that US Merchants use injection molding machines from LS Mtron, which South Korean tech giant LG Corp started in 2003 to serve its own in-house molding needs. The key connection was Steve Gwon, an agent for Korean equipment with Anaheim, Calif.-based E-Solution Inc.  
Gwon and Hirate handled everything to get US Merchants up and running. They provided machines, molds, hot runner controllers, auxiliaries, robots/automation, chillers, blenders and material handling systems, gantry cranes, mold tilters, part design and more. "We helped with laying out and commissioning the new plants, and employee recruiting, too," Gwon said in an interview.   
One of LS Mtron's Biggest Customers 
LS Mtron won the loyalty of its new customer by exhibiting flexibility while providing quality machines at reasonable prices. Peter Gardner, president of Duluth, Ga.-based LS Injection Molding Machine USA, said one example was how LS agreed to develop a 1,300-ton, two-platen press specifically for US Merchants even though it had 1,200- and 1,400-ton machines in its portfolio. The resulting press had custom tie bar spacing, unique screw configurations and other custom features, he said, making it ideal for USM's tote-molding product line.   
Today, US Merchants uses hundreds of LS Mtron two-platen, 1,200-, 1,300- and 1,400-ton machines to mold totes and lids, as well as LS 390- and 500-ton all-electric machines for smaller parts. The Phoenix plant, which opened in June, includes all-electric, 2,000-ton LS Mtron machines.   
Green says the coming U.K. expansion is important. "It will be our first overseas plant and it will lead us into a lot more business with the warehouse clubs and mass merchants in Western Europe," he said. "We already sell products in the U.K., Spain, France, Iceland and more, and we expect that to grow."   
Privately Owned, Quality Obsessed 
Green said he never moved production to China because he is obsessed with certain key aspects of business: "It's all about quality control, inventory management and relationships." And he doesn't waver when explaining that US Merchants will continue to work with Gwon, Hirate and LS Mtron.  
Gardner, in a July 21 phone interview from his home in the San Francisco area, said that LS Mtron produces up to 3,000 presses a year. "The combined strength of the LG/LS family of companies allows them to solve many of the world's current supply-chain challenges. Because of this," he noted, "LS IMM can provide new molding machines to customers in North America in just 100 days from casting to cargo."