DyeMansion Works With HP on Finishing Techniques for 3D Parts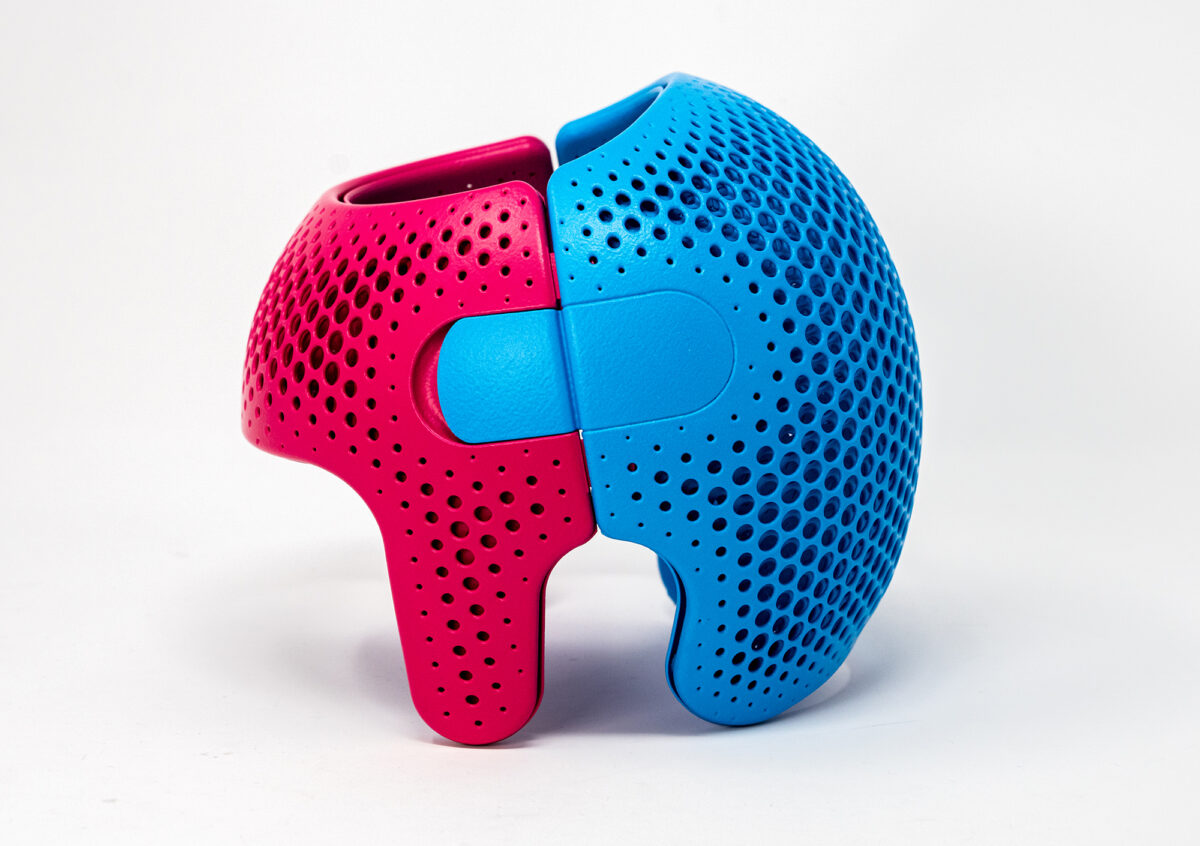 Post-processing specialist

provides

vibrant colors for

pale

parts made on new

Jet Fusion printer
DyeMansion, a specialist in finishing techniques for 3D-printed parts, is working as a designated HP partner to provide connected post-processing workflows for finishing and coloring parts printed on HP's recently introduced Jet Fusion 5420W printer.  
The objective is to provide vibrant colors of high consistency and different finishes based on application needs, DyeMansion reported when announcing the initiative.
DyeManion's DM60 machine and DeepDye Coloring technology work with many types of printers. The company's standard post-processing workflow involves cleaning, surfacing and coloring parts. Applications target diverse materials in consumer goods, automotive, medical, industrial and other applications. 
"Exact color recipes in the form of color cartridges equipped with RFID technology ensure a traceable QM-ready process without manual pigment handling," says Michael Schorr, general manager of DyeMansion North America. "A certain color formula is always manufactured depending on base material, surface finish and volume of parts. The operator scans the RFID chip, inserts a cartridge into the system and fills it with parts. The rest of the dyeing process is automated, which allows for scalability and reproducibility in finishing printed parts." 
DyeMansion previously created palettes for EOS printers and for gray materials printed on HP Multi Jet Fusion machines.  
In another example of its technology outreach and capabilities, DyeMansion earlier this year worked with computational design expert General Lattice, printer maker EOS and Wilson Sporting Goods Co. to design and produce a one-of-a-kind 3D-printed Airless Prototype Basketball.  
Wilson Sporting Goods wanted to take a mature product design—the basketball—and develop an entirely new form for it using advanced production technology and materials, as well as sophisticated finishing capabilities.  
EOS printed the prototype on a P 396 system using an undisclosed polymer. The surface contains hundreds of tiny hexagonal holes. DyeMansion fine-tuned a vapor-smoothing treatment to create a consistent finish that matched Wilson's cutting-edge expectations for the prototype ball, which has been tested by NBA players.  
Combining their respective areas of expertise, the collaboration between the companies illustrates the seemingly endless possibilities of computational design and additive manufacturing in developing innovative products.