Cork/Polymer Bio-Composites Contribute to Award-Winning Solar Energy Project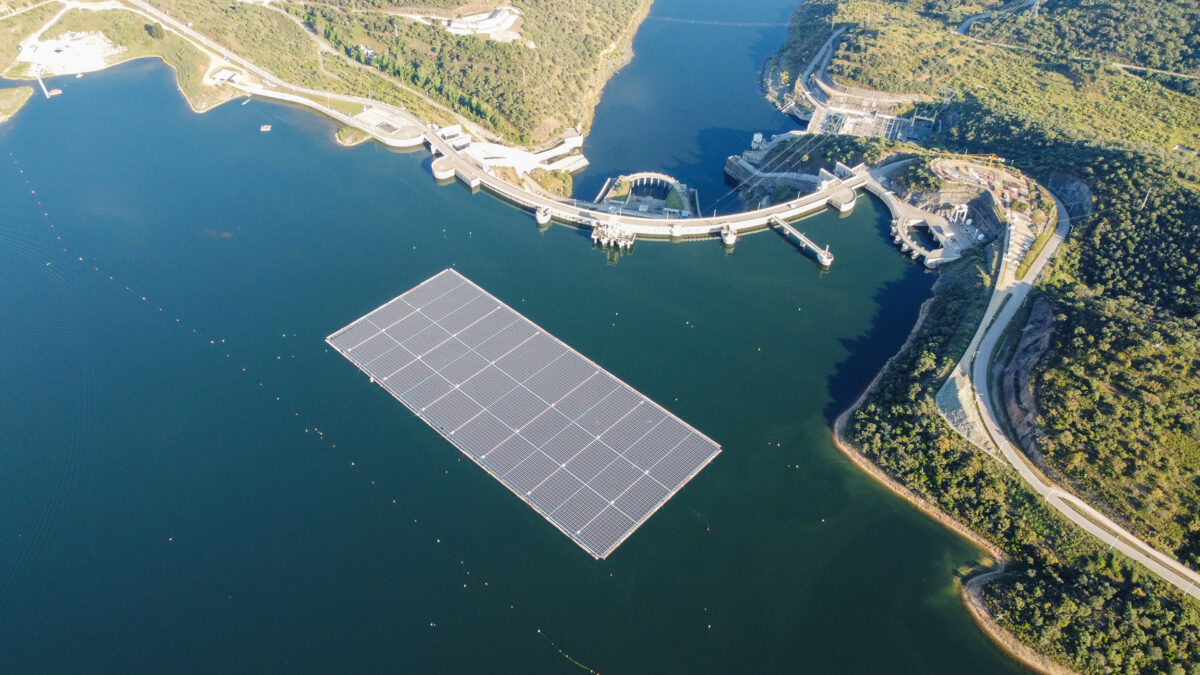 EC honors Portugal's EDP Group

and

partners for sustainable energy project
A novel bio-composite compound made from waste cork and recycled high-density polyethylene is helping keep a large solar farm afloat on a reservoir in Portugal, in a project that the European Commission just recognized for innovation in sustainable energy.  
Plastics Engineering first reported on the effort in its October 2022 cover story, which detailed how Lisbon-based energy giant EDP Group was partnering with Portugal's Amorim Cork Composites SA (ACC) and Spain's Isigenere SL on the project. Located at the site of a major dam at the Alqueva Reservoir in southeastern Portugal, the installation consists of nearly 12,000 photovoltaic panels covering almost 10 acres on the largest artificial lake in Europe.  
Corticeira Amorim, a publicly listed family company founded in 1870, created ACC as a separate unit 60 years ago. Five years ago, ACC launched an innovation pilot factory called iCork to research novel material combinations and end uses. It has invested millions of dollars in the effort, yielding new applications in the home, office, leisure, sporting goods and automotive sectors, among others.  
Cork's Sustainability Benefits 
A major goal has been to find ways to make use of waste cork—both that which Amorim, the world's largest cork processor, generates in production, and that recovered from forests where the cork oak trees grow. Expanding cork use not only benefits Amorim, but the environment, because for each ton of cork produced, the cork oak forest sequesters up to 73 tons of CO2. This reduces the environmental impact of cork applications.  
For the Alqueva solar project, ACC partnered with Isigenere, which specializes in developing and installing floating solar panel systems. Isigenere has been working for several years with two plastics processors in Spain—injection molder Crediplast and blow molder Fábricas Agrupadas de Muñecas de Onil S.A. (Famosa)  
ACC engineered a material—part of its Cork Polymer Composite product range—that consists of up to 30 percent cork content with the balance being recycled HDPE. (Some floats, such as those containing the solar panels, are made with virgin HDPE.) Famosa then uses that to make the secondary blow molded floats that support walkways on the solar farm. 
EC Honors Technology 
The European Commission recently honored the Alqueva Floating Solar Farm with its Innovation Award, recognizing "not only the pioneering and innovative technology" developed by the company in this project but its contribution to the expansion of renewable energies and to energy transition.  
European Commissioner for Energy Kadri Simson gave the gold award in late June to EDP Group at the start of "European Sustainable Energy Week 2023," one of the largest annual events dedicated to renewable energies. This video showcases the project.  
The floating solar plant also features a mooring system with elastic cables that was developed within the framework of the Fresher project, financed by the European Union. The hybrid project overall is said to satisfy 30 percent of the energy consumption of families in the region.