SABIC Resins Meet Electric Vehicle Battery and Sustainability Needs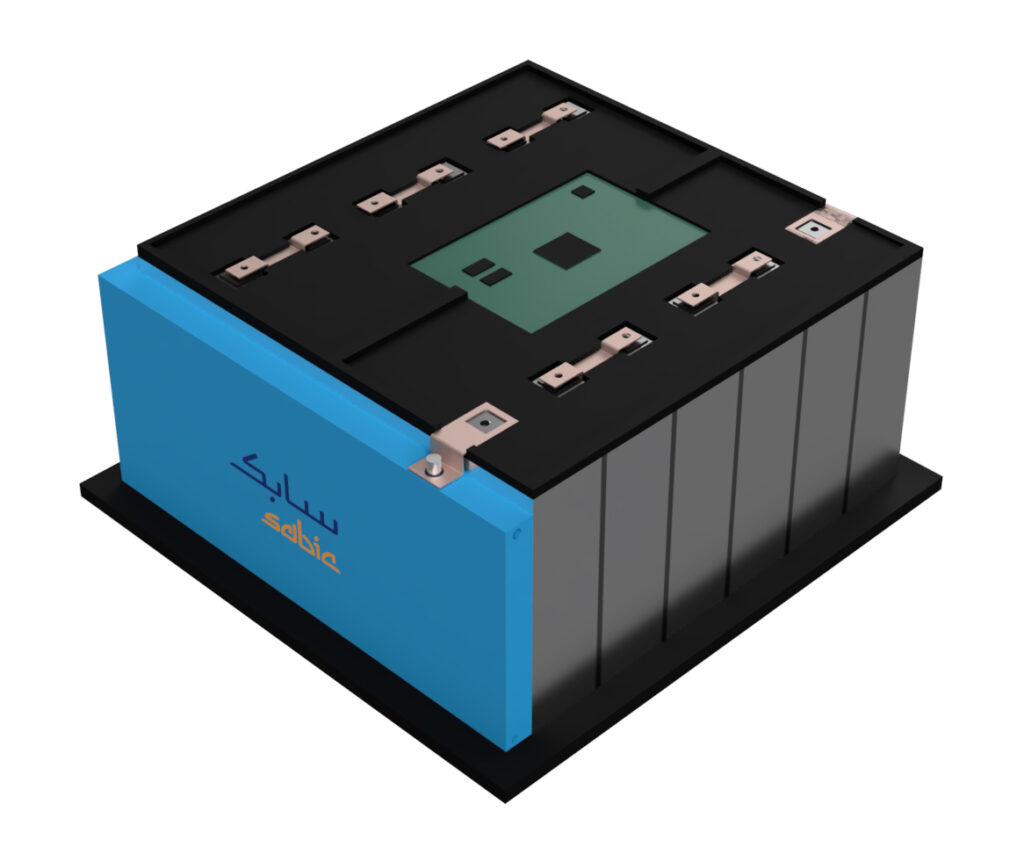 Sabic is launching two grades of Noryl modified polyphenylene ether (PPE) resins to aid in the development of lightweight, thin and crash-resistant battery modules and housings for electric vehicles (EVs).  
The resin supplier also reports development of a portfolio of biobased Ultem polyetherimide (PEI) grades that provide sustainability benefits with no tradeoffs in performance or processability from conventional Ultem resins.  
Together, Sabic's latest round of new products have the potential to meet a range of evolving needs in two broad and growing markets: e-mobility on the one hand, and sustainable applications and the circular economy on the other.  
The Noryl grades—NHP6011 and NHP6012—are formulated for key consumer EV concerns: improved safety, range and power. They reportedly deliver enhanced flame retardancy and impact strength to meet stringent industry safety standards, as well as thinwall molding capability to reduce battery weight and accommodate more cells, which would extend vehicle range and boost performance.  
The glass fiber-reinforced resins incorporate proprietary PPE-copolymer technology and are additions to Sabic's growing NHP family of materials for mobility applications.  
Several trends are shaping the future of EV batteries. Stricter flame-retardance requirements are in force, driven primarily by concern about the safety of lithium-ion batteries. In Europe and Asia, battery module materials must meet the UL 94 V-0 standard. NHP6011 and 6012 grades are designed to provide best-in-class, non-chlorinated/non-brominated flame retardancy that meets the standard at 1.5 mm. In addition, they supply high stiffness and impact strength for crash protection. The two products vary in glass fiber loadings to accommodate stiffness requirements.  
Another key trend in EV battery manufacturing is miniaturization. Battery manufacturers are working to fit more cells in existing or smaller spaces for power and range. The dimensional stability and flow properties of the Noryl grades enable thinwall designs for cell frames, retainers and battery pack top covers. These properties help increase energy density while minimizing weight and space.  
The materials also provide high dielectric performance with a comparative tracking index (CTI) of 2 to help avoid electrical shorts among tightly packed cells.  
Both grades have high resistance to acid vs. polycarbonate, better resistance to moisture compared with polyamide and low specific gravity.  
"Optimization of batteries is crucial to expanding adoption of electric vehicles and realizing the full sustainability benefits of e-mobility," says Darpan Parikh, global product management leader, resins and compounds, in Sabic's Specialties business. "By helping to enhance EV batteries through better safety, higher energy density and lower weight, the new resins can help manufacturers increase the consumer appeal of their vehicles."  
The biobased Ultem PEI materials are said to be the first certified-renewable, high-performance amorphous polymers in the industry.  
Using a mass balance approach, for every 100 kg (220 pounds) of the resins produced, Sabic says it can replace 25.5 kg (56.1 pounds) of fossil-based feedstocks with biobased materials derived from waste or residue, such as crude tall oil from the wood industry.  
The materials are drop-in options for current Ultem grades and can support customers' sustainability goals for challenging applications in consumer electronics, aerospace, automotive and other industries where high temperature, dimensional stability or demanding mechanical performance is required.  
"Because these products perform in the same way and maintain the same regulatory listings as traditional Ultem resins, adjustments to product designs and manufacturing processes are not required," says Scott Fisher, director of business management, Ultem Resins and Additives.  
The biobased resins can potentially reduce carbon footprint by 10 percent compared with fossil-based incumbents, giving the material the International Sustainability and Carbon Certification Plus (ISCC+) designation. This conclusion is based on an internal evaluation that followed the general principles of life cycle analysis according to ISO 14040/14044 protocols. Sabic used its own primary data, combined with the latest manufacturing data and industry average estimates, in the cradle-to-gate comparison of the resins.  
Biobased Ultem resins also comply with the requirements of Reach (Registration, Evaluation, Authorization and Restriction of Chemicals) regulation and the RoHS (Restriction of Hazardous Substances) directive.  
"The biobased feedstocks in the materials do not alter performance properties, which include long-term high-temperature performance, chemical resistance, excellent mechanical and structural properties, dimensional and hydrolytic stability, processability and inherent flame retardance," says Greg Stoddard, director of technology and innovation at Sabic. The new grades "can be considered as alternatives to traditional Ultem resins or sulfone polymers."  
Potential markets and applications include consumer electronics (wearables and mobile devices), automotive underhood applications, aerospace interiors, surgical devices and sterilization trays, and 5G networking infrastructure.  
The materials comply with global drinking water standards, relevant FAA regulations (FAR 25.853) and FDA food contact rules.