Reinforcing Concrete With Mixed Plastics Waste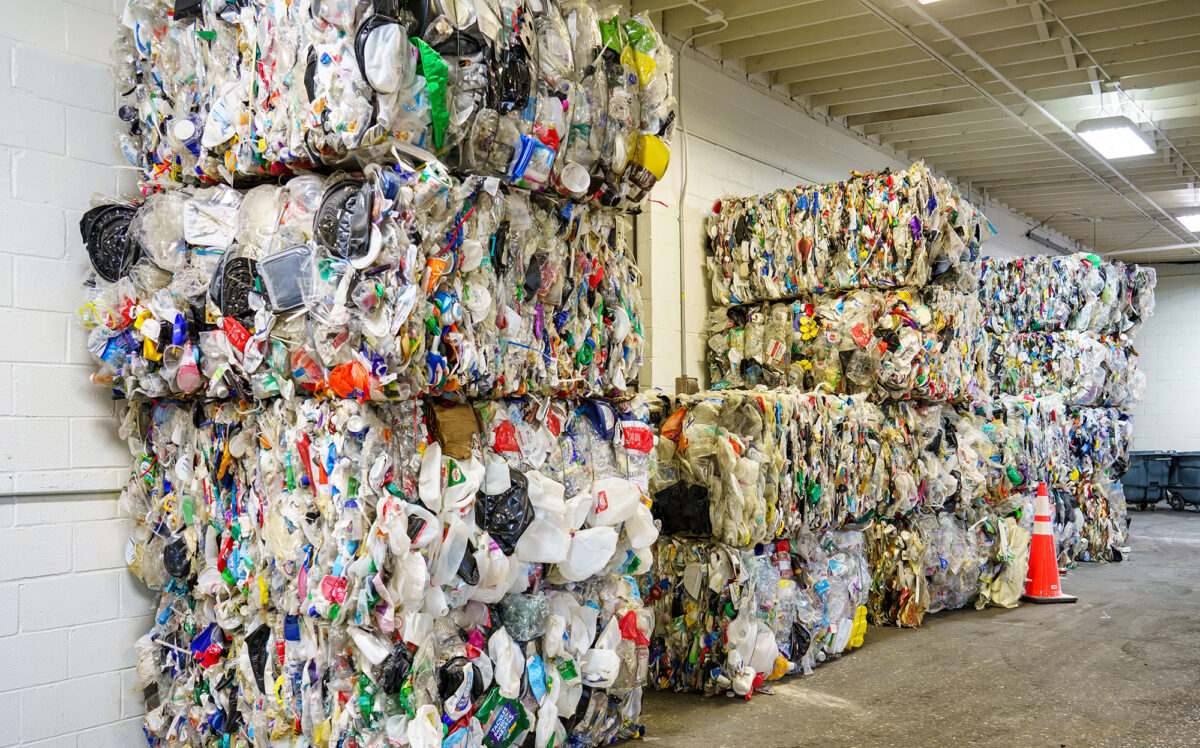 CRDC Global

develops

RESIN8

, a

mixed plastics waste

additive that boosts concrete properties
Donald Thomson, a Canadian entrepreneur who has been living in Costa Rica since 1991, has been devoting his life for years to several noble causes, including helping to rid his adopted country's beaches of plastics waste and to build affordable housing for the less fortunate.  
His 5-year-old company, CRDC Global Ltd. (https://crdc.global), has been working to turn mixed plastics waste into a long-term asset. The result is what his team calls RESIN8 (https://crdc.global/resin8), a building material made up of shredded plastics waste that can be used in concrete.   
CRDC (which initially stood for Center for Regenerative Design & Collaboration) describes itself as "a disruptive building materials company that creates appreciating value from the world's plastics waste." The firm's patented, low-carbon process accepts any type of plastics waste (resin numbers 1 to 7) and converts it into a range of climate-resilient concrete additives and eco-aggregates, which it markets and produces under the RESIN8 name.  
Through its Recover-Enrich-Appreciate-Prosper (REAP) model, CRDC focuses on providing better economic, environmental and societal value for all, in line with United Nations' Sustainable Development Goals.  
Late last year, CRDC Global announced it was partnering with PA Consulting to "accelerate the scale-up of its disruptive RESIN8 Carbon Capture technology, which has been formulated to absorb CO2 exhaust emissions and reduce the overall cement content in concrete."  
A Novel Additive 
RESIN8 can incorporate all types of discarded plastics from industrial, municipal and environmental waste streams. The mixed—and often dirty—plastics waste is shredded and batched according to density, the company states. The shredded plastics are "pre-conditioned" during a waterless stage that eliminates odors. The resulting mixture is melted during a heated extrusion stage that products an inert, hybrid mineral polymer. The bulk RESIN8 material is then granulated into the size, shape and gradation required by specific concrete mix designs.  
CRDC Global claims that the RESIN8 additive is the only material from plastics waste to actually improve the performance of structural concrete products and gain acceptance from the construction industry. Concrete applications using RESIN8 reportedly exceed ASTM standards and the material has been tested to demonstrate an increase in compression strength, flexibility, fire resistance, thermal resistance and acoustic properties.
It is suitable for numerous applications, including concrete blocks and pavers, pre-cast concrete, ready-mix concrete, mortars and even hot-mix asphalt. The resulting material is up to 15 percent lighter or stronger depending on its use, with up to 20 percent better insulation properties than traditional concrete. It has already been used by Habitat for Humanity to build housing in Latin America. 
RESIN8 is also said to result in no leaching, abrasion or micro-plastic release after its use in concrete. And, as a recycled product, the material "is fully circular at the end of its concrete life," according to CRDC Global. "It can be crushed and reused and has a low embodied energy production footprint."   
First RESIN8 plant 
CRDC Global in June 2022 opened the world's first RESIN8 plant, in San Jose, Costa Rica. It did so in collaboration with Grupo Pedregal, a leading Costa Rican construction company and a principal supplier of aggregates and concrete blocks to the local market, with a network of more than 400 dealers. Pedregal, a long-time CRDC partner, helped to co-develop the RESIN8 technology. At full capacity, the plant will be able to process up to 90 tons of plastics waste per day.  
At the factory's launch, David Zamora, Pedregal's commercial director, said: "The fact that we're launching this factory in Costa Rica is significant. Our country is known for its progressive stance on conservation and environmental best practices, and we're proud to be part of the solution to this growing problem."  
The nonprofit Alliance to End Plastic Waste (AEPW) also provided support for the project. "The Alliance," said AEPW president and CEO Jacob Duer, "believes that plastic waste is a resource with value that can be unlocked with the right technologies and solutions. RESIN8 is one such example with the potential to be replicated globally."   
CRDC Global has rapidly expanded operations from its home base in Costa Rica to the U.S., South Africa, U.K., Australia, Mexico, New Zealand, Hong Kong and Samoa. Further development is underway in more than 25 countries. The firm said it works with leading waste management, plastics resin and construction companies around the world, and has partnered with international organizations such as Habitat for Humanity, the United Nations Development Program and AEPW.  
Last fall CRDC Global, again with support from the AEPW, announced it was opening a RESIN8 production plant in York, Pa. The facility—the first in the U.S.—uses CRDC's proven proprietary process to transform York's unwanted plastics waste into RESIN8 at a rate of approximately 1 ton of plastics per hour. 
York Mayor Michael Helfrich, speaking at the Oct. 21, 2022, inauguration ceremony, said that to facilitate the supply of waste, the city was establishing three sites for the collection of plastics in different areas of York.  
South African Growth
Just before the York plant opening, CRDC announced plans to build a RESIN8 plant in Cape Town, South Africa, the first of its kind on the African continent. As of late March, the company said the equipment was in place and the local team was working to optimize the process. CRDC Global expected to do a local launch in April, and a larger rollout by fall. The plan then is to be able to process 610 tons of plastics waste per month into RESIN8.  
"The Cape Town RESIN8 plant has been designed to be scalable and we aim to increase our production to 1,220 metric tons of plastics waste per month," said Abraham Avenant, CEO of CRDC South Africa.  
As part of the expansion, Polyco PRO NPC, a producer responsibility organization (PRO) in South Africa that represents and promotes the recycling of all plastics packaging, announced it was investing an unspecified amount in CRDC South Africa. The investment will go toward funding machinery for an upscaled RESIN8 plant in Cape Town.  
Before the partners in South Africa agreed to the recent expansion, CRDC said that multiple concrete manufacturers partnered with its South Africa team to test RESIN8 in building blocks, maxi bricks, pavers, curbs, channels and concrete pipes.  
The tests are said to have impressed local concrete manufacturers. Cape Concrete Managing Director Darty Louw said that RESIN8 works well with unreinforced small-diameter pipes: "We are achieving a 200 percent design strength with the pipes and getting good results with curbs and concrete cubicles." For his part, Roan Heunis from PPC, South Africa's largest cement manufacturer, expressed great interest about the possibilities of using RESIN8 in concrete products, stating that "RESIN8 is a game changer in the concrete industry."  
RBJ Brick and Block successfully substituted all-natural crushed aggregate in its manufactured brick with RESIN8. This resulted in the brick exceeding required strength while significantly reducing weight. The weight reduction had a favorable impact on the transport cost, which meant there was also a reduction in CO2 emissions. The outstanding results led the company to commit to purchase a minimum of 100 tons of RESIN8 a month, once the scaled-up production capacity of the Cape Town plant is complete.  
Thomson has said another large-scale RESIN8 plant is due to open in Australia and in Samoa later this year, as well.  
Progress in Mexico  
In March, meanwhile, CRDC Mexico and Grupo Trivasa announced they have signed a supply agreement to introduce concrete blocks made with RESIN8 to the Mexico market. Trivasa began manufacturing the blocks in Yucatan this spring, using imported RESIN8. The plan is to generate demand and launch local RESIN8 production later. Their aim is to produce about 120,000 blocks with RESIN8 per month for use in environmentally friendly construction projects. The ecological blocks will be produced at Trivasa's Xcitán Plant in Valladolid, Yucatan, and contain up to 5 percent of RESIN8.  
Jhosue Chávez Cortés, director of business development at Trivasa, added: "We did several tests for resistance and quality of the new blocks and the results were very satisfactory. This agreement will give us access to new markets, and we are excited to continue our journey toward improving our environmental footprint. … As part of the project, we also plan to contribute to the construction of 50 Infonavit houses in Quintana Roo and Tabasco." (Infonavit is an acronym for the Institute of the National Housing Fund for Workers, the main Mexican state institution for ensuring that families can exercise their constitutional right to decent housing.)  
In February, CRDC Mexico and Habitat for Humanity announced they are joining forces to build sustainable housing in San Cristobal de las Casas, Chiapas, Mexico. The project, called Lekil na' (which means "sustainable housing" in Tzotzil, the language of the indigenous Maya people of southern Mexico), will use concrete blocks made with RESIN8 to reduce the environmental footprint of new construction and create a circular solution for the use of plastics waste.   
During the first phase of the project, sixteen 62-square-meter (667-square-foot) homes will be built, benefiting 16 families. In addition to using concrete made with RESIN8, these sustainable homes will include features such as biodigesters, solar heaters, bathrooms with rainwater collectors and wood-saving stoves. It is estimated that construction of the houses will take four months.  
In a second stage, the project will implement a circular economy model in the beneficiary communities, allowing them to recycle their own plastics waste and produce blocks to build or remodel additional homes. 
And so CRDC Global's expansion continues. As Thomson told attendees last fall at the York, Pa., plant opening: "The greatest appeal of RESIN8 lies in its ability to provide both an environmental benefit and commercial benefit. So, while we're helping to clean up plastics waste, we're also providing a product that stands on its own in terms of its performance and commercial viability. RESIN8 has a positive impact on both the plastics and the construction industries as a functional example of zero waste. We spent years on research and development to ensure we have a process that can be rapidly scaled."