Rear Guard: Blow Molded Ford Bumpers Have Rear Park-Assist Sensors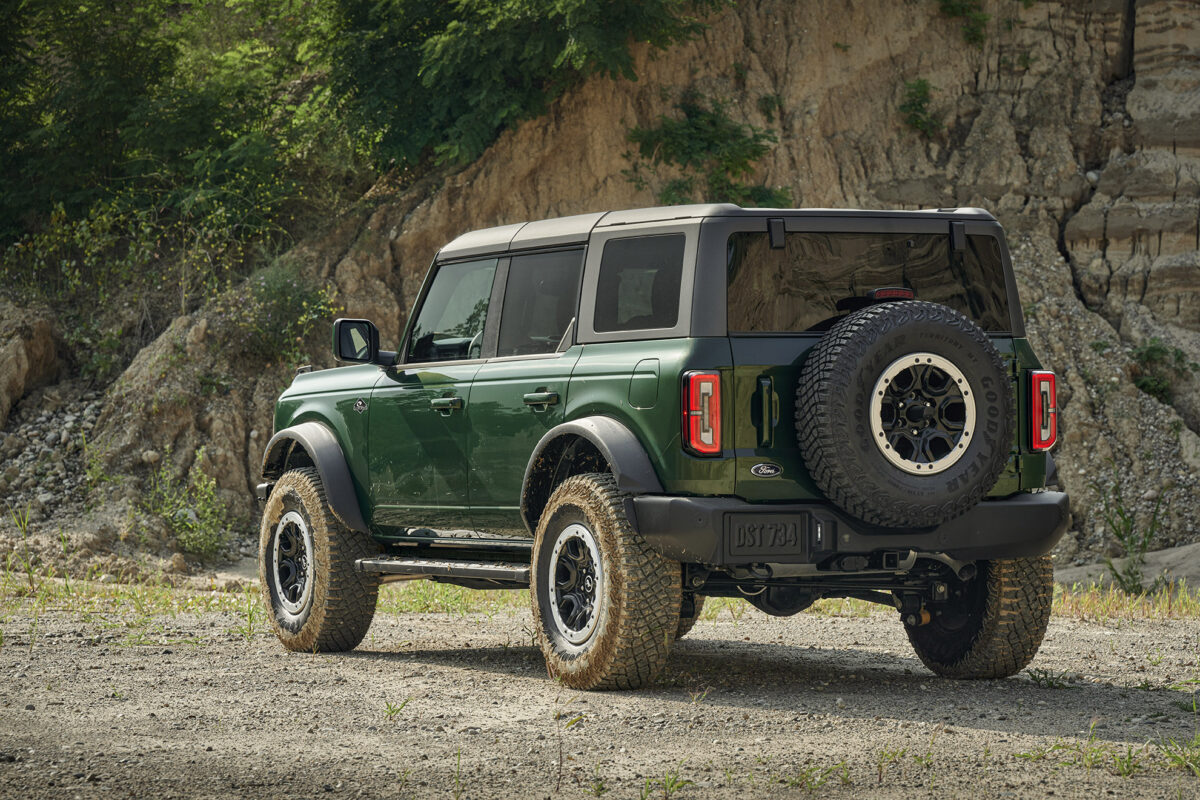 Companies

develop first

blow

molded

SUV

bumper with park-assist sensors
Automakers comparing bumper technologies for light trucks (pickups and sport utility vehicles) have several choices. The benchmark is steel, which is well understood and broadly used. However, it's also heavy, corrosion-prone and easily damaged even at low-speed impacts. Additionally, steel's high mass makes bumpers too heavy for individual line workers to lift unassisted, necessitating use of lift-aids, adding cost and complexity to vehicle assembly.
Injection molded bumpers eliminate corrosion, have higher damage tolerance and improved energy management during low-speed impacts, but tooling is complex and costly. Also, the width and height of truck/SUV bumpers—on which occupants frequently kneel or stand to access items in the rear of the vehicle—necessitate complex metal bracketry to provide sufficient stiffness, adding mass, cost and assembly complexity.
Blow molding is another option. Its hollow beam provides higher design freedom, better damage tolerance, and lower cost and mass without corrosion vs. stamped steel, and structural rigidity, along with lower tooling costs and simpler assembly than injection molding. However, as automakers increasingly incorporate advanced driver-assistance systems (ADAS) on passenger vehicles to improve occupant safety through enhanced driving and parking functions—which detect and alert about potential obstacles and correct for driver errors—more sensors and cameras are being mounted on exterior vehicle components including bumpers. Until recently, no one had successfully incorporated park-aid sensors in rear-mounted blow molded bumpers. That's changed with the launch of the 2021 Ford Bronco SUV from Ford Motor Co., which sports blow molded bumpers front and rear—the latter with park-assist sensors
Design Opportunity
Tier 1 ABC Technologies Inc. of Toronto has decades of experience designing and producing blow molded automotive components and actually produced blow molded bumpers as far back as 2006. "While we had already identified park aids as a desirable feature to implement in bumper systems, we hadn't developed a proof of concept or physical prototype prior to Ford asking us to work with them on the [Bronco] U725 system," recalls Cameron Hryciw, ABC project engineer-exteriors. "Once they explained the requirements, we happily worked with their team to develop a suitable implementation that met that vehicle's needs."

"The Bronco was a good candidate to try blow molded ADAS-compliant rear bumpers," explains Vince Carnes, Ford application engineering supervisor, body on frame-front and rear fascia systems. "It's a smaller vehicle produced at more modest volumes than many of our full-size SUVs and pickups, so the potential for cost and weight savings was more impactful here. It's also sporty and designed for off-road activity, so a plastic bumper offered benefits like damage and corrosion resistance plus a textured surface and MIC (molded-in color) black that hides scratches."
"It only took a few months to develop a feasible design concept where sensors and retaining components were integrated into the math model and fully accounted for in the tool design," notes Hryciw. "Fortunately, the design concept already existed for the sensor-retaining hardware, although we had to modify it to work for a blow molding setting. The bezels around the sensors are a bit larger than usual. This not only gives the system more rugged and unique styling, but also hides tackoff locations where material pinches off around sensor openings."
Based on ABC's long experience blow molding automotive components, a polypropylene copolymer from Salflex Polymers Ltd. of North York, Ontario, Canada, was recommended and subjected to Ford's material testing and approval process.
"Achieving the styling we wanted was the most difficult aspect of this program given blow molding's forming limitations like draft angles, depth of part and the type of grain we could use," continues Carnes. "While these parts offered good stiffness-to-weight ratios, their hollow centers with unsupported top surfaces made it more difficult to pass our step-loading requirements. We solved this by strategically tacking off the back side of the part to join it to the front to increase stiffness, then adding a tread-pattern texture to hide sinks."
One of blow molding's benefits is its ability to increase the mechanical performance of localized part sections by creating pinchoffs that tack front and back walls of the hollow structure together. The resulting box section reinforces in much the same way that ribbing does in injection molding without need for additional metallic reinforcements or bracketry. While tackoffs can be visible on the front face of the part, advances in graining and other surface texturing have made great strides in helping hide these features.
Pinchoff Thickness Control
Another challenge the team faced was achieving a consistent fit for sensor retainers and bezels. "In an ideal world, we could have commonized bezel and retainer hardware for all four sensors, but because we had different surface geometry at each location, that wasn't possible," recalls Hryciw. "Fortunately, we could manipulate process parameters to modify wallstock locally at each sensor location."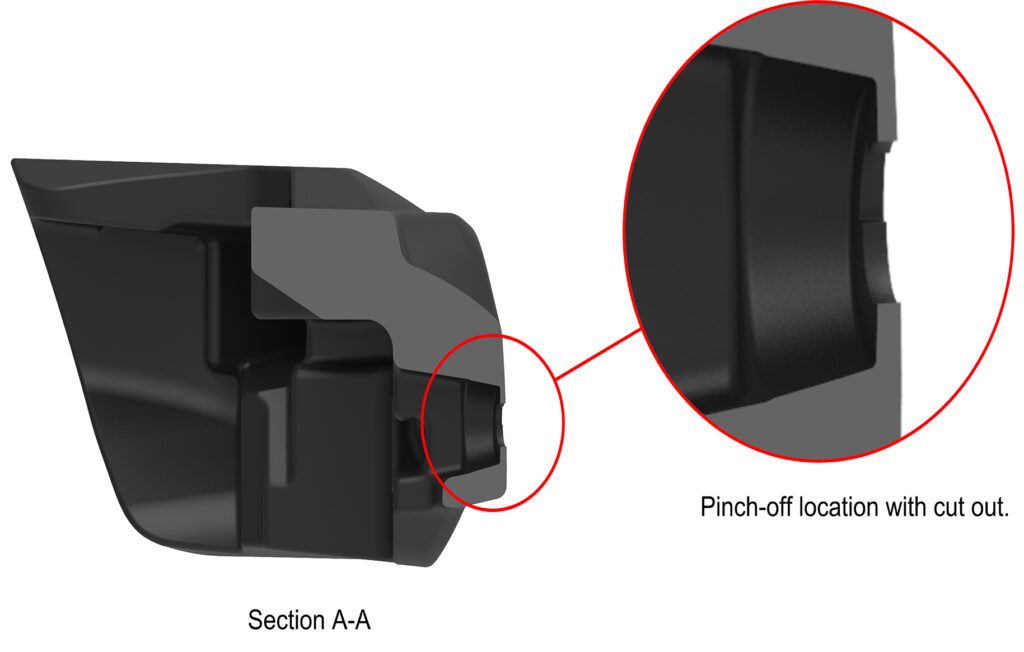 An interesting aspect of the mold produced for the program is the series of tool inserts used to control material thickness in pinchoff areas where the four sensors would be located. This proved especially helpful during preliminary molding trials as, rather than removing the tool and modifying it, inserts were swapped out at sensor-mounting locations and parts reshot.
"While we've used differently sized tooling inserts in the past at our plant, this was the first time we'd tried it for a blow molding tool of this size. It proved essential to get the best final assembly," Hryciew says. "Any customer looking for a blow molded bumper can sleep peacefully knowing that park-aid integration is now a solved problem." The technology is estimated to have reduced mass 24 percent vs. steel.