New Polyolefins Meet Demanding Use and Sustainability Needs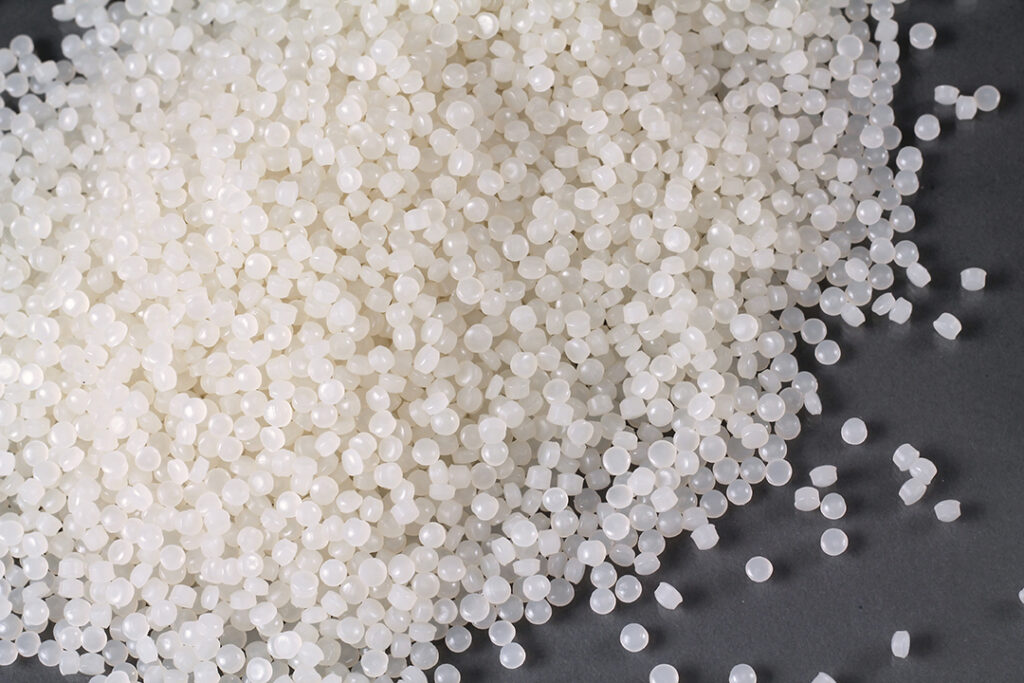 High-performing grades of recycled and virgin resin

s

combine to

boost the circularity of

products

in

diverse

markets
From automotive and infrastructure applications to packaging and communications, high-performance polyolefins continue to reshape applications to meet ever-more-demanding performance requirements.  
Newly engineered resins driven by market demands are turning in impressive performance results, whether in pipe to replace aging infrastructure or in lightweighting vehicles for greater energy efficiency. 
Circularity, as well, is an ongoing concern that's become critical to product design, and not just in packaging (see related stories in this issue). Durable goods are routinely being designed for circularity, as are products in healthcare, building and construction, evolving applications like electric vehicles and other markets.  
Following are examples of innovations in virgin and recycled polyolefins that together are driving the development of materials and applications that allow end-users to meet circular requirements as well as other green mandates.  
PE-Based Applications
Key to the success of any product is collaboration in harnessing a range of technologies to satisfy innovative application needs, something that Dow, for one, stresses with initiatives like its Pack Studios and Pack Vision partnership incubators. The company recently celebrated the 10th anniversary of Pack Studios and opened its newest facility in Freeport, Texas. 
Dow's flagship products, including Elvaloy, Nordel, Continuum and Innate, offer a range of polyolefin performance characteristics, particularly durability and light weight, two properties important not only in automotive applications but infrastructure and construction.  
"It's hard to define, from our portfolio perspective, what high performance is," notes Alex Saba, senior marketing director for packaging and specialty plastics at Dow. "You can go from a bare-bones polyethylene that will be used in stock resins, flexible applications or rigid packaging to some copolymers in our portfolio that use completely different manufacturing technologies and comonomers as well. Then you get different performance from those polymers." 
Mike White, Dow's marketing director for growth acceleration and innovation, adds, "Specific metrics will vary a little bit; certainly, we know that polyolefins enable a lot of weight savings in terms of getting rid of metals and other things that are heavy in an automobile and trying to drive toward better fuel efficiency or even in some cases enabling some design features in newer electric vehicles. Our materials serve a number of purposes along those lines."
Biobased solutions are an emerging part of that portfolio, Saba notes, as customers aggressively seek to lower their carbon footprint. Such solutions have grown to meet the durability requirements of traditional materials in infrastructure, for instance, and opportunities outside packaging are clearly on the horizon.  
"It all depends on how different value chains look into sustainability and address the challenges they have," he says. "Our technologies are one ingredient in those applications; our customers will formulate what the application or regulation dictates. When it comes to pipe, I think you have a little bit more of a straightforward situation because you are not really formulating that much; it's more about the quality and type of polyethylene that you are using. Regulations and building codes play a role in defining what solution will be adopted." As with its packaging initiatives, Dow's labs focusing on pipe applications test against various requirements, Saba says.  
Closing the Loop
With CPG (consumer packaged goods) brand owners striving to meet an array of sustainability goals by 2030 and beyond—including more use of post-consumer recyclate (PCR) content—high-performing polyolefins are key to ensuring sustainable materials.  
Dow's Revoloop, formally launched last October at PackExpo in Chicago, features 70 percent PCR compounded with 30 percent of a polyolefin resin. This solution is designed expressly for mechanical recycling, a longstanding issue with plastic films. (See June 2022 Plastics Engineering, p.34, for a technical paper from Dow on the use of Revoloop PCR with virgin PE in collation shrink film.)  
In experimental trials before the launch, Revoloop was fully scaled for the packaging market at a critical time, with more state mandates requiring higher volumes of post-consumer materials in items like trash liners and industrial films.  
"Our high-performance resins help enable the incorporation of PCR" in Revoloop, says Dr. Jessica Rogers, associate scientist for packaging and specialty plastics in Dow's Technical Services and Development Group.  
Users of Revoloop reportedly get up to 40 percent of PCR in film structures with more homogeneity and consistency while lowering gels, adds Heather Turner, marketing director of packaging and specialty plastics. 
Revoloop is available in two grades at present: Revoloop 70-LD NA (North America) formulated specifically for collation shrink film, and Revoloop 70-LL NA for applications like heavy-duty shipping sacks, protective packaging and trash can liners. More grades are in development. 
"We formulated it, so it has minimal impact to the overall packaging application performance properties," Rogers notes. "Then we can combine it with high-performance resins to design film structures in which you don't see a major impact from incorporating post-consumer materials." 
Internal validations and tests with customers confirmed there were no significant processing issues from using Revoloop, in whatever amounts might be required based on a customer's overall PCR target. 
"In applications for our first-generation products, we're really targeting industrial packaging," Rogers continues. "A lot of those applications are typically all polyethylene, so one of the benefits is because our PCR is all polyethylene as well, those packages maintain their recyclability by using Revoloop." 
Demand for post-consumer content is a challenge since it outstrips supply. In North America, Dow partners with Avangard, which in turn has numerous regional partnerships, to ensure a steady stream of certified recycled content. 
"Stretch films and collation shrink are high-value; they definitely shouldn't be put in landfills," Turner remarks.  
"We focus a lot on end-application testing of packaging," Rogers notes. "We prepare packages, then drop them and handle them like a consumer would at the store. When we did development with Revoloop 70-LD, there was no impact on package performance. Then when we look at other applications like heavy-duty shipping sacks, protective packaging and trash can liners, we're seeing, at least to start with, lower percentages of Revoloop being incorporated—20 to 30 percent—and hearing about success in achieving those levels while not impacting performance." Some of that, Turner adds, is attributable to the higher-performing resins the PCR is structured with. 
Making the Grade
Borealis has developed a portfolio of proprietary technologies offering high–performance polyolefin solutions across a range of industries, says Jozeph van Haastrecht, head of global communications for polyolefins. 
Van Haastrecht singled out some top performers among Borealis' portfolio in the following areas:  
Infrastructure: Borealis Bornewables grades for cross-linked polyethylene (PEX) pipes based on renewable feedstock

.

Borealis collaborated with pipe specialist Uponor to enhance the sustainability of PEX pipes,

van Haastrecht

says. The company says the resulting 

PEX Pipe Blue

 is the world's first pipe portfolio made from PEX with renewable feedstock accredited by ISCC Plus, a sustainability certification system covering supply chains and biobased feedstocks and renewables. Based on

Bornewables PE

derived from second-generation natural resources, such as waste from pulp production or residue from food processing oils, PEX Pipe Blue products reportedly achieve carbon footprint reductions of up to 90 percent when compared to conventional fossil based PEX pipes, without tradeoffs in product quality, features or performance. "This helps customers in the building and construction industry achieve sustainability targets in plumbing, heating, ventilation and air-conditioning installations,"

van Haastrecht

says. 

 
Automotive: The Fibremod portfolio reduces vehicle weight for lower carbon footprint

.

Developed in collaboration with Magna, the Fibremod line of lighter-weight polypropylene compounds allows OEMs and Tier Ones to design sustainable and lightweight solutions for automotive brands and electric fleets. Applications include the thermoplastic tailgate for the new Volkswagen Multivan—one of the largest such parts ever. 

 
The latest addition to the portfolio, Fibremod GB416LF, is tailored for use in tailgate carriers and visible structural parts but is also a lightweight option for interior and underhood parts. As a high-flow, 40 percent fiber-reinforced material, it meets stringent emission– and mechanical–performance requirements, as well as providing surface aesthetics. The grade reportedly eliminates the need for secondary surface finishing steps such as painting, thereby enhancing its sustainability and reducing total part cost.  
Healthcare: A new soother (i.e., baby pacifier) made with renewably sourced feedstock. Product developer MAM, of Vienna, recently launched its first climate-neutral soother, developed in collaboration with Borealis and resin producer Neste. The rigid part of the MAM Original Pure soother is composed of renewably sourced Bornewables PP, manufactured with Neste RE, a material produced entirely from chemically recycled plastics. Furthermore, the packaging of the soother, which functions as a sterilizer box, is also made using Bornewables resin. This development is an example of how eco-efficient design and the use of circular polyolefins can substantially reduce the carbon footprint of a product while at the same time guaranteeing its safety and superior product quality, Borealis reports. 

 
Sportswear:

 

Shoes made from carbon emissions.

Swiss sports brand On, of Zürich,

has developed a

shoe made from carbon emissions, called Cloudprime. On is said to be the first footwear company to explore carbon emissions as a primary raw material for a midsole made of ethylene vinyl acetate (EVA) foam,

which

could also be used in other shoe parts and products. 

 
The core of the product is a new foam called CleanCloud, made from carbon emissions and developed in partnership with Borealis, LanzaTech and Technip Energies. "Technology from LanzaTech captures carbon monoxide emitted from industrial sources before being released into the atmosphere," van Haastrecht says. "Once captured, these emissions enter a patented fermentation process. Thanks to specially selected and naturally occurring bacteria, the carbon rich gas ferments naturally and is converted to ethanol. This fermentation process is similar to that of conventional alcohol production (e.g., in beer brewing). The ethanol is then dehydrated by Technip Energies to create ethylene, which is polymerized by Borealis to become pelletized EVA. the lightweight material that On starts working with to create performance foam for shoes." 
Drink containers:

Tupperware launched the reusable and recyclable ECO+ product portfolio in 2019. The product line includes a coffee to-go cup made from Bornewables renewable feedstock. "Based on proprietary Borstar nucleation technology, Bornewables RG466MO is a sustainable PP random copolymer with excellent organoleptic properties," van Haastrecht says. Using this grade instead of virgin polyolefin enables Tupperware to reduce the carbon footprint of the product line." 

 
Borstar nucleation provides fast cycle times at lower processing temperatures. It achieves excellent organoleptic properties and a high stiffness/toughness balance that allows production of durable and robust cups that maintain temperature and taste.  
Boosting Circularity
Borealis has ambitious circular economy targets. "By 2025, Borealis targets a six-fold increase in share of circular products and solutions, to reach 600 kilotonnes," van Haastrecht says. "By 2030, the volume of circular products and solutions is set to reach 1.8 million metric tons globally, turning today's plastics waste into a valuable resource for reuse."  
Additionally, the company's so-called circular cascade model "sets out our holistic approach to achieving circularity, first by supporting our customers to design for eco-efficiency, for reuse and for recycling. Products are used and reused, and, at the end of their useful life, we close the loop, first with mechanical recycling and then with chemical recycling. Finally, the cycle begins again using feedstock and raw materials derived from recycling and other renewable sources."  
The company's circular portfolio will rely heavily on Bornewables polyolefin grades and Borcycle, an evolving recycling technology that converts polyolefin consumer-based waste streams into high-quality raw material for polymerization of new polyolefins.  
"The technologies and processes that enable these portfolios are continually advancing, and we know there's a lot further to go, which is why we're innovating both in-house and by looking out for novel technologies being developed elsewhere," he remarks. As an example, van Haastrecht says, "We've acquired a minority stake in Renasci, of Oostende, Belgium, whose Smart Chain Processing technology sorts household waste and converts it into raw materials with maximum material recovery."  
Borealis has also joined the Business Coalition for a Global Plastics Treaty, convened by the Ellen MacArthur Foundation and the World Wildlife Fund. Comprising over 80 organizations, including businesses from across the plastics value chain, the coalition has aligned on a shared vision, which sees the treaty as the key policy mechanism to accelerate progress to a circular economy and end plastics pollution. 
"We know that we can't achieve plastics circularity alone," van Haastrecht concludes, "which is why we work in close collaboration with value chain partners and other value-aligned companies and industry associations to develop integrated, scalable solutions." 
World Cup Resin
When it comes to big stages, there are few bigger than the World Cup. And big stages require big performance from tough materials. Enter SABIC's PP 49MK45, an impact copolymer designed to deliver superior resistance to solar irradiation.  
Given that this year's World Cup was the first to be held in the Middle East, developers of Al-Janoub Stadium in Qatar, the site of the elimination tournament, had to factor in the region's unique climate. To produce stadium seating that stands up to the demand, the manufacturing firm Coastal Trading & Engineering Co. chose SABIC's polypropylene for its flowability, colorability and weatherability. 
In more traditional use, SABIC's BX202 linear low-density PE resin was validated by machine maker Japan Steel Works in November on a biaxial film pilot line at JSW's Technology Center in Hiroshima, Japan (November/December 2022 Plastics Engineering, p. 45). SABIC's biaxially oriented PE (BOPE) resin supports packaging film downgauging and materials reduction of up to 50 percent, SABIC notes, resulting in a mono-PE film tailored to recycling in flexible packaging recycling streams.
JSW performed extensive trials on SABIC's LLDPE BX202 to extend its reach in the BOPE film market. The resin is designed for processing on tenter frame BOPE extrusion equipment and on slightly modified equipment for BOPP. 
"After testing SABIC's LLDPE BX202 grade in our biaxial film stretching pilot line, we were surprised by the performance of it," remarks Toshiyuki Ninomiya, vice plant manager of the Hiroshima plant. "Its excellent processability combined with good mechanical properties make this material a great addition to our recommendable materials portfolio for customers and strengthens our position in the BOPE market." 
Not only does the resin save material, it fosters higher line speeds and shorter cooling times, SABIC adds. 
Transportation packaging is another high-demand area in which SABIC shows how hard polyolefins work. On Dec. 13, SABIC and Germany's Cabka, a supplier of pallets and large containers (U.S. office is in Hazelwood, Mo.), announced a sustainable and reusable foldable container featuring several high-performance PP compounds based on SABIC's Trucircle portfolio. 
Developed in less than six months, some of these compounds are unique grades in SABIC's foam and lightweight portfolio, being halogen-free and flame-retardant, and earning UL94-VO flammability certification. The materials are engineered to combine excellent processability with high compression strength and weight reduction. 
The resulting CabCube 4840 is the latest addition to Cabka's portfolio of foldable packaging products. CabCubes are injection molded of 100 percent recycled resins, designed for "extreme reusability," and provide efficient return logistics by allowing at least four times as many empty containers in a truck, due to their foldable design. Dimensions are 48 x 40 x 48 inches and internal volume is 247 gallons.  
SABIC and Cabka will continue to collaborate, creating polyolefin compounds containing mechanically recycled content and improving SABIC's logistical/packaging systems work by replacing wooden pallets and cardboard bins with lightweight, returnable and recyclable plastics alternatives.