Imagined and Created: SPE Auto Innovation Awards Highlight Component Design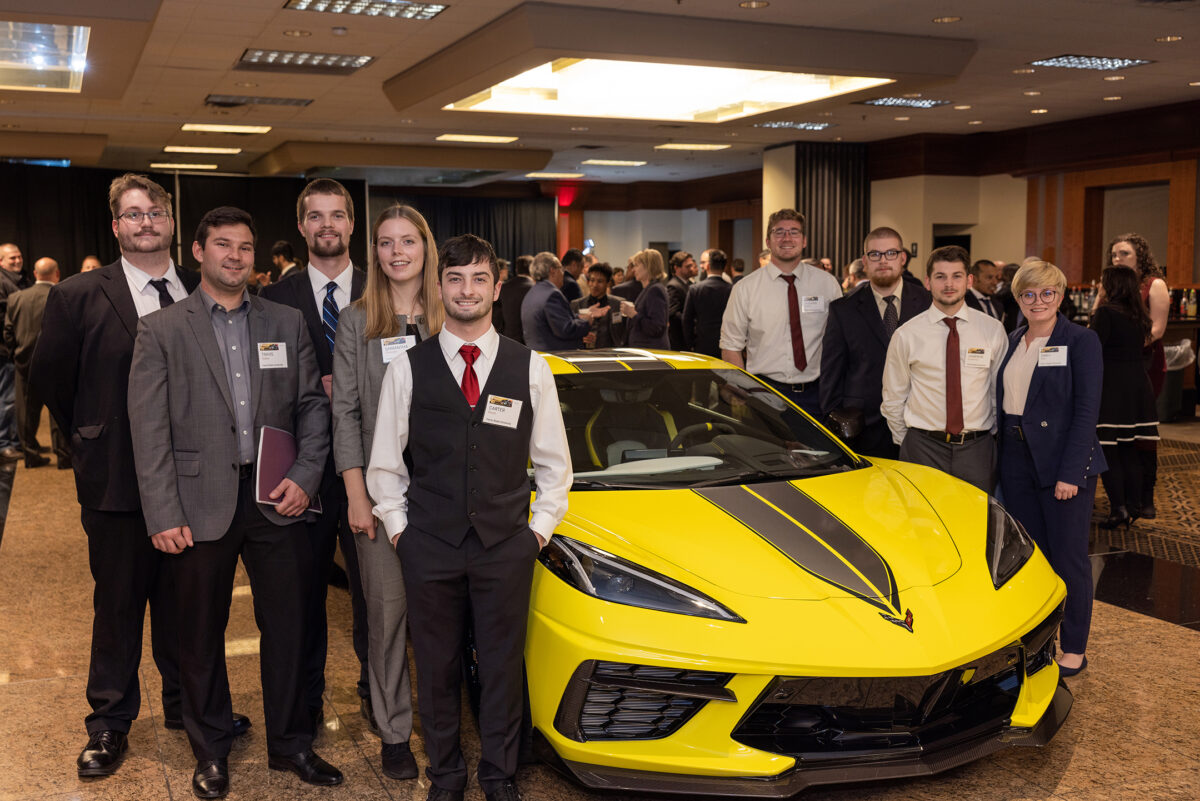 50th SPE Auto Innovation Awards

highlight

the

indelible

impact

of plastics

on

component

de

velopment
The SPE Automotive Innovation Awards Competition returned in 2021 to celebrate the event's half-century mark.  
After 49 consecutive years of honoring what the SPE Automotive Div. calls "the year's most innovative uses of plastics," the pandemic halted both the competition and the gala in 2020.  
Last year, however, 61 nominations were entered, 52 survived to be presented at the first round of judging in September, and 31 finalists advanced to the Blue Ribbon round on Oct. 1. Winners of 12 categories plus the Grand Award were announced during the awards gala Nov. 10 at Burton Manor in Livonia, Mich.  
Industry Snapshot
Each competition provides insights into what kinds of vehicles launched in a designated year (rules state nominations must be for vehicles available for commercial sale by Nov. 1 of that year, although older nominations can be entered), as well as what trends were important to industry during that period.  
For example, in 2018 and 2019, additive manufacturing (AM) debuted as a category and was packed with nominations. The 2019 competition also featured a much larger group of composites nominations than usual since both the eighth-generation Chevrolet Corvette and the Sierra Denali pickup with optional carbon fiber-reinforced thermoplastic composite pickup box debuted from General Motors Co.  
This year's competition, in contrast, featured only two AM entries and a handful of composites nominations.  
The 2021 competition, however, was full of "green" nominations in several categories featuring upcycled plastics from post-industrial and post-consumer waste, carbon black from junked tires and polymers produced from biobased monomers, many debuting on electric vehicles.  
There also was an active group of nominations addressing how pickup operators frequently work, eat and nap in their trucks while on breaks. User comfort and increased functionality were enabled by plastics in nominations on the Ford Motor Co. F-150 pickup.  
Equally indicative of the times, a new category called Industry Solutions for COVID-19 was added to highlight how automotive and plastics companies rapidly pivoted to provide personal protective equipment (PPE) to first responders during the pandemic last year.  
Following are the applications and technologies that close to 80 judges—selected from current industry engineers, commercial personnel, scientists, journalists and retired chief engineers—deemed most innovative in the 50th SPE Automotive Innovation Awards Competition. The Chassis/Hardware winner also won the prestigious Grand Award. (All photos are courtesy of SPE Automotive Division.) 
Integrated Tether System 
2021 Ford Maverick compact pickup 
In an industry first, customers can select, download STL (stereolithography) files and 3D print their own swappable accessories (e.g., cupholders, trash bins, etc.) that fit in storage slots in their vehicle across the entire Maverick series. Initial designs were developed by Ford and its supply teams, but future ones could be suggested by customers. Numerous printer types and suggested materials can be used. This provides customers with flexible, customizable storage and use features, or the option to maximize cabin space, while avoiding significant tooling investment.  
Body Exterior 
Grille With Integrated Lit Emblem 
2021 Ford Mustang Mach E GT electric SUV  
This hardcoated and painted polycarbonate (PC) front grille with lit emblem provides a 3D, futuristic effect in a single part. Injection/compression molding forms the large-format clear grille with wall thicknesses ranging from 3 to 5 mm in a low-tonnage press that helped minimize or eliminate flow lines and stress marks. After molding, the optical-quality part undergoes a hardcoat silicone dip to provide excellent weathering and abrasion resistance, the pony emblem is milled out, and primer and paint are selectively applied to the back side of the part—the first use of paint-over-hardcoat for an auto exterior trim application.  
3rd-Row Seatback 
2021 Toyota Sienna minivan 
A 16-piece steel assembly was replaced with a single shoot-and-ship plastic assembly for this 3rd-row seatback. The part reduces mass 30 percent, costs 15 percent less than the steel assembly, represents a 2x improvement in crash performance and takes 63 percent less effort for most occupants to raise the seat to its upright position, eliminating the need for a seat motor. This is the industry's first fully plastic freestanding seatback that offers excellent energy absorption without the need for metal support brackets. A 35 percent short-glass, impact-modified polyamide (PA)-6 grade was developed for the sequentially injected application. 
Chassis/Hardware 
(Grand Prize Winner) 
Multi-material Rear Leaf Spring 
2020 Ford F-150 pickup  
This hybrid rear leaf spring combines a high-strength steel main pack plus a high-pressure resin transfer molded, glass-reinforced epoxy composite helper pack that reduces mass 30 percent while providing the same stiffness and durability as a conventional multi-steel leaf spring system. Additional benefits include increased payload capability, lower part count, decreased interleaf friction, smoother engagement, lower noise and lower carbon footprint.  
Wiring Harness Clip
2021 Ford Bronco Sport SUV 
These recycled PA-6 wire-harness clips are injection molded from 100 percent recycled ocean plastics. Ghost gear (i.e., fishing nets) are collected by fishermen in the Indian Ocean and Arabian Sea, providing jobs, sustainable livelihoods and healthier marine life. The material provides comparable performance to petroleum-based prime resin at 10 percent cost savings, lower energy expenditure, improved supply-chain stability and life-cycle benefits. No tooling changes and minimal process changes are needed for this drop-in application. 
Industry Solutions for COVID-19 
Powered Air Purifying Respirator (PAPR), Ford 
The team produced the first all-plastics PAPR, converting previously metal components to plastics to reduce mass and costs and improve user comfort for this equipment used by medical workers caring for COVID patients. The lighter, more efficient design improved battery life, enabling workers to complete a 12-hour shift without needing to recharge the battery. NIOSH (National Institute for Occupational Safety and Health) certification was achieved in just 3 days on the first try. Production was increased to 8,500 units/week from 650/week the previous supplier achieved. All profits were donated to COVID-19 relief funds. Four patents are pending on the unit. 
Materials
Composite Roof Receivers
2021 Jeep Wrangler and Gladiator SUVs From Stellantis 
Six brackets for removeable hardtop and soft-top roofs were converted from investment cast steel to 30 percent ultrashort carbon-fiber-reinforced PPA (polyphthalamide), providing comparable part strength while reducing costs 38 percent and mass 79 percent. Powder coating was eliminated yet scratch and mar resistance improved while providing a weatherable, molded-in-color, Class-A finish that allows for mid-program replacement and backwards service compatibility. The composite molds like neat polymer but outperforms long-fiber thermoplastics materials, is fully recyclable and has a lower carbon footprint than metal/alloy parts. Direct-drop valve gates and T-nut fasteners also are key enablers. 
Process/Assembly/Enabling Technologies 
Thick Lightbar Development  
2021 Cadillac Escalade SUVs 
This challenging 780-mm-long and 18-mm-thick transparent-red light blade for rear taillamp functions offers a unique appearance and homogeneous lit appearance. Keys to making the patented application work were advanced simulation tools for design, functional optimization and warpage control; complex runner, parting line, shutoff valves and multi-shot injection process control; plus a custom-formulated optical-grade of PC that helps manage quality, cost and molding capacity while meeting all legal rear-lighting requirements. Despite technical challenges, program timing was reduced by 3 months and $250,000 in prototype tooling was avoided through virtual prototyping. 
Hall of Fame (HOF) awards
Given annually since 1983 for applications broadly adapted and in continuous use on vehicles for at least 15 years, SPE honored five especially impactful HOF winners from the last 38 years, including:  
1988: PVB (polyvinyl butyral) Windshield Interlayer, Ford Motor Co.

 
1994: Polycarbonate Headlamp Assembly, Ford Motor Co. 

 

2000: HDPE Fuel Tank, Volkswagen AG 

 

2005: Polyamide Air Intake Manifold, Porsche AG 

 

2010: Front and Rear TPO Bumper Fascias, General Motors Co.

 
Vehicle Engineering Team Award (VETA)
Given irregularly since 2004, this year VETA was presented to the team that worked on the 2022 MY F-150 Ford pickup. 
Lifetime Achievement
A posthumous Lifetime Achievement award was given to SPE Automotive and Composites Divisions and Detroit Section board member Nippani Rao, who retired from Chrysler Corp. (now Stellantis North America) and died from COVID-19 in 2020.