Enlightened Innovations: Lighting on Electric Vehicles Meets Multiple Needs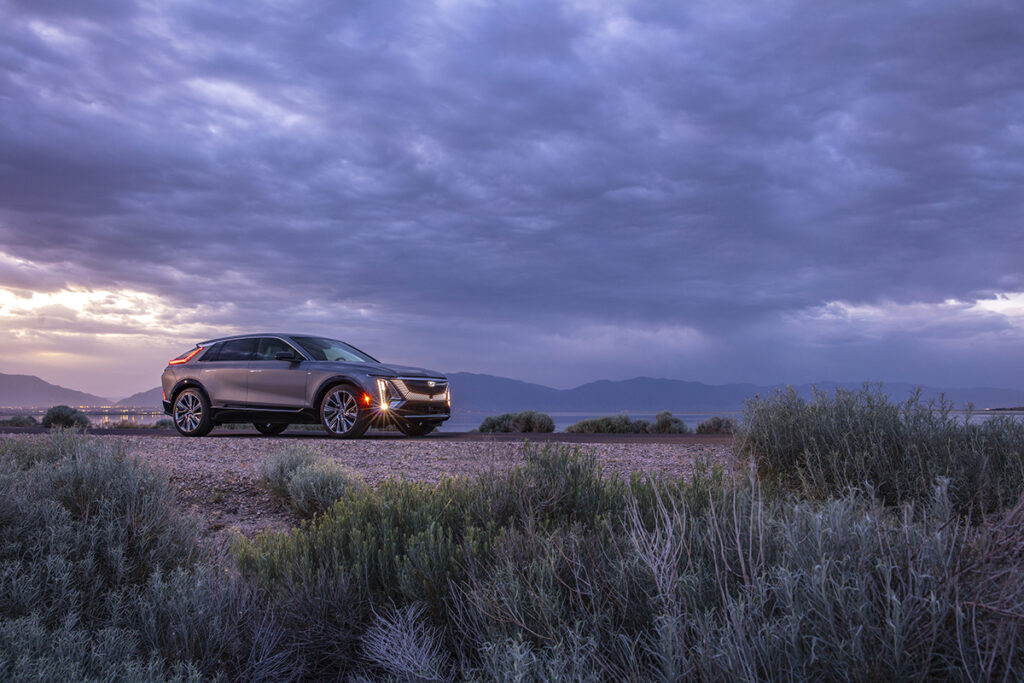 Lighting technologies increase EV visibility, build visual brand recognition
Lighting has long had a dual function on passenger vehicles. Not only does it increase safety—helping drivers maneuver in low-light conditions as well as alerting pedestrians, other drivers and animals of an approaching vehicle—but it also can be an effective form of visual branding. On many new electric vehicles (EVs), enhanced lighting helps make these extra-quiet vehicles easier to see and signals that they are both different and special. Versus earlier technologies, the low weight and high energy efficiency of many new lighting systems reduce energy consumption to help maximize driving range per charge.
Six technologies on two different EVs from General Motors Co.—the 2023 Cadillac Lyriq sport utility vehicles (SUVs) and 2022 GMC Hummer EV pickups and SUVs—are good examples of how innovative lighting technologies not only assure greater safety for vehicle occupants, other drivers and pedestrians but help build visual brand recognition.
Understated Elegance
Three different lighting technologies on the Lyriq contribute to that vehicle's look of understated elegance. Working from rear to front, the distinctive 800 x 400 x 200-mm (32 x 16 x 8.0-inch) rear body-side taillamp system visually connects thin, vertical taillamps and a thin strip of light that wraps around the lip of the spoiler then moves up each side of the rear quarter panels, creating an innovative L-shaped slice of light. Plastics were key for creating this homogenously lit, three-lamp light blade system, which is molded in three shots and three colors (clear, red and opaque/black) using Makrolon LED2045 polycarbonate (PC) from Covestro AG and subsequently laser welded to its carrier. Laser etching on the carrier mold creates a unique textured finish called "micro-Mondrian" that sparkles in the sunlight. After a dark metallic coating is applied to the carrier, textured and untextured sections reflect the coating differently, creating a striped effect. Ledlink Optics Inc. produced tooling and molds parts, while Hasco Vision Technology (Shanghai) Co. is the Tier 1.
Forward lighting on the Lyriq, also produced by Hasco Vision, is equally innovative. Thin vertical light bars that hold between seven and nine individual 15 x 30-mm LED modules (depending on model) create a unified headlamp beam pattern. An innovative high-stiffness/self-lubricating louver aiming system reduces the normally 12-mm clearance zone required for traditional headlamp aiming to just 3 mm, increasing design flexibility in less space. Two-shot (black surround and clear lens) Makrolon LED PC2245 PC from Covestro plus silicone total internal reflection (TIR) lenses were key to creating a slimline appearance while reducing mass versus glass. Special tooling and high-precision processing were required to mold in microscale optical features with low optical loss and high output pattern fidelity.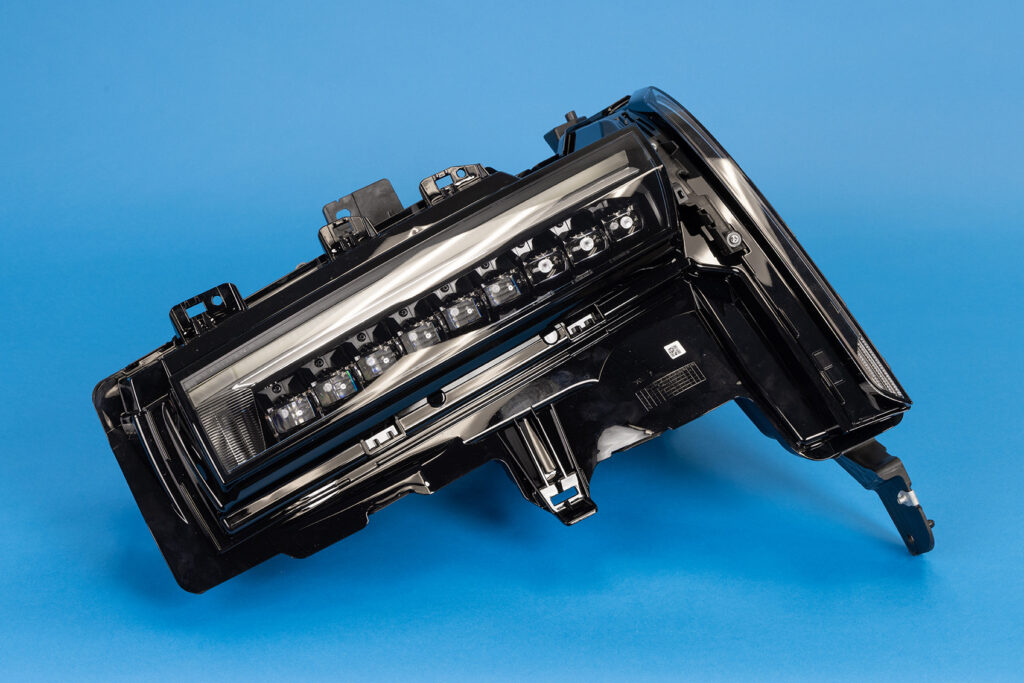 The Lyriq's distinctive front grille in Lexan LS1 PC resin from SABIC also features integral lighting with decorative functions, including welcome animations triggered by sensors in the key fob as drivers approach their vehicles. The look was achieved via two-color injection/compression molding, which creates a large 1.55-meter (5.09-foot) but low-stress lens that is weatherable and radar transparent yet maintains tight tolerances. Huawei Technologies Co. Ltd. was the toolmaker and Minth Group Ltd. molded parts. Post-mold application of black paint on the B-side of the part is followed by selective laser ablation to precisely remove paint and permit show-through lit effects whose pattern can easily be changed by reprogramming the robot rather than building new tooling. Reportedly, versus a conventional lens/bezel construction, grille mass was reduced by 3 to 4 kilograms (7 to 9 pounds) and was less costly than alternative technologies.
Rugged and Distinctive
The GMC Hummer EV is all sharp angles and rugged power. A clever visual play off the H in the Hummer name in found in multiple accent pieces throughout the vehicle, including both forward and rear lighting. For example, the taillamps, which GM says are the largest and heaviest—1.2 kilograms (2.7 pounds) each—light blades yet produced, take the form of a tall, stylized H while also sporting a molded-in Hummer logo. To process Makrolon LED2245 PC from Covestro in such a thick part—up to 24 mm (0.9 inches)—in a reasonable cycle time without warpage, a three-shot, three-station, six-cavity mold (forming a pair of left- and right-side lenses) was produced and mounted in a rotary injection press. The process builds up part thickness successively over three shots, causing layers to knit together seamlessly without warping. After demolding, parts are selectively laser engraved to add texture that reflects light out through the sidewalls, illuminating the graphic. Proper Group International LLC produced the tools and molds parts on a 651-ton press that was modified with larger barrels to accommodate the large shot weight. SL America is the Tier 1.
Forward lighting on the Hummer EV also is distinctive thanks to both optical innovations and plastics design freedom. Headlights and the wraparound lightbar incorporate 11 functions—eight of them in the lightbar alone—into a single compact design (including high/low beams, daytime running lights, animated turn signal, side marker, clearance lamp, side reflex and park lamp) and even indicate the charge status of the electric vehicle. Reportedly, the low projector placement of headlamps also helps reduce glare for oncoming vehicles and vehicles driving ahead of the Hummer EV. A high-precision PC front lens with half-a-million micro-optical elements in Lexan LS1 PC from SABIC is used on each of four modules that make up the lightbar and are produced on mold inserts built by DBM Reflex and molded by North American Lighting. The 16 "piano key" light pipes behind the front lens in the rear of left and right turn signals are also molded by North American Lighting in multiple Makrolon PC grades from Covestro on tooling produced by Sybridge Technologies. The system achieved new levels of functionality while reducing mass and cost 50 percent each.
"The Grille Shield with integrated lighting distinguishes the Cadillac Lyriq as a tech-forward electric vehicle," says Richard Resa, Cadillac Lyriq design release engineer. "The lighting technology on this vehicle has created a unique message and rich storytelling opportunity for the Cadillac brand."