Course Correction: SPE Technical Programs Director Plots Content Changes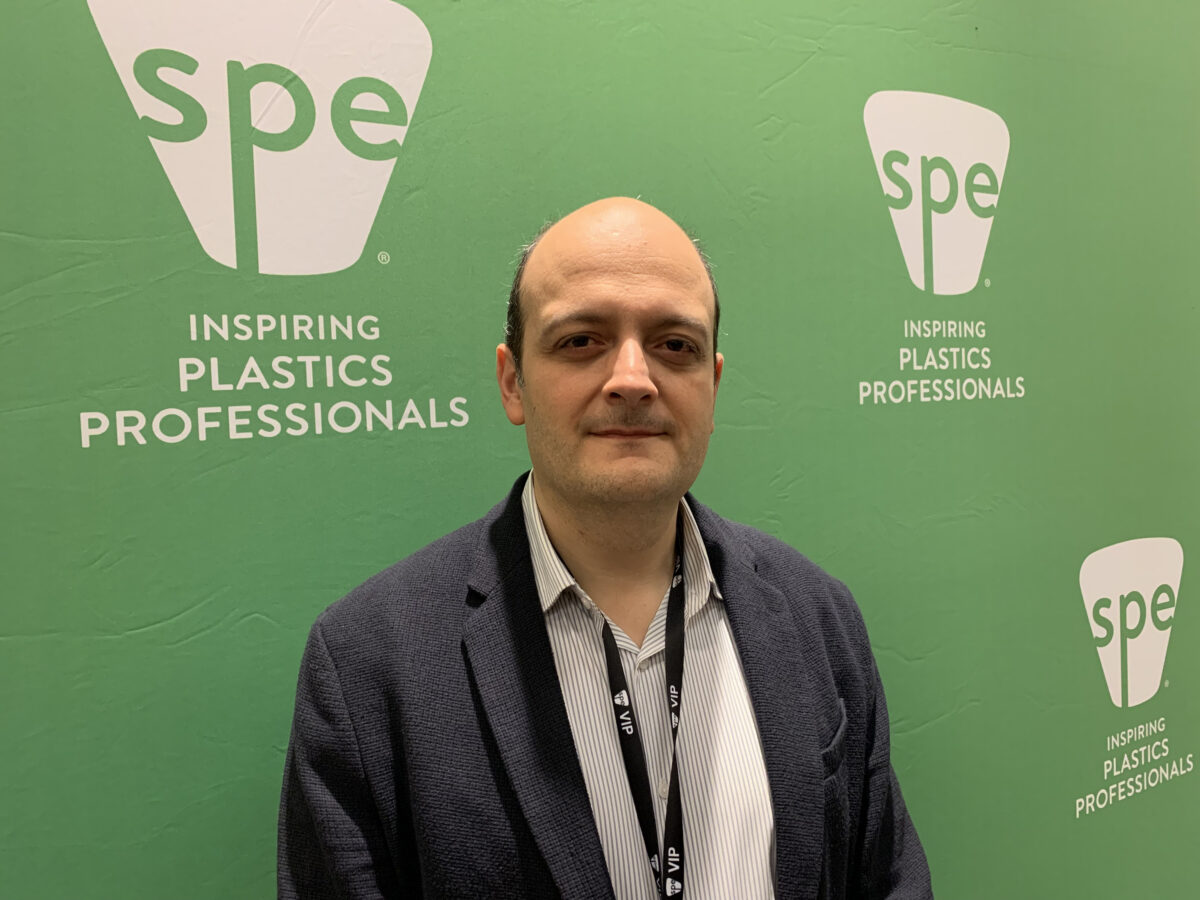 SPE's technical programs director

wants

broade

r

content

at

ANTEC and other events

 
Dr. Iván D. López has years of experience in plastics including as the technical and scientific director of ICIPC (Instituto de Capacitatión e Investigación del Plástico y del Caucho), the Plastic and Rubber Research Institute, of Medellin, Colombia. As the recently appointed director of technical programs at SPE, he brings a wealth of knowledge to the position, which not only involves finding speakers and developing conference content but expanding the reach of information that is derived from business, as well as from the plastics industry in general. Much of what SPE has presented at ANTECs and through its division-level conferences has reflected research from academia, government laboratories and other specialized sources. SPE and López want conference content to include more R&D and applications technology from businesses. The plastics industry, he notes, faces challenges in many areas, especially in the use and disposal of its products. Broadening conference content to include developments that are or will soon be commercial will boost the relevance and value of these events.  
López's experience working in plastics in Latin America gives him a broad perspective on the industry and his credentials are impressive. He graduated first in his class as a production engineer from the School of Administration, Finance and Technological Institute in Medellin in 2003 and earned a PhD six years later in mechanical engineering with a focus on polymers and plastics from the University of Wisconsin, Madison, where he was also a research and teaching assistant at the Polymer Engineering Center. He has been a lead researcher on more than 15 projects; been published more than 50 times in scientific journals and conference proceedings; helped to develop software; and holds patents in design and related areas. 
SPE worked with ICIPC and López for a number of years. Both organizations, along with Dr. Jaime Gómez, SPE's president from 2020 to 2021, planned a joint conference that took place online called Plastics Forum 2020: New Technology and Sustainability (Nuevas Tecnologías y Sostenibilidad). One objective of the conference was to show the impact that the industry in Latin America has on global plastics. Ironically, the virtual edition, necessitated by the COVID pandemic, allowed ICIPC and SPE to present "premium speakers that, in other circumstances, would be practically impossible to have" in person, López said at the time.  
Editor-in-Chief Pat Toensmeier interviewed López prior to the recent ANTEC (March 27 to 30 in Denver) about his plans for SPE conferences.  
Why did SPE appoint you director of technical programs?  
This is a new position. SPE recognized the need for a professional with a strong technical background to help develop technical programs and strengthen existing ones. Traditionally, technical programs were developed with the support of SPE's network pro bono. However, to increase the scope and impact of technical programs, SPE concluded that this work should be developed within the staff. 
What does the position involve? 
I am in charge of educational and technical programs at SPE. Therefore, I oversee the annual program of events and courses. This involves monitoring the trends and necessities of the plastics sector to propose educational programs and requires me to be in close contact with experts, volunteers, staff and other interested parties to develop such programs. I am the project manager of each event. I identify and select the instructors and speakers, evaluate the acceptance of said programs to improve them, etc. 
How significant is this position for SPE? 
SPE's mission is to develop plastics professionals so they can learn from each other and inspire positive change for society and the planet. Therefore, knowledge transfer and exchange are essential parts of our reason for being, and courses and events are key tools to achieve it. 
How extensive will your work be?  
ANTEC is a recognized and consolidated conference. I will help grow and strengthen it. But my work is more extensive. The idea is to systematically offer other events and courses for the plastics sector. This is a task where we are working with the SPE divisions and sections. 
What are your objectives?  
We want to develop a successful program of events and courses that are more intensive than before. There are three different types of content: technical fundamentals, research results and technological trends. ANTEC is the main conference for exchanging research results and technical developments in industry and academia, and we want to increase its audience while maintaining its technical value. For technical fundamentals, we will systematically offer workshops to train new plastics professionals. Together with the divisions, we will develop events in which to discuss technological and regulatory trends in our sector. In the short term, we will concentrate our efforts in the U.S., to replicate the best practices in other geographies in the future.  
SPE wants to broaden its papers and programs to include corporate R&D as well as R&D from academia and government labs. What are the benefits of this and how will you achieve it? 
Historically, members of SPE come from industry and academia. This is very important because both parties need and complement each other. A key aspect is keeping the content of programs relevant to the industry. The plastics industry is facing a challenge like never before in sustainability. If we continue to connect our programs to this megatrend, and others such as digitalization, lightweighting, etc., there will be a natural space of discussion between corporate research, academia and government.  
Also, we want to broaden our audience to the end user. From my experience as a lead researcher, there is an interesting gap between the expert of plastics and the user of plastics. For example, a plastics expert knows a lot about food packaging, but he or she may not know many technical aspects of the food industry. The same happens in the other direction. If we can focus on topics that affect both the expert and the user of plastics, we have a great opportunity to broaden the audience of SPE.
What was the ANTEC program this year different?  
We offered a new format. Instead of the traditional approach of dividing the program [and topics] by [SPE] chapters, we selected four themes: sustainability; digitalization and additive manufacturing; polymer processing and equipment; and advances in materials and characterization. As a result, we received [presentation] submissions of outstanding quality. The conference was attractive to the academy, the plastics industry and plastics users.    
How many papers were delivered at ANTEC this year?  
We received 280 submissions for 120 spots in our program. Around 55 percent of the presentations were from academia, and 45 percent were from industry. We had a good balance between the new technologies that are being developed in universities and the technologies and solutions that are being implemented in industry.  
What areas of plastics and applications are you most interested in? How will these areas influence technical programs?  
I have experience working in polymer processing, rheology, recycling, bioplastics, sustainability, and modeling and simulation. I have worked in projects involving applications such as packaging, automotive, medical and construction. I will help SPE in the areas where I have experience, but it is my responsibility to keep a broad vision by expanding technical programs to other areas as well.  
What expertise do you bring to this job? 
Due to my background, I have a broad and strategic vision of a sector as large and complex as that of plastics. I have been a lead researcher, consultant and professor for 19 years, solving technical problems, developing technologies and transferring knowledge to plastics professionals. In addition to my technical background, due to my managerial experience at ICIPC, I have the skills to lead teams and develop business strategies. This is very important when it comes to leading the implementation of educational and technical programs.  
How will your work at ICIPC influence the technical programs you develop for SPE conferences?  
I worked for 19 years at ICIPC. I was its technical and scientific director for 12 years, leading more than 25 projects. That gave me the opportunity to study and understand many areas and applications in plastics. I worked with researchers from Germany, the United States, Mexico, Ecuador, Peru and Chile. In addition, I worked with several multilateral organizations, such as IDB (Inter-American Development Bank), GIZ (German Agency for International Cooperation), UNDP (United Nations Development Program) and UNIDO (United Nations Industrial Development Organization). I am bringing all my professional network to SPE.  
At ICIPC, I organized many technical events and workshops, not only in Colombia, but Mexico, Chile, Peru, Guatemala and the Dominican Republic. In fact, I coordinated the development of a program offered by SPE and ICIPC called Plastics Forum 2020, where we had top speakers from all over the world. I was the coordinator of the packaging cluster in Colombia and of the intellectual property network, where we developed events oriented to the industry and academia.  
Is Latin America integral to your plans to expand SPE technical programs?  
Yes. I know the market, potential speakers and instructors, the companies, the researchers and universities, etc. I want to increase the participation of SPE in that region. The plastics industry is constantly growing there. In Latin America, we have the entire plastics chain, from the petrochemical industry to the end users—food companies, automotive companies, etc. The region presents an excellent opportunity for SPE to increase its audience and impact.  
Will you use your position to promote research by different demographics within SPE such as women, people of color, young professionals and students? 
Yes. This is part of our mission. I am working with the SPE Foundation, looking for ideas to continue creating inclusive educational opportunities around the world.