Come Together: Thermoforming Conference Tackles Issues and Challenges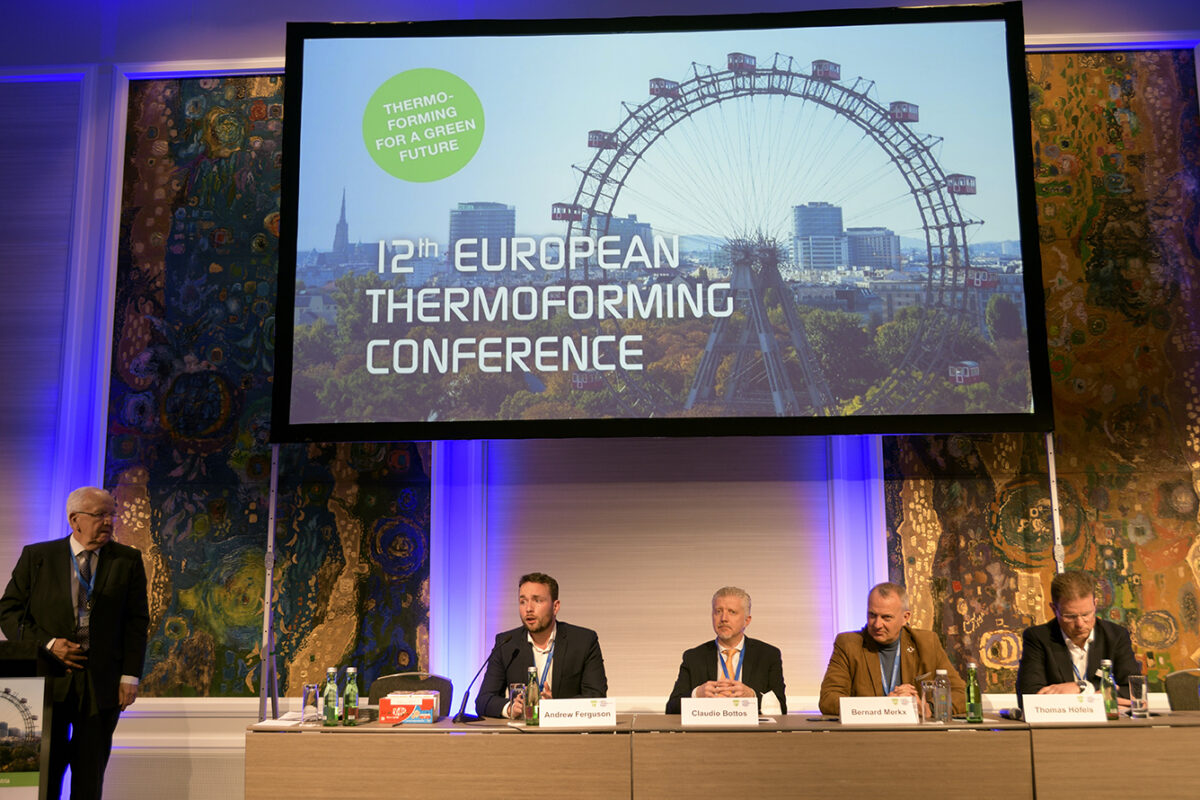 European t

hermoforming

conference highlights cooperative

path

s

to process and regulatory challenges
After twice postponing their flagship event and moving the location from Geneva to Vienna, SPE's European Thermoforming Division celebrated the return of live programming from March 30 to April 1. With more than 250 delegates attending from 30 countries, it was clear that the thirst for knowledge and networking had not been extinguished over the past two years. While about a dozen U.S. delegates were in attendance, the presence of several multinational companies on the stage suggested that, in theory, information about plastics and packaging can flow across the Atlantic without too much trouble. And though M&A activity might have peaked in the current business cycle, the recent spate of consolidation has created larger companies with assets on both sides of the ocean.  
The writer George Bernard Shaw once said that the U.S. and Britain were separated by a common language. This observation could be also applied to the transatlantic world of plastics, especially when it comes to navigating today's uncertain environment. It's perhaps an oversimplification, but Europeans are more inclined to regulate while Americans tend to look for market solutions.  
Several key trends in Europe were acknowledged during the event that companies in North America most certainly recognize, even if we might "feel" them to varying degrees: the impact of fossil resources on resin prices and transportation; lingering pandemic stresses; global logistics problems; and inflation. And while these elements can and do combine into a perfect storm for manufacturers (as seen in several declared cases of force majeure in the past year), at least a few retailers have decided that switching from paper back to plastics in packaging means they can manage weight-based charges more effectively.  
Marek Nikiforov of thermoforming equipment manufacturer GN Europe opened proceedings with a high-level summary of the challenges faced on a shared planet with limited resources. Using data from Project Drawdown, he starkly illustrated the environmental impact of global food production: 25 percent of the world's freshwater resources are used each year for intensive farming practices. As many of us now know, one-third of all food produced globally is lost or wasted, but the percentage of waste that occurs from point of production to point of retail is staggering in different regions of the world. Every 30 minutes on average, 1,850 truckload-equivalents of food are lost or wasted due to spoilage. Enter plastics packaging, which increases shelf life dramatically yet poses problems of its own in terms of end-of-life management. Project Drawdown ranks "reduced food waste" as No. 3 on its list of 80 solutions that humanity can take to "draw down" our environmental impact (No. 1 is refrigeration management).  
(Project Drawdown is a San Francisco-based nonprofit whose mission is to help the world reach "drawdown"—the future point when levels of greenhouse gases in the atmosphere stop climbing and start to steadily decline. For those interested see: www.drawdown.org.) 
Drivers of Change
Thermoforming conferences tend to be divided into thin-gauge and heavy-gauge processes with some overlap in certain end markets such as medical and automotive. Gérard Liraut from Renault-Nissan-Mitsubishi delivered an insightful talk on the future of mobility. A key premise was a revelation that there is a disconnect between how cars are built and how they are used. For example, he segmented travel distance and use patterns by micro-mobility (0 to 5 miles; scooters), medium mobility (5 to 50 miles; Uber or cab-sharing) and long mobility (over 50 miles; car-sharing). When viewed this way, cars seem to be designed indifferently to how they are actually used, especially in large, urban centers (hence the increased acceptance of congestion charges and rebirth of pedestrian zones in many cities).  
Renault has a goal of 30 percent reduction in CO2/kg in materials and parts. Today, 20 percent of a car, by weight, is made from polymers, with polypropylene contributing 35 percent of that and elastomers 8 percent. Liraut stressed that polymers will be required in increased volumes as cars become electrified and exploit the benefits of plastics and composites: e.g., in heat management, for batteries and casings, and many surfaces which—highly relevant in pandemic times—will be treated with antimicrobial additives. 
While plastics reduce the weight of vehicles by replacing heavier materials, they also serve an important protective role, particularly when it comes to public safety vehicles like police buses for riot squads. Dutch conglomerate VDL Groep, Eindhoven, Netherlands, presented a case study on the challenges of protecting law enforcement vehicles (and their passengers) in dangerous situations. Specifically, designers, engineers and operators of Mercedes-built police vans in the Netherlands came together to develop polymer-based windows and body panels that could withstand small-arms fire and related melée weapons such as one might encounter during serious public disturbances. Using 6-mm coextruded polycarbonate (PC) Makrotech from ArlaPlast of Borensberg, Sweden, for body panels and hardcoated, scratch-resistant Saphir Transparent PC for windows, the materials were thermoformed on temperature-controlled block aluminum tools. The components were ultimately assembled on the vehicle exteriors. Teams had to overcome challenges with differences across manufacturing processes which led to poor initial fit and a general learning curve with new material combinations. In the end, however, the project met its stated goals of being UV stable, reparable, on-budget and in-line with relevant EU safety directives.  
Innovations in heavy-gauge applications are also found in marine and aviation sectors. Andrew Ferguson of Collins Aerospace, Kilkeel, Northern Ireland, offered data from recent T-SIM thermoforming simulations. (T-SIM software for thermoforming and blow molding simulations is supplied by Accuform of Jetelova, Czech Republic; North American office is in Mississauga, Ontario, Canada.) While Collins only uses T-SIM in 5 to 10 percent of projects, in those where complex geometries make it difficult to predict material behavior and performance, significant efficiencies can be achieved. Working with IKV Stuttgart for material characterization studies using the K-BKZ non-linear, time-dependent method, engineers at Collins reported that 90+ percent of measured thickness locations were within tolerances of +/- 0.005 inch over 17 parts. Process changes reduced variations further leading to time and cost savings.  
An international project that included a moldmaker from Italy, a sheet supplier from Austria, an OEM from the U.S. and a processor from Mexico illustrated the benefits of early supplier engagement. Sea-Doo, manufacturer of personal watercraft, uses 19 colors in a gel-coat process for the exteriors of its popular recreational models. The project team was charged with replacing the gel coat due to ongoing problems with aesthetics. The material had to have good chemical resistance as it would be exposed to seawater and fuel spillage. Using a new closed mold technology, the team chose polymethyl methacrylate with an ABS cap layer. The tool was designed with five independent heat zones using 12 thermocouples and four separate vacuum areas to avoid chill marks and ensure accurate material distribution. The mold also contained an articulated plug-assist with interchangeable parts that was adjustable in all directions. After three years, the project delivered weight reduction of 38 kg (83.6 pounds) and a greatly simplified manufacturing process.  
Waste Not, Want Not 
For those familiar with EU directives on waste, plastics converters and contract packagers are still working through the realities of the Single Use Packaging Directive originally introduced in 2018 and implemented in 2021. As several presenters pointed out, however, plastics packaging is still forecast to grow at a compound annual growth rate of 4.4 percent from 2021 to 2026. Some of this will be thermoformed containers. According to data presented by Sukano of Schindellegi, Switzerland, approximately 2 million tons of PET was recovered in the EU in 2019, yet overall yields have declined to 70 percent from 81 percent due to contamination. 
A PET bottle is often the poster child used for the benefits (or challenges) associated with recycling, but overall rates are below targets on both sides of the ocean. Because recycled PET (rPET) is the de facto standard in rigid food packaging, speaker Thomas Bak Thellesen of Faerch Plast A/S emphasized that other plastics users should not be using PET in non-food applications so that enough is available for hungry food-contact rPET markets. He pointed out that 70 percent recycled content is roughly equivalent to halving the CO2 footprint of a given plastics package.  
Thermoform recycling is a very different affair, with tray-to-tray recycling in its infancy. Tray bales from recyclers or reclaimers show lower yields than those for bottles, with contamination (labels, inks, etc.) a major hurdle to sustainable economics. Pots, tubs and trays generally have lower IV (intrinsic viscosity) than bottles. Indeed, of 1 million tons of PET sheet consumed, only 15 percent is collected—and this is only clear material. Colored PET, whether green- or blue-tinted bottles or black food trays, is generally discarded, but there does appear to be a novel pathway to upcycle mixed APET (amorphous) colored flakes into heat-stabilized CPET (crystalline) trays.  
A team composed of sheet extruder Gneuss, additives manufacturer Sukano and thermoforming OEM Illig delivered details of a project that opens up alternatives to landfilling potentially useful materials. The properties of PET bottle flake are intentionally modified in the extruder by introducing additives. An IV enhancer for rPET from Sukano elongates the molecular chain of the polymer and by doing so increases molecular weight. The additive also improves melt viscosity, which benefits the processing of the plastic at a later stage. As for the sheet extrusion, the additive extends the processing window, increases processing speed and improves the material's sheet quality. Moreover, the additive ensures a higher impact resistance of the plastic. Due to the increased migration at higher microwave and oven temperatures, the sheets used to form rCPET food trays are generally made with a coextruded functional barrier of virgin materials for protection against contaminants in the sheet.1 Trays were formed under tight processing conditions due to the crystallization requirements to achieve heat-stabilized trays that would pass rigorous oven tests. 
In another presentation showing the power of collaboration across multiple companies, a group of European technology providers presented an example of circular economy principles being applied in China. SML of Redlham, Austria, Tomra of Mülheim-Kärlich, Germany, Erema, Ansfelden, Austria, Sorema, Anzano del Parco, Italy, and Kiefel, Freilassing, Germany, signed a deal at Chinaplas in 2019 to recycle 20,000 tons of PET for food-grade packaging, going from bottle flake to thermoformed trays and cups. A complete recycling plant was developed that featured state-of-the-art sorting and decontamination technology that delivered high-IV rPET for approved food contact. Sheets were coextruded in an A/B/A structure with edge trim fed back into the recycled B layer.  
Status of Polypropylene
The recycling forecast for polypropylene is much cloudier due to slower adoption of regulations and standards, especially for food-contact materials. There is significant activity underway, however, as several consortia are working to improve PP recycling, including with Der Grune Punkt ("The Green Point") which manages the German dual-system of recycling. According to speaker Thorsten Vebler, Der Grune Punkt is the single biggest source of post-consumer recyclate in the EU. A highly visible example of Der Grune Punkt recycled materials is found in the "Pöppelmann blue" line of horticultural plant pots which are made from 100 percent recycled materials by giant German processor Pöppelmann and subsequently recycled in a closed-loop system.  
Dr. Martin Bussmann of Neste, Keilaranta, Finland, and Emanuele Burgin of LyondellBasell in Italy presented results of recent tests showing how a drop-in PP grade derived from waste biobased sources could perform on par with fossil-based virgin equivalents. LyondellBasell created a resin grade, CirculenRenew, using Neste's chemically recycled raw materials. Working with sheet extruder Fernholz of Meinerzhagen, Germany, and Illig, the group compared LyondellBasell's Moplen and CirculenRenew PP using identical processing parameters. Running trials on a 30-cavity mold at 29 cpm (cycles per minute) in the Illig Technology Center, the team reported results within 1 standard deviation for typical thermoformed part parameters: top load strength, shrinkage, material distribution, stack height and haze. The parts made from CirculenRenew, however, recorded over a 212 percent CO2-equivalent savings. The Neste material is certified via mass balance and C14 methodologies. 
More Recycling Wanted
The European plastics industry has committed to deliver 10 million tons of recycled content annually between 2025 and 2030. Monitoring Recyclates for Europe (MORE) is a new initiative from the European Plastics Converters Association of Brussels to register all recycled polymers in an effort to reach these targets and report them to the EU. Using a common, voluntary approach, plastics converting companies across the continent report their recyclate figures into a harmonized database that is available in multiple languages.  
Proving recycled content is becoming de rigueur in an environment where customers are highly attuned to greenwashing. Despite several large companies using mass balance techniques and gaining ISCC+ certification for products with recycled content, the EU appears to be cool on the methodology due to its complexity, which makes it difficult for consumers to understand or appreciate. This does not mean, however, that traceability is not a critical component of recycling. RecyClass, a Brussels-based organization, describes itself as a "comprehensive cross-industry initiative that advances plastic packaging recyclability and ensures traceability and transparency of recycled plastic content" across Europe. Similar to the Washington, D.C.-based Association of Plastic Recyclers, RecyClass develops testing protocols and recycling guidelines and offers certifications to companies that meet relevant requirements.  
The next SPE European Thermoforming Conference will be in 2024 (location to be announced). The U.S. conference will be in Cleveland in September 2023.