3D Printing Technology Recreates Lunar Surface for NASA Façade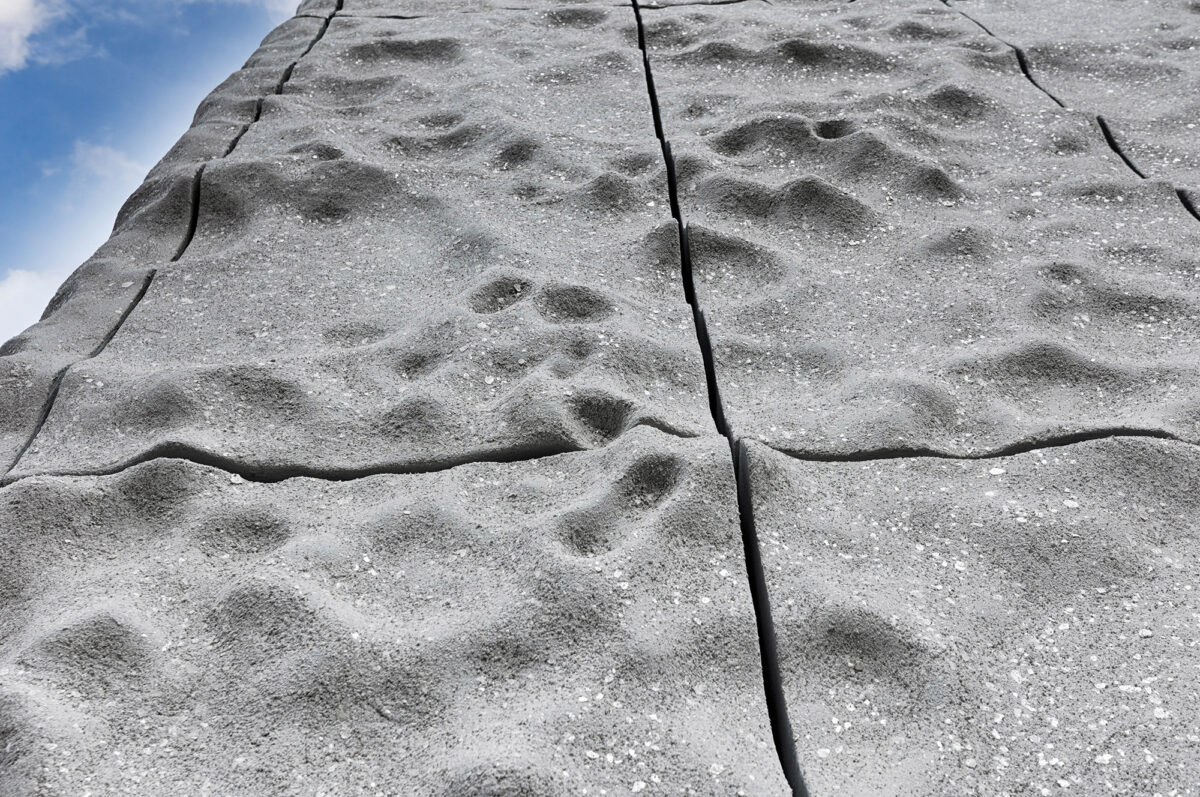 Branch Technology prints accurate map of moon for new Space Camp building
Some client requests are out of this world. Just ask Branch Technology. The Chattanooga, Tenn.-based digital manufacturing specialists leveraged their 3D printing expertise to design and manufacture a novel façade for NASA's new Space Camp building in Huntsville, Ala., that replicates the moon's surface.  
Branch, home to what the company says are the world's largest freeform 3D printers, has engaged with NASA on 3D printing-related demonstrations and competitions. So, when NASA wanted a different look for the Space Camp building at the U.S. Space and Rocket Center (USSRC), it turned to Branch.  
The USSRC is a Smithsonian Institution affiliate and official visitor center for NASA's Marshall Space Flight Center. The complex houses one of the world's largest collections of rockets and space memorabilia, and the Space Camp offers educational programs, simulators for visitors and a planetarium with a 67-foot domed theater.   
The USSRC told us to "create the moon on our building," said Branch design director Melody Rees. They wanted the exterior façade to relate to their Artemis 1 Moon to Mars Mission. USSRC provided a NASA map based on data from the Lunar Orbiter Laser Altimeter (LOLA), an instrument on the NASA Lunar Reconnaissance Orbiter spacecraft. The image used for the base of this map represents more than 6.5 billion measurements.   
Branch's digital designers, working with Fuqua & Partners Architects, of Huntsville, generated a process to map highs and lows of the LOLA image data so the 2D image could be translated into a 3D mesh. The result was a mesh-based surface topography serving as digital matter for digital manufacturing.  
The company employs its patented Cellular Fabrication (C-Fab) process to produce BranchClad panels, a technology-driven building enclosure for commercial construction. BranchClad offers dimensional façade panels with subtle contours or bold angles that traditional flat building material solutions cannot match.  
The system features Branch CompositeCore, made of a 3D-printed carbon fiber-reinforced ABS matrix encapsulated in robotically milled, fire-rated, polyurethane (PUR) insulation foam. For applications such as this, the matrix acts as a formwork or scaffold to accept traditional building materials. 
Compounder and materials design firm Techmer PM, of Clinton, Tenn., provides the black carbon fiber-reinforced ABS to Branch that is encapsulated by the PUR foam. Branch uses Kuka multi-axis robots to execute the 3D printing and milling and to complete the CompositeCore panels with durable finishes.  
The resulting ventilated rainscreen panel system provides depth, texture and pattern. It is said to be effective at moisture management, energy efficiency and durability. The panels protect the building by shielding it from water, provide energy efficiency through thermal optimization and accommodate building movement. 
The panels attach to concealed rails over the building's back-up wall. The extruded aluminum carrier rail system is standard and robust, Rees said in a phone interview, noting that a three-person crew installed the Space Camp façade in just six working days.  
The USSRC project covers 4,000 square feet of façade, on a 40,600-square-foot building. Branch provided 130 exterior panels and an additional 18 panels for interior use in the lobby.  
The options for colors and textures are extensive, Rees said, noting that USRRC wanted a metallic gray stucco finish for its "moondust" exterior and interior. The finish is integrally colored and specified with large, rock-like granules.  
"We were able to create that level of geometric fidelity with our new methods of digital making like 3D printing and robotic milling that would have been impossible with traditional construction methods," she remarked.  
Branch fabricates BranchClad panels in Chattanooga and ships them to a job site where they are installed directly onto the building. The process reduces on-site construction waste, she said, and "is smooth and reliable." 
"Techmer PM has partnered for years with Branch Technology on projects," says David Turner, the compounder's vice president of design and business development. Techmer has also supplied material for high-profile projects, including an outdoor band shell in Nashville, Tenn. Using the C-Fab process, Branch produced the 42-foot-diameter, 19-foot-high structure, "making it the largest free‐form, 3D‐printed structure in North America," he says. For that, Branch used Techmer PM's Electrafil carbon fiber‐reinforced ABS resin.  
Several years ago, the firms collaborated on multiple levels within Phase 2 of the NASA 3D-Printed Habitat Challenge, which engaged teams to design and manufacture building structures using indigenous materials and recyclables.  
NASA's vision was to demonstrate the ability to deploy autonomous machines in deep-space destinations like Mars to construct shelters for human habitation. These methods and materials could be used on Earth to produce housing that is robust and resource conscious.  
"Techmer provided all the material for this series of prize-winning contests," notes Turner.  
Platt Boyd, Branch's founder and chief innovation architect, said at the time: "Material science was a big part of this competition, and the custom materials Techmer PM designed enabled Branch to maximize product performance and processing efficiency, allowing for a robust product to be made in realistic time."