Wittmann Battenfeld Adds Low-Profile, Inline Granulation System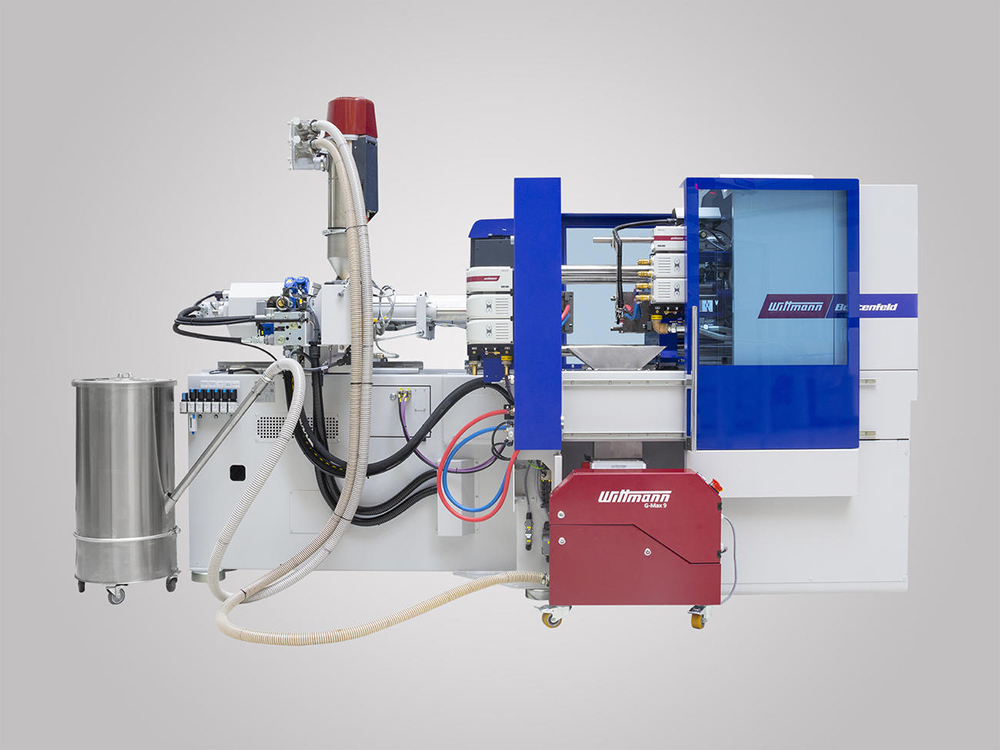 One of the new products that Wittmann Battenfeld planned to feature NPE this year before it was cancelled, is a system that integrates a small granulator, the G-Max 9, with a low-tonnage injection machine for press-side grinding of scrap and its immediate reuse in the process or other operations. The system, called Ingrinder, is designed to make resin recycling more efficient without increasing the footprint of a molding cell.  
Wittmann Battenfeld says the Ingrinder system works best with small machines that run molds with cold runner technology—the company's EcoPower (55 to 110 tons) and SmartPower (25 to 120 tons) injection machines, for example.  
The Ingrinder setup is designed to provide a range of benefits. These include: a more efficient grind; faster use of regrind via direct machine feeding, which means there is less time for hygroscopic materials to absorb water; up to a 25 percent smaller footprint compared with conventional work cells using a granulator and robot with guarding; and by eliminating the need for guarding around the picker, thus providing added safety as well as savings.  
Wittmann Battenfeld is positioning the Ingrinder system as a green technology option, says David Sharp, operations manager for injection molding machines. "Recycling resin is important, and this package makes it simpler and, in the end, cheaper to implement."  
He adds: "The integrated picker and granulator make for a very small work cell, as customers are always looking to reduce floor space. And with the addition of our HiQ flow technology (software packages that monitor, document and regulate the viscosity fluctuations of melt to assure repeatable parts), the machine compensates for viscosity changes that regrind can bring to a process, and so still achieve on-spec part quality."  
The throughput range of the Ingrinder system predictably varies according to runner or sprue size, cycle time and shot volume. Sharp says a SmartPower 90 or EcoPower 110 injection machine has 11.5 ounces of polystyrene barrel capacity. 
As regards granulator specifics, the G-Max 9 has a solid rotor with 9 staggered, slanted blades. The cutting chamber is 260 mm by 130 mm (10.2 inches by 5.1 inches). Throughput is up to 20 kg/h (44 pounds). Noise levels are between 65 and 75 decibels, depending on the material being granulated. 
Sharps says the G-Max series units are conventional granulators for use with soft and medium-hardness plastics. "Considerations should be made if the material contains abrasive fillers."  
If a molder does not want to reuse downsized scrap, there are numerous things that can be done with it, he advises. "A molder could move the granulator and let the sprues drop or grind the sprues and divert the regrind to a Gaylord with a loader to be used later or sold."  
As for plans to scale up the system for bigger machines and more throughput, he replies: "If there is a need, we could develop this for larger-tonnage machines. Larger-tonnage machines are already using robots to pick the sprue and the part. In the guarded area that the robot puts the parts, there is generally space to add a granulator in the robot guarding." 
The types of controls needed to integrate the granulator with the injection machine are straightforward. "The integration is simple I/O between the machine and the granulator: to start and stop the granulator and know if it is in fault."  
Sharp adds that while any of Wittmann Battenfeld's granulators can communicate to the injection molding machine in the same fashion as the G-Max 9 in the Ingrinder system, integration into the machine frame is only possible with this granulator by using special paneling and safeties.