Waste Printing Powder and Parts Find New Life on Ford Pickups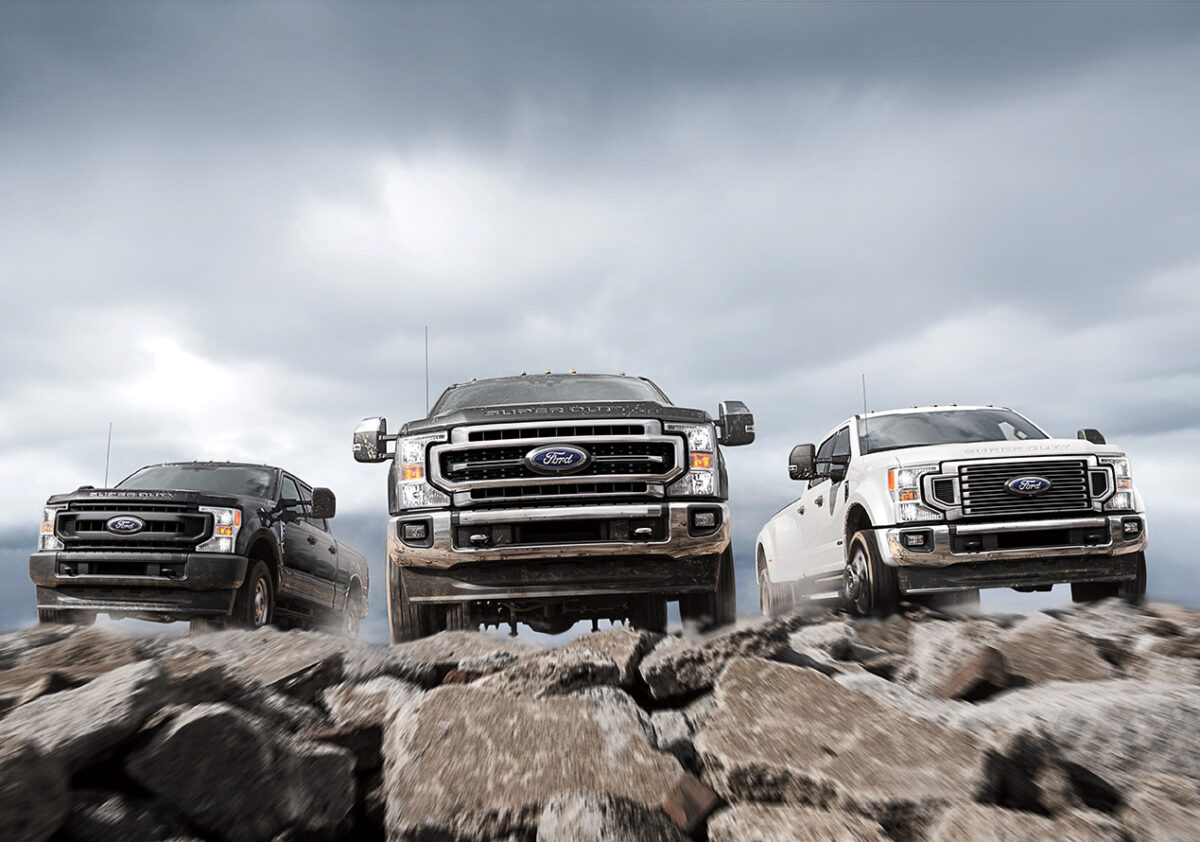 HP, the automaker and vendors solve circular challenge by creating a closed-loop—and valuable—materials stream
Thanks to the benefits of additive manufacturing/3D printing, this market segment is predicted to quadruple in size by 2030, increasing from $12 billion in 2020 to $51 billion by the start of the next decade, according to Lux Research Inc. of Boston.  
As companies embrace 3D printing, they will benefit from the fast turnaround times, low costs and greater design complexity that the technology provides. Even though additive manufacturing can be less energy intensive and more sustainable than conventional manufacturing, even with the most efficient 3D printing processes there is material that isn't consumed, plus there will always be prototype parts that don't have long lifespans. Hence, scrap is generated and, without a way to reuse it, it's likely destined for a landfill. Manufacturers that are passionate about sustainability and protecting the environment need a solution.  
Ford Motor Co. and HP Inc. tackled the issue, which led to a successful program to recycle waste polymer additive powder and 3D printed parts from HP's high-capacity Multi Jet Fusion (MJF) printers. The material was compounded and upcycled into pellets that were then injection molded into parts now used on Ford passenger vehicles. Here's how the program came to be. 
Elephant in the Room
"HP's culture is built on the values of sustainability and equity, so how we do things is as important to us as what we do," explains Ellen Jackowski, HP's chief sustainability and social impact officer. The company has a sustainability team that is on the lookout for opportunities to participate in a circular economy. One successful and long running program involves collecting, recycling and reusing plastics in HP toner and printer cartridges. That program has expanded into components for HP's personal computers and printers.  
For customers with a lot of 3D printers consuming a lot of material, powder and scrap parts that can't be reused can add up. Ford produces a lot of 3D printing scrap. An early adaptor of the process, as of 2019 the company owned 90 polymer and metal additive printers globally. The polymer additive units are used not only for prototyping, but for production parts for low volume/niche and legacy vehicles as well as manufacturing aids that help assembly line workers do their jobs faster, safer   and more efficiently (see May Plastics Engineering, p. 8).  
In 2018, the automaker opened the $45-million Advanced Manufacturing Center (AMC) in Redford, Mich., to focus on technologies like 3D printing to help the company design and build passenger vehicles faster and more efficiently. The Ford sustainability team wanted a way to reuse the company's 3D printer waste, which supports the automaker's aspiration to use only recycled or renewable materials to build its vehicles. Since Ford was already talking with HP about plastics recycling projects, finding a way to give new life to 3D printing waste was a logical first step.  
Solving Technical Challenges
Although HP and its resin-supplier partners formulate several polymers for its 3D printers, the workhorse option is neat polyamide (PA) 12. Ford already used that in its HP printers, so that's the first material the team chose to reclaim.  
During development—which spanned 2019 and 2020—the plastics industry had been facing a several-year shortage of PA 66 owing to fires that shut down several PA 66 monomer plants and then several additional PA 66 plants that shut down for preventative maintenance. With PA 66 prices high and supplies short, the team wondered if economics and chemistry would permit recycled PA 12 (rPA 12) to be substituted. They chose a complex fuel-line clip on Ford's Super Duty F-250, F-350 and F-450 pickups that, at the time, was being injection molded in hard-to-source PA 66. To be approved, the rPA 12 material would need good mechanicals, snap-fit performance, tight tolerances and chemical resistance, particularly to gasoline, diesel and ethanol fuels.  
The HP and Ford team quickly involved compounder Lavergne Inc. of Montréal, since that company is a long-time supplier to both OEMs, plus has decades of expertise in formulating and upcycling reclaimed polymer into "better-than-virgin" performance.  
Anyone conversant with the subtleties of sorting and recycling plastics won't be surprised to learn that the team faced many challenges trying to reuse PA 12 originally formulated for 3D printing in an injection molding application.  
"People think it's easy to add discarded polymer from another process during injection molding and have it work, but that's not the case," explains Alper Kiziltas, Ford technical expert. "Using several different formulations of reclaimed PA 12 from 3D printing, last year we conducted five injection molding trials in the U.S. and Mexico with our Tier 1 molder, ARaymond (Brunswick, Ohio). We faced a number of challenges, ranging from material sticking to the tool to bubbles in finished parts."  
After multiple formulation changes, the team developed a material that not only passed part requirements for the clip but molded without any problems. In fact, the only process change ARaymond made when switching from benchmark PA 66 to rPA 12 for the clip was lowering molding temperatures from 282°C (540°F) to 227°C (440°F). This was a win/win, since it reduced energy used to produce the parts.  
No changes to molding pressures, cycle time or tooling were needed. Even better, the higher performance rPA 12 clip offered better chemical resistance and lower moisture absorption at 7 percent lower mass and 10 percent lower cost than the outgoing PA 66 polymer. Ford and Lavergne filed a patent on the application.  
"Ford and HP are the first in industry to find a high-value, injection molding application for 3D printing waste—otherwise destined for a landfill—and to transform that material into functional, durable auto parts," continues Kiziltas. "Based on a Ford LCA (life-cycle analysis) study, this project also reduced greenhouse-gas emissions 30 percent vs. using virgin PA 66 for the clip." 
"For HP, our collaboration with Ford was a natural extension of both companies' commitments to improving their eco-footprints using innovative processes," adds Jackowski. "This first-of-its kind, cross-industry process helps extend the sustainable impact of 3D printing across the value chain." 
Building a Circular Supply Chain
The next challenge was securing a steady supply of rPA 12 from 3D printing waste to avoid vehicle assembly issues. Although Ford's MJF printers at the AMC are quite busy during periods when a new vehicle is being designed and readied for launch, at other times production use wanes, meaning that supplies of reclaimed PA 12 drop. Even though Ford's Super Duty pickup models have significantly lower build volumes than its flagship half-ton F-150 pickups, they would still need 30,000 of the 7.4-gram (0.3-ounce) clips each month to meet production demand.  
HP solved potential supply problems by involving another of its customers, SmileDirectClub.com of Nashville, Tenn. The next-generation oral-care company produces progressive plastic retainers (called "aligners") that patients wear in their mouths over a period of weeks to months to straighten their teeth in lieu of braces. Every custom-designed clear aligner is produced using a PA 12 mold that was printed on MJF printers. In fact, SmileDirectClub.com owns 60 of the HP printers and produces 40,000 aligners per day. Once an aligner is molded, the mold is scrapped. Hence, SmileDirectClub.com is contributing scrap molds that Lavergne upcycles, along with waste powder from Ford's MJF printers, into injection molding material for Ford's use. 
What's Next?
Ford suddenly had access to more rPA 12 than it could use for the Super Duty fuel-line clips, so its research team recently identified 10 additional clips on other Ford vehicles that are being considered for conversion. Additionally, they've explored other ways to reuse PA 12 printer powder. By adding just 8 percent powder to polyurethane sound-deadening foams in the engine compartment, sound absorption is significantly improved, and compression modulus and strength are increased 94 and 75 percent, respectively. A patent has already been filed on this work. Researchers also have explored using reclaimed PA 12 powder as a reinforcing layer to improve corrosion resistance of metals, although more work is needed in this area. 
Interestingly, the printing scrap-to-car parts program was completed in less than 12 months—much of it during last year's lockdown. "All of the team's facilities were pretty much shut down and everyone kept saying that we couldn't do testing, and we couldn't run molding trials during a pandemic," remarks Debbie Mielewski, Ford technical fellow-sustainability. "However, the Ford team and its partners stepped up, we passed all testing satisfactorily and completed the project on time. In fact, this project is one of the things that we're most proud of achieving during such a challenging year."  
She acknowledges that while the fuel-line clip isn't a particularly large part and doesn't divert tons of material otherwise destined for landfills, it's still significant. "This is a great example of trying to get out in front of emerging technology trends and not waiting until we've already created a waste problem and then trying to figure out what to do about it," she concludes.