Flexible and Recyclable: Monomaterial Packaging Meets Sustainability Needs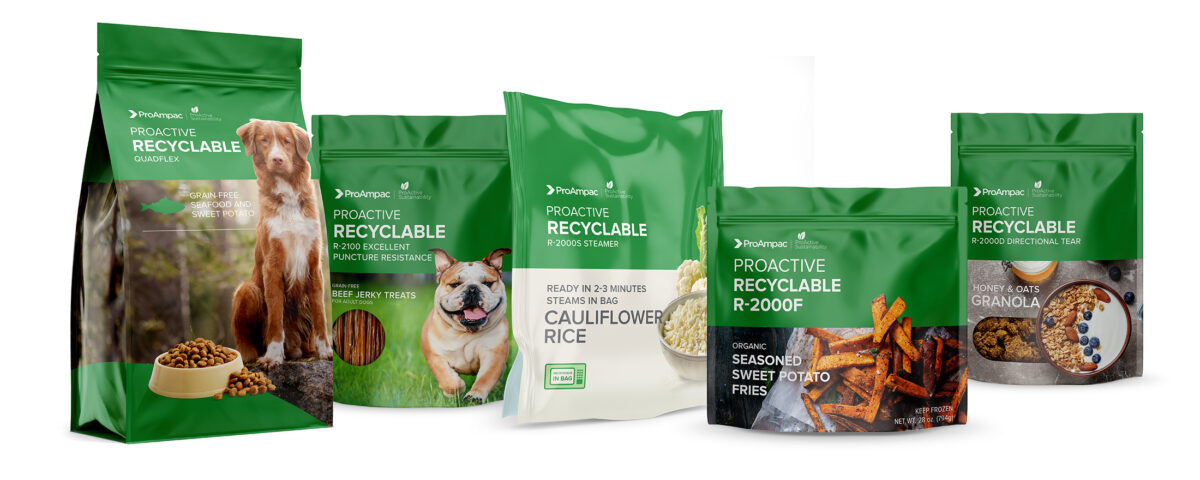 Industry

turns

to

monomaterial

packaging for circular economy

needs
For decades, flexible plastics packaging suppliers have been perfecting the ability to reduce material use by creating ever thinner but still highly functional films to protect packaged goods. Multilayer films that contain different polymers or metal foil layers provide such properties as stiffness or heat resistance and act as barriers to flavor, aroma, oxygen, water and oil. These multimaterial constructions, however, are difficult to recycle. The challenge then is to create thin films that provide functionality as well as recyclability.   
Recyclability depends on the availability of collection, sorting and reprocessing systems, which vary by country and are still evolving. In the U.S., flexible packaging is not yet widely recyclable in post-consumer curbside collection, but there is a nationwide network of store drop-off collection sites for polyethylene (PE) films. The Sustainable Packaging Coalition's How2Recycle label, which includes store drop-off as one option, can be found on many flexible packages in the U.S. that are fabricated of monomaterial PE. The U.S. Flexible Packaging Association's roadmaps for moving to a circular economy, published in 2021, describe a goal of having recyclable, monomaterial flexible packaging as standard in most applications.  
Similarly, initiatives in Europe have called for monomaterial PE or polypropylene (PP) solutions. For example, the Circular Economy for Flexible Packaging (CEFLEX), which is a collaboration of companies and organizations representing the flexible packaging value chain, seeks to "redesign multimaterial flexible packaging to monomaterials with existing recycling streams where possible" as well as to "identify solutions and develop capabilities to sort and recycle the remaining fractions." According to the CEFLEX Designing for a Circular Economy (D4ACE) guidelines, in a monomaterial package, at least 90 percent of the package is made of one polymer type; barrier materials, inks and adhesives may make up the remainder. The U.S. Association of Plastic Recyclers (APR) guidelines have a similar 90 percent threshold, but the APR design guide for PE film notes that if a film contains other non-PE polymers, such as ethylene vinyl alcohol copolymers (EVOH) or polyamides (PA), it should be tested to qualify its recyclability with the polyolefin stream.  
The D4ACE guidelines are a "living resource [that] continues to boost innovation and circularity," says Alec Walker-Love, workstream consultant for CEFLEX. Ongoing independent testing of materials and structures is focused on filling knowledge gaps, such as the threshold levels at which barrier, ink, adhesive or other components would impact recycling quality.  
Packaging Structures
Polymer and film producers have been making progress launching monomaterial structures. One way to improve film properties, including toughness, stiffness and barrier, is to biaxially orient polymer molecules with processing equipment. Biaxially oriented polypropylene (BOPP) or PE (BOPE) are options for polyolefin monomaterial packaging. Machine-direction orientation (MDO) PE, which is stretched in one direction, is also used in packaging. Because polyolefins typically have poor gas barrier, another material is needed to provide protection against oxygen or aroma transmission. Conventional gas barrier solutions have included EVOH, PA or metallization, for example. Very thin coatings of silicon oxide (SiOx) and aluminum oxide (AlOx) are now finding use.   
Swiss packaging equipment supplier Bobst and its industry partners Dow, Zermatt, Michelman and Sun Chemical, developed a solution called oneBarrier for "recycle-ready" packaging using monomaterial PE-based structures with a thin coating of either AlOx or AluBond aluminum metallization that provides high or ultra-high barrier performance. "Today, high-barrier constructions often use relatively thick layers of either aluminum foil or EVOH on PET substrates. The oneBarrier solution uses very thin functional barrier layers—approximately 40 nm in the case of metal or metal oxide deposition—that allows the package to comply with the goal for at least 90 percent of the construction to be one material," explains Martin Hill, senior research scientist at Dow.  
Dow and conversion partner Zermatt developed the multilayer, monomaterial MDO PE film that meets requirements for stiffness and consistency in the orientation process. "Producing very flat, tension-controlled reels of MDO PE film with the correct balance of properties was not trivial," Hill notes.  
Converting equipment needed to be modified to handle the challenges of the new material structure, adds Nick Copeland, R&D director of barrier solutions at Bobst. "PET is very stiff, non-extensible and easily metallized compared to monomaterial PE films," he explains. "Maintaining tension and strain control throughout the equipment and adding thermal management for the coating steps was crucial. In addition, we used a thin primer layer and surface treatment before coating to enable adhesion of the primer to the nonpolar PE films, and metallization to the primer-coated PE substrate."  
The oneBarrier PrimeCycle AlOx PE received a certification of recyclability from the Institute Cyclos–HTP (CHI), a German organization that works to classify, assess and certify recyclability using CHI test criteria. Bobst says that PrimeCycle received an EU-wide certification for all European Union countries that have infrastructure for recycling PE. In the U.S., APR guidelines require testing of metallized films to ensure recyclability. Hill says that companies are testing such structures in applications such as snack food packaging using the APR guidelines, with positive results to date.   
Copeland points out that the collaboration between the different parts of the supply chain was crucial to success. "Brand owner timelines for moving to recyclable, monomaterial packages are short, so we needed to work together to cut development time and create a solution," he explains. 
In another recent collaboration, TotalEnergies, Windmöller & Hölscher and Mitsubishi Chemical Group developed a proof-of-concept recyclable high-barrier standup pouch. The laminated structure consists of an MDO PE film and sealant layer from TotalEnergies and less than 2 percent EVOH from Mitsubishi Chemical for barrier properties. The structure meets requirements for water vapor, oxygen and aroma barrier and can replace metallized multimaterial structures, the companies report.   
New Materials 
Covestro says its acrylic coating resins can be used as topcoats to improve sealing, toughness, scratch resistance and printability, and as primers for sealing layers or metallization. Covestro and SABIC collaborated to create a heat-resistant coating designed to enable monomaterial BOPE-based film to be used to make and fill standup pouches on form-fill-seal (FFS) lines. Monomaterial BOPE films have lower heat resistance than current multimaterial structures used for FFS, but the coating, which is currently at the proof-of-concept stage, prevents the FFS heat-seal bars from sticking to BOPE-based monomaterial film, says Covestro. 
ExxonMobil's new HDZ268 HDPE grade is designed for mono or biaxially oriented PE blown films used as the outer print substrate layer for laminated monomaterial PE packaging films. In FFS converting equipment, the HDPE provides heat resistance, so that the film does not adhere to the sealing bars; improved stiffness with lower extensibility, so that the film stretches less and maintains its shape; printability; and optical properties, says Nilesh Savargaonkar, customer application development principal at ExxonMobil. He explains that the HDPE resin is designed for high melt strength, which allows better bubble stability and higher output rates, and low gels, which helps avoid web breaks. "Today most print webs are BOPP or BOPET, with some BOPA. We expect significant demand for replacing these materials with MDO-PE and BOPE for monomaterial designs," Savargaonkar says.  
Another new resin family for films, including monomaterial PE packaging films, is ExxonMobil's Exceed S linear low-density PE, which is intended to simplify film design by meeting converters requirements for a balance of stiffness and toughness along with improved processability, notably better bubble stability and lower melt pressure. The Exceed S platform was launched in April 2022 with three grades: 0.8, 0.85 and 2.0 melt index (MI). The 2.0 MI was designed for blown film lines that require particularly low melt pressures, and has also been found to process well on cast extrusion lines, explains Tom Miller, Exceed S marketing manager. He says that the performance of the polymers has been validated in real-world applications that include coextruded PE pouches, hot-fill bag-in-box and monomaterial PE laminated pouches, for both the MDO substrate (outer, reverse-printed layer) and the sealant web (inner layer). The new LLDPE grade can be paired with barrier technologies to improve the stiffness and toughness of barrier packaging, says Miller. 
New Pouch Designs 
Several film and package producers have launched monomaterial pouches. ProAmpac, of Cincinnati, has a series of films for packaging under its ProActive Sustainability brand that are designed for recycling. "Our approach is to use all PE, which is the most recycled film in North America and Europe," says Nathan Klettlinger, director of global marketing.  
ProAmpac is looking to design for recyclability as its primary method of achieving circularity goals. Klettlinger says that monomaterial packaging is best for mechanical recycling and is also an advantage for some advanced or chemical recycling processes, where it can increase yields because it is a cleaner, less contaminated stream without PET. "We are starting to see demand for monomaterial packaging as consumer packaged goods (CPG) companies have made commitments to using recycled content by 2025 or 2030, and consumers have indicated they are interested," reports Klettlinger. To make flexible packaging a success in recycling, however, will require an inclusive effort throughout the U.S. supply chain. "Changing consumer habits takes time and a supporting infrastructure. We need more collection and more supply chain development of monomaterials, as well as alignment at the national level to support all types of recycling," says Klettlinger.   
One of ProAmpac's redesigned packages is microwaveable bags for frozen vegetables. Conventionally, these packages are multimaterial, with PET on the outside and a low-migration PE on the inside for sealing. ProAmpac developed a monomaterial PE film to meet requirements, including withstanding the pressure of steam during microwaving without becoming too soft, explains Klettlinger. The ProActive Recyclable R-2000S film withstands cold storage and microwave conditions and is prequalified for store dropoff recycling in the U.S.  
Entour films from Berry Global, Evansville, Ind., include monomaterial PE films designed for recyclability as well as PCR (post-consumer recyclate) content films. One of the first uses was a recyclable granola pouch in 2019, using Entour Shield+, a high-barrier, surface-printed PE film designed for recyclable, unsupported pouches. Entour products include PE print webs and sealant webs for laminated pouches, such as a pouch recently introduced by Berry in collaboration with Printpack, of Atlanta. The Preserve PE PCR recyclable PE pouch uses Entour films and contains 30 percent PCR, which is sourced from a supply that has an FDA Letter of No Objection that makes it suitable for food-contact applications. Entour films are designed for APR and How2Recycle compliance.  
"An increasing number of brand owners and converters are actively working to transition to recyclable flexible packaging using Berry's Entour solutions," says Wesley Porter, business development director of Sustainability and Innovation at Berry Global. For the applications that Berry has developed so far using monomaterial constructions, the company has been able to achieve equivalent or better barrier properties compared to conventional products, but work is ongoing. "We are actively developing additional Entour solutions tailored toward specific applications where barrier requirements exceed the current offering," Porter explains.  
Making It Work 
Although there is a broad drive towards structures with at least 90 percent of one material, researchers say certain other multimaterial structures can also be considered recyclable. A June 2022 publication by BASF and the Cyclos-HTP Institute found that coextruded PE/PA structures are recyclable in PE streams. This conclusion challenges the assumption that PA negatively affects recyclability and is important, said BASF in the report, because both PA6 and PA6/66 are useful as layers in flexible polyolefin packaging for fatty, oxygen-sensitive foods and in medical packaging. The company argues that PA layers provide mechanical strength and barrier properties that enable lightweighting and product protection, which is environmentally beneficial.     
An additive masterbatch from Ampacet, Tarrytown, N.Y., is formulated to make multilayer PE films containing EVOH or PA 6 as barrier layers compatible with polyolefin recycling streams. ReVive 311A Compatibilizer, which is a blend of functional additives, was recognized by APR as meeting guidelines for recyclability in structures with specific levels of barrier materials and ReVive Compatibilizer. The additive also received a prequalification from How2Recycle for store dropoff, which confirms that packages made under the prequalified conditions may be eligible for the How2Recycle label.  
"Adding ReVive Compatibilizer means that processors can boost use of PCR/post-industrial recyclate to meet sustainability goals and consumer packaged goods companies can offer packaged foods with superior food preservation as well as good recyclability," says Doreen Becker, Ampacet's sustainability director. "The end result benefits consumers and the planet."