Demand Materializes For Electric Urban Air Mobility Vehicles And Materials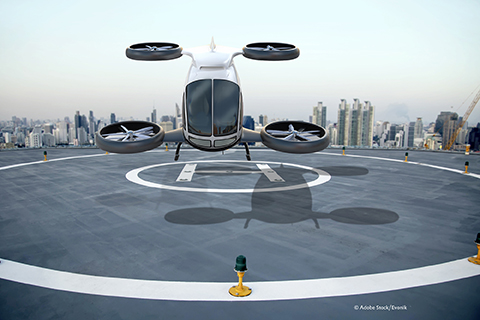 Air taxis and delivery vehicles—whether piloted or autonomous—could be ready for daily use as soon as 2023, according to some forecasts. If so, this urban air mobility (UAM) market will create growing business opportunities for suppliers and processors of specialty polymers, foams and composites that have the strength, stress-resistance and lightweight properties needed for such platforms.  
The ability to routinely, and safely, fly one or several people or light cargo over a congested city has been a dream of visionaries for some time. The dream seems very near to becoming reality as investors and developers fine-tune vehicles they believe to be the best fit for operations.  
Most prototypes and developmental platforms trend toward eVTOL (electric vertical takeoff and landing) designs since these can land and ascend in tight urban spaces. While proponents need to win over regulators and, of course, convince the public that such travel is safe, congested traffic conditions in major cities worldwide demonstrate that this is an idea whose time has come.  
In April, specialty chemicals producer Evonik highlighted traffic congestion in a report on the suitability of its Rohacell polymethacrylimide foam as a lightweight, heat-resistant core for carbon fiber-reinforced composites (including eVTOL blades) in UAM platforms.  
Analli de Souza Carvalho, business development manager for air taxis and commercial aviation at Evonik, observed that "If everyone has a car, nothing moves." She added that in London, Paris, New York and St. Petersburg, Russia, drivers and passengers spend an average of 150 hours per year in traffic jams. In Bogota, Colombia, and Rio de Janeiro, the average is almost 200 hours. "But there is still plenty of room in the air," Carvalho said in explaining the attraction of UAM.  
And this attraction could drive soaring demand for polymers, composites and related materials and technologies, as UAM suppliers and operators ramp up fleet numbers. A global study by consultant Research and Markets of Dublin earlier this year forecast that the market will reach a value of $7.9 billion by 2030. In the U.S., air taxis are estimated to conduct 55,000 daily trips, which can be served by 4,000 aircraft, the consultant reports.
"Based on near-term market entry assumptions during the initial years of operations, annual market value is projected to be around $2.5 billion" in the U.S. alone, the company reports.  
There are around 15 companies worldwide that have built or tested prototypes for the market. Although UAM is in its infancy, some consolidation has begun. Several years ago, ride-sharing giant Uber announced ambitious plans to develop an air taxi service called Uber Elevate between downtown pickup and drop-off points and airports in several congested U.S. cities—Los Angeles, Dallas and New York. In January 2020, Uber said it was partnering with Hyundai Motor Group in the plan, and Hyundai would build the air taxis. In December 2020, however, Uber Lift reported selling its air taxi business to Joby Aviation of Santa Cruz, Calif. The move will save Uber hundreds of millions in development costs and give Joby valuable technology. Joby is developing a zero-emissions eVTOL aircraft for the market. The platform will be piloted and transport four passengers. The air taxi service is scheduled to begin operations in 2024.  
Further consolidation in the UAM market will reduce the players but not the opportunities for business. Materials suppliers and processors have expertise that could earn them a place on the ground floor of a viable and growing market.