Charging Ahead: Teijin Develops Solar Roof For Electric Vehicles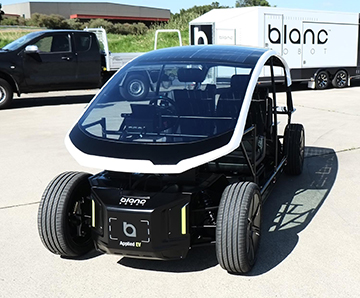 Automakers around the world continue to invest billions to advance electronic vehicles (EVs) as sustainable and desirable transportation options. Despite their efforts, two nagging problems persist: how to rapidly recharge a battery—ideally in 5 minutes or less—and extend range beyond several hundred miles.  
Think what you will about the internal combustion engine—pro, con or indifferent—but most personal vehicles gas up in minutes and can travel many hundreds of miles without stopping.  
One potential solution to the need for rapid recharging and extended range might be solar panels on vehicles, which maintain a full charge during bright or mostly sunny days and hold power in reserve for nighttime travel or overcast or stormy weather. A handful of companies are looking at this approach, two of which are resin producer Teijin Ltd. of Japan and Applied Electric Vehicles of Australia. Both collaborated to develop a polycarbonate (PC) solar roof for mobility applications. 
The solar roof uses Teijin's Panlite PC resin glazing for its surface. The material has the strength and rigidity required for a vehicle roof and can be molded into a curved shape. Conventional PC resin offers high impact resistance but must be specially processed to realize the level of weather resistance needed for long-term outdoor use. Teijin says that Panlite glazing can be given a proprietary hard coating to achieve the 10-year weather durability required for automobiles.  
Teijin and Applied EV deployed the new roof on a Blanc Robot, a prototype zero-emission EV passenger pod on an autonomous robotic platform, which was developed by Applied EV with materials and technical support from Teijin. In testing conducted by Applied EV, the solar cells mounted on the Panlite roof achieved an output of about 330 watts, the equivalent of a conventional solar panel housed under glass. Because the vehicle is light and energy efficient, the benefits of solar charging are much greater than on a typical electric vehicle. Tests by Applied EV suggest that the solar array could contribute up to 30 percent of the vehicle's energy budget in ideal conditions and 15 to 20 percent on a typical day, extending vehicle range for the Blanc Robot by between 30 and 55 km (18.6 to 34.1 miles). 
The companies began joint development in 2019 and are working on the use of other Teijin materials for additional EV components, among them structural elements, glazing and exterior body panels. Teijin and Applied EV look to commence high-volume production in the latter half of 2022. These initiatives, together with ongoing efforts to enhance the solar roof, are expected to contribute to the ultimate goal of achieving Japan's "Well-to-Wheel Zero Emission" policy, which calls for a 90 percent reduction in 2010-level greenhouse gas emissions per passenger car by 2050. 
"Now that we have proven the technology on a passenger EV, it is easy for us to roll out solar charging for a range of other vehicle types," says Julian Broadbent, chief executive officer of Applied EV. 
Meanwhile, Teijin plans to install a composite compression molding line at Benet Automotive s.r.o, its automotive composites business in Milovice, Czech Republic. Teijin will invest €10 million (about $12.2 million) in the new glass-fiber sheet molding compound (GF-SMC) line, which is slated to begin operation in fall 2022.  
Benet Automotive is a Tier 1 supplier of automotive composite components. The new GF-SMC molding line will strengthen Teijin's response to market demands for greater design freedom, productivity and cost efficiency, as well as weight reduction and strength. 
This is Teijin's latest move in automotive composites. Amid the shift toward connected, autonomous, shared and electric (CASE) automobiles, Teijin acquired Continental Structural Plastics Holdings Corp. (CSP) in 2017 to become a Tier 1 supplier of multimaterial automotive composites. The company later acquired Inapal Plásticos SA in Portugal and Benet Automotive and plans to build a GF-SMC compound at the CSP facility in Pouancé, France.  
The producer also established Teijin Automotive Center Europe GmbH in Wuppertal, Germany, near Düsseldorf, in 2020 as a base for research and development within its multimaterial automotive composites business.