Color Coordinates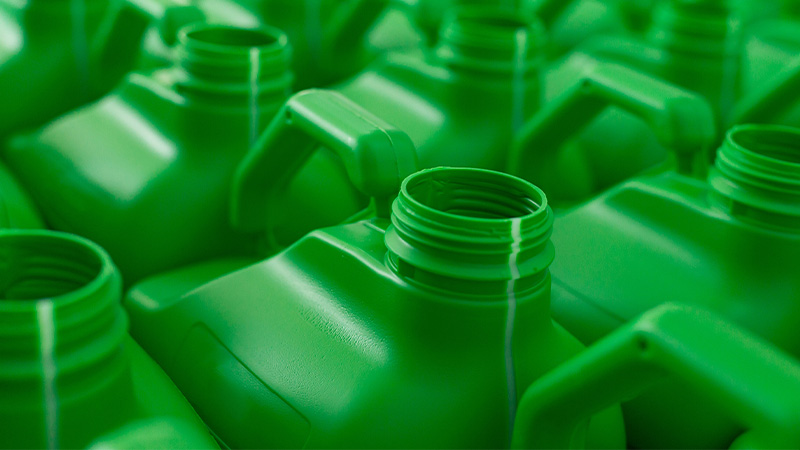 Enhanced colorants complement multiple needs including sustainability and product circularity
Much work is underway in new and upgraded formulations for pigments and colorants of all types—solids, concentrates, liquids, organics and inorganics.
Driving these efforts are evolving areas like recycling and closely linked concerns of product sustainability and circularity; shifting color preferences, especially in building and construction; the ongoing emphasis on fine-tuning color consistency for brand identification and consumer recognition; and emerging end uses like laser structuring and metallic plating of electronic pathways in cell phones that demand high performance from pigments as well as plastics (more on this below).
There is, as well, routine enhancements of color grades to better address shop floor and bottom-line concerns. These include improving flow consistency without adding more colorant than necessary; formulating color additives for optimum process throughput; producing materials that color clear plastics like acrylic, polystyrene and polyethylene terephthalate without haze; and grades that meet the elevated process and performance needs of engineering polymers and other specialty resins.
Considering the trends that are affecting the use of color now and in coming years, product designers and additive suppliers are focusing on materials that meet the aesthetic and performance requirements of a rapidly changing market for consumer and industrial goods. This primarily means that more options will be available for color integrity in resins that incorporate large amounts of post-consumer recycled (PCR) material; color additives will be formulated for sustainability and product circularity, with some made from unconventional sources like biomass; masterbatches will offer lower let-down ratios to enhance base resin properties and save money; and higher levels of tint strength will improve color consistency and reduce additive loadings.
Sustainable Grades
Sustainability is a force in color development, affirms Jeff Smink, vice president of technology at Chroma Color Corp., McHenry, Ill. It's an issue that affects color formulations and how they are used. For example, the push to meet sustainability needs through lightweighting of products means colorant use will be reduced as much as possible without affecting the look or quality of applications.
Related concerns include lifecycle analyses (LCA) of finished products, which includes resins and additives. Smink says this can involve making biodegradable pigments that improve recycling or composting, or even engineering the compatibility of additives with eco-friendly resins. When resins are made from plant sources and other renewable materials, colors are often adapted accordingly for compatibility, though their availability may be more as custom formulations than conventional product quantities.
Chroma Color is, in fact, pursuing a patent on a biodegradable carrier. Smink declines to provide details but says the material will work in high-heat and low-heat processing conditions, a range that covers polyethylene to acrylic.
Mainstream and high-volume applications, meanwhile, are the focus of most sustainability targets. "Packaging is probably the primary driver," specifically, "general packaging for high-volume products like cosmetics, health and beauty aids, liquid detergents and food," he says.
Also, as brand owners, retailers and municipalities create collection points for waste plastics, large containers designed for this stream are growing in importance. Not only must they stand out for easy identification and feature prominent signage, but "waste receptacles are sensitive to sustainability" by their size, he remarks. "A 96-gallon waste receptacle is a pretty big part, with 30-plus pounds of plastic in each one." Maintaining consistent color is vital to the production of these containers, which are distributed to homeowners for weekly recycling pickups or colored to reflect the brand identity of sponsoring retailers and brand owners.
Another factor affecting sustainability is the increasing reliance of OEMs and major retailers on companies that rate businesses and their supply chains for sustainable practices. One of the largest, Smink says, is EcoVadis, which was founded in Paris in 2007 and has offices worldwide. EcoVadis performs sustainability audits and has rated more than 75,000 companies and their supply chains in 200 industries and 150 countries. "They look at your company in terms of corporate social responsibility with a big emphasis on sustainability," he remarks. "Big-box stores and OEMs are asking their suppliers to be evaluated by this method," as part of their overall commitment to sustainable practices.
Among the products from Chroma Color that work well in sustainable applications are G2 and G3, high-pigment custom colors with high UV stabilizer loadings, for use in outdoor durables, housewares, lawn and garden products, and industrial parts. G2, the older of the two, has an olefinic carrier and can be used with polyolefins and styrenics. G3, commercialized in 2018, uses the same carrier as the base resin of a part and can be blended with any resin except PVC. The grade achieves 20 percent higher pigment loading than G2 in PE and polypropylene without affecting pigment dispersion, the company reports. G3 can also be formulated with 50 percent or more loadings of pearlescent pigment, almost double the former industry standard of 30 percent. (For more on pearlescents, see p. 40.)
"Because of their high concentrate formulations, lower amounts of carrier resin can be used for effective coloring, which won't interfere with properties of the base resin in parts," Smink explains. Both materials achieve use rates down to 0.5 percent, provide 1 to 10 percent reductions in cycle time and allow rapid material changeover, Chroma Color data state.
"A typical concentrate for outdoor use and 10 years of exposure will be in the 3 percent range," says Smink. "Our G2 and G3 grades have a 1 percent concentrate loading and in some cases 0.5 to 0.75 percent.
Other new materials from Chroma Color include Ultra PET, a solid polymer-based system with a patented carrier that doesn't cause haze in PET, polystyrene or acrylic. It achieves desired levels of color and opacity in detergent and other containers at loadings of 1.0 to 1.25 percent, which Smink says is one-half to two-thirds less than some liquid colors.
Also available is a lineup of NIR (near-infrared) products in black for use in polyolefin and PET packaging that allow accurate IR sortation in commercial recycling centers. The formulation works by eliminating carbon black (a common approach), which blocks IR scans, and replacing it with an undisclosed color formulation that appears black to the eye but is transparent to IR sortation systems.
Meeting Diverse Demands
"Sustainability can mean many things to many people," says Mark Ryan, marketing manager at Shepherd Color Co. of Cincinnati. "From ethical sourcing to energy use to how colorants are used and what they do for different markets." Shepherd works in inorganic pigments—all are metal oxides, so a lot of the company's precursors come from mined materials like cobalt or recycled materials like iron. "We always work with certified materials that are not from conflict areas," he adds.
In developing colorants that enhance sustainability, Shepherd's products include IRcompliant pigments, which facilitate sortation in recycling plants. This is not a new area for the company—the technology dates to the 1980s, Ryan notes—but one development is Black 10F925, which allows OEMs that supply black plastic trays and packaging for food and other products "to have the jettest mass tone color along with IR properties so plastics can be identified in sortation." The IR-scattering properties of the grade allow the "fingerprint" of a plastic to be detected.
"IR blacks are not as jet as in standard plastics. We moved the bar to get more jet," he says, without revealing formulation details. How close is the 10F925 grade's jet tone to a conventional black? "To the eye it looks like a jet black. We balance the properties by killing off the red tone and emphasizing blue tone. 10F925 is optimized for mass tone properties. We think it's the jettest black for this application that we've seen so far."
Shepherd has developed grades for PCR-content applications. These have 50 percent higher tint strength but can be detected by IR scanning systems. "We call it a black color. The tint is 50 percent compared to the mass tone of 10F925. It's weaker than carbon black, but there's no difference in color to the eye. Variations of this formulation have been used in vinyl siding for years," he says.
One notable area of development at Shepherd is colored additives for Laser Direct Structuring (LDS), a technology commercialized by LPKF Laser & Electronics AG of Garbsen, Germany (U.S. office is in Tualatin, Ore.). LDS minimizes post-injection molding finishing steps, by allowing conductive pathways to be created in seconds by laser etching on 3D thermoplastic electronic devices.
According to a description of the process by LPKF, the thermoplastic is doped with an additive that's activated by a laser beam. A physical-chemical reaction forms metallic nuclei which act as a catalyst for reductive copper plating. The laser creates a microscopically rough surface in which copper is anchored during metallization. The metallization of an LDS part starts with a cleaning step, followed by the additive buildup of tracks that are 5 to 8 microns deep with the help of an electroless copper bath. The last step is plating with current-less nickel and flash gold. Recommended substrates include liquid crystal polymer and polyimide. Shepherd specializes in making dark, black and other colored additives for LDS in cell phones. "We have commercial and custom grades and are developing products for this application," says Ryan. The pigment is essential because the laser interacts with it to create tracks that will be metallized.
Color Is Vision
"When you add color, your vision is your canvas," says Stephanie Dycha, ColorWorks manager for North America at Avient Corp., West Chicago, Ill., and vice president of marketing at the Color Marketing Group.
As with other color professionals, Dycha sees sustainability as having an oversized impact on formulations and applications. "Everybody talks about including more PCR in products, processing it correctly and getting colors right to preserve brand integrity."
What's the best way to develop color for products with large proportions of PCR? The key, she believes, is to embrace the product development goal and to understand how the resin specified can help to achieve it. "If you look at the resin at the beginning of the design process, you can make color decisions that will help alleviate the pain point when it gets to the molding process. There are certain colors in ranges of blue and purple that are very 'on trend' that will also help reduce inconsistencies in the molding process [caused by PCR]."
Avient has "an incredible portfolio for sustainability," Dycha says. Notable among the offerings is the Rejoin line launched in 2021, a 100 percent PCR masterbatch that comes in a multitude of custom colors. Rejoin allows consumer goods companies especially, to specify bottles, packaging or other applications that are made entirely of PCR, including masterbatch colorants, and thus meet sustainability goals. Rejoin masterbatches contain pigments and functional additives that do not negatively impact color or mechanical  properties.
Product developers will likely need these PCR-enabling masterbatches and additives, Dycha says, as Generation Z (born from 1997) exerts more buying power in the market—an influence noted in Avient's latest ColorForward forecast for 2023, the 17th edition of the annual report on color trends.
"The coming of age of Gen Z is extremely important," she remarks. "They're digital natives who also have a very socially conscious perspective, so sustainability and what organizations do to meet goals [in this area] are important to them. Younger generations are progressive and we're going to see a changing of the guard in many ways. Color selection will be an important part of that."
Dycha believes Gen Z's color preferences will initially be seen in consumer goods and packaging. Moreover, ColorForward, citing a recent McKinsey Co. study, predicts that some members of the generation will suffer emotional disturbances caused by the COVID pandemic and other factors, and will look toward cool, transparent and occasionally fluorescent colors that for them symbolize treatment and healing. Earth tones, as well, will gain popularity, as young progressives deal with the anxiety of climate change.
Expanding Color Choice
Earth tones may not appeal to everyone for every application. Long a dominant color in building and construction, product developers in this market are embracing broader color options. "We're seeing darker colors and higher chromatic colors such as versions of blue, green, red and things of that nature," says John Cothron, president of Lanier Color Co., Gainesville, Ga.
Most colors for building and construction, a major market for Lanier, are for PVC, though Cothron sees some movement toward alloys: PVC/acrylic and PVC/acrylic-styrene-acrylonitrile (ASA), as well as monomaterials like ASA, acrylic and olefins.
"There's a wide range of materials now [for building and construction]," Cothron says. "We color ASA and acrylic and have our own acrylic compounds for capstock, primarily in windows and siding.
Most formulation tweaks that Lanier makes for building and construction applications deal with weatherability, as might be expected. While there is a push toward completing the circle of sustainability, achieving that goal shouldn't come at the expense of outdoor performance, he says. "The materials we use for weatherable formulations tend to be highly stable and do not have a dramatic effect on the physical properties of a polymer." Among products developed for optimum outdoor performance is SpectraCool low-heat-build technology for harsh environments.
He notes that Lanier has additives that allow normally incompatible polymer regrind such as nylon and PE to be used together in durable goods. Details of their chemistry, loadings and applications are not disclosed.
Cothron was also reluctant to discuss colorant technologies Lanier is developing because the company was recently acquired by Teknor-Apex, a major compounder and masterbatch producer based in Pawtucket, R.I. "Some things are on the drawing board, but in light of the acquisition, I won't discuss them." He does allow that they fit needs that have been identified in certain building and construction areas. "Properties in decking and to an extent sheet for outdoor signage, bathroom partitions and RVs (recreational vehicles). Biodegradability is a possibility, but nothing is definite at this point."
Teknor, meanwhile, is active in many markets including building and construction. Among products the company offers is Weatherguard custom colored capstock for PVC and wood/plastic composite substrates. Performance features include outdoor color stability, stain, scratch and chemical resistance, and low heat buildup. This last is important because it reduces the amount of infrared radiation a surface absorbs, which in turn eliminates distortion as a structural and aesthetic issue.
"One trend we see is more customers looking to enhance outdoor products," says Brendan O'Reilly, vice president of Teknor Color Div. "More durable, less heat buildup, those kinds of things." Weatherguard capstock is available in PVC, PVC alloy, ASA, acrylic and olefin.
O'Reilly says that generally, Teknor Apex hasn't experienced much yet in terms of customers asking for higher recycle content. "Most of what we see is the demand to match a color quickly. Packaging is a vibrant market for us, and it turns on a dime depending on what the consumer wants."
Notable developments in other areas include DeTek, a functional color concentrate with proprietary additives and hidden markers that allows detection of counterfeit products when examined with special equipment. The product was developed primarily to protect long or global supply chains from infiltration by counterfeit materials and resulting mishaps from substandard fakes that could affect a company's reputation. DeTek's protection is permanent. The concentrate is designed for use at standard let-down ratios in a range of thermoplastics.
Boosting Liquid Colors
One medium that could benefit users with PCR content in their product is liquid color. The argument in its favor is that less pigment loading is necessary than with most masterbatches or other solid colors, consistency is good and base resin properties are largely unaffected because liquid color doesn't use a carrier.
Jared Arbeter, sales director of Riverdale Global, a liquid color producer in Aston, Pa., also believes that liquid color can have a cost advantage over conventional solid concentrates, pigments and masterbatches—especially now when supply chain issues and inflation are causing price instability. Suppliers of solid colorants generally dispute this, but liquid color has a solid market—Arbeter says it's growing—and Riverdale is working on equipment to enhance its use.
Most pumps and other equipment that Riverdale supplies is from Maguire Products, also of Aston, Pa., which has an ownership position in Riverdale. The company uses gravimetric pumps exclusively, which are designed by both Riverdale and Maguire and manufactured by Maguire.
Among products that will be available this year is a liquid color blender for blow molding and extrusion. Arbeter says it will be similar to a Maguire blender but smaller and designed for addition of a single liquid color to resin right before the feed throat on a process machine.
Another new product is a controller designed to monitor and regulate gravimetric pumps. The controller will have WiFi and a touchscreen, among other features, and be able to transmit data via WiFi or through a wired connection.